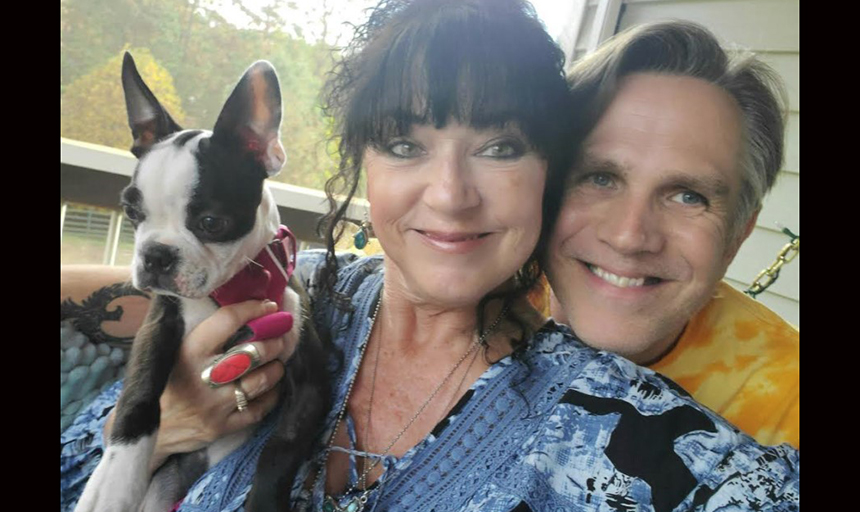 Marshall with Christina and Chris Lee, founders of Deaf Dogs Rock.
Professor's adopted puppy in Animal Planet's Puppy Bowl
Marshall, Dr. Chris Lee's deaf puppy, won "Most Pup-ular" and Most Valued Puppy over the weekend during Animal Planet's Puppy Bowl.
Marshall was voted by fans for "Most Pup-ular" ahead of the big game on Sunday. Thanks to Marshall's stellar performance during the game, he was one of three pups nominated for MVP on Twitter, which he eventually won.
"I think his energy and play really resonated with people," Lee said.
In addition to these awards, Marshall was also captain of Team Ruff and scored the first-ever "double-touchdown" by running the toy in the endzone, back on the field, and back into the endzone.
"We are so happy that the producers of the Puppy Bowl shine a huge spotlight on rescue dogs, and special needs dogs in particular," Lee said. "To have a deaf dog recognized by these awards was really exciting and goes a long way in helping to get the message out about what a wonderful addition a deaf dog can be to your family."
While many football fans were getting ready to cheer on the Kansas City Chiefs or the Tampa Bay Buccaneers on Super Bowl Sunday, Feb. 7, many others anxiously awaited the Puppy Bowl, which aired the same day.
Two people with a particular eye on the canine competition were Lee, a math professor at Roanoke, and his wife, Christina. The couple sponsored Marshall from Green Dogs Unleashed, a partner of the couple's nonprofit organization, Deaf Dogs Rock, that aims to "promote the care and well-being of deaf dogs."
"Our partner Green Dogs Unleashed took in Marshall and we sponsored his care, not knowing at the time we'd be his adopters, but we fell in love with him and the timing was right so he joined our pack," Lee said.
The Puppy Bowl is an annual event inspired by the National Football League's Super Bowl. The event attracts puppies from numerous states to make up two teams — Fluff and Ruff. The puppies will compete inside a stadium and includes commentary. Puppy Bowl XVII will be aired on discovery+ and Animal Planet at 2 p.m. on Sunday, Feb. 7, ahead of the NFL's Super Bowl.
"The Puppy Bowl does a great job of bringing awareness to the work that rescues across the country do. They focus on including special needs pups."
Before Marshall joined the Lee family, he spent three days in New York filming for Animal Planet's Puppy Bowl where he is in the starting lineup for Team Fluff. You can meet Marshall here.
Deaf Dogs Rock was started in August 2011 by the Lee family, and since then, the nonprofit has gained national attention and has helped over 3,500 dogs find homes.
"It is important that people know that a dog with special needs is not defined by what makes them different - they are still a dog first. I'm not sure if Marshall even knows or understands what it means to be deaf, but I can assure you he doesn't care."