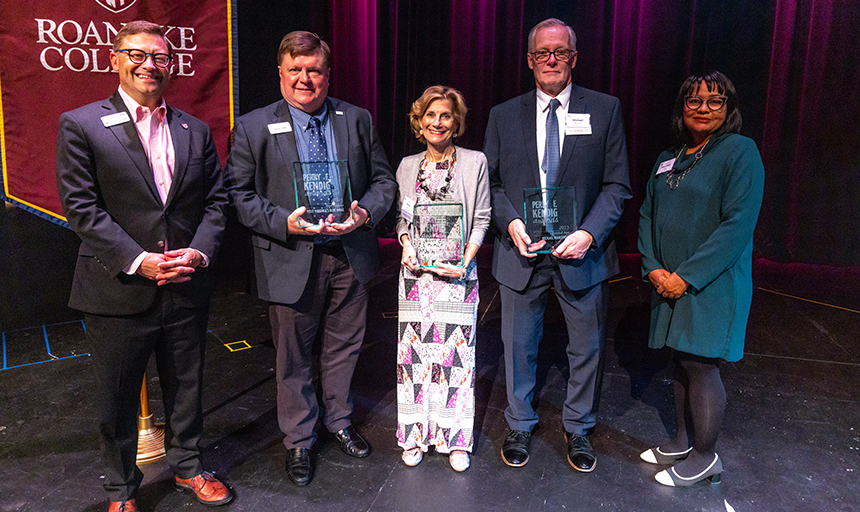 Fall return to campus
Dear Maroons,
It's almost time to return to campus, and everyone is excited for a new academic year and a new era at Roanoke College. No one is more excited to meet new Maroons than our new president, Frank Shushok Jr. If you did not already meet him at summer orientation and R House, you can look forward to meeting him soon!
The College's primary goal is always to ensure the health and safety of our students, faculty and staff. I am grateful to be a part of this community that respects and cares for our fellow Maroons. Our staff and public health officials are monitoring several health-related issues, and I wanted to share this guidance and our plans with you.
COVID-19
COVID-19 vaccines are strongly encouraged for all students, faculty and staff. The latest variants are highly transmissible but do not seem to create as many serious health issues (as earlier variants) among vaccinated populations. Vaccines and boosters in the campus community help to avoid campus outbreaks and the cancellation of activities.

Students should upload vaccination documentation through the

Student Health Portal

, as with all of their health information and vaccinations.

A COVID-19 vaccine and booster clinic will be held on campus in September.

Face masks are optional in most situations. Professors have the option of making masks mandatory for their classes. Offices or individuals may also ask that masks be worn in their workspaces. Students should have masks available in case they are needed.

Face masks remain mandatory in the Student Health Center and Athletic Training Clinic.

COVID-19 testing will be conducted as necessary for diagnosis and exposures.

A home COVID-19 test is required before moving to campus (see below for details).

Students who test positive for COVID will be asked to return home to recover. If unable to return home, students will be isolated in place. Roommates will be given the option to go home, move to another room, or remain in their assigned room. We have learned to be flexible with COVID, so that means the College is always monitoring the environment and may issue revised guidelines, if necessary.
As with the past year, classes will be fully in-person, and virtual or online options likely will not be available for those in quarantine or for those who are sick. Students may work with professors to coordinate academic work missed for health reasons.
COVID cases in Salem and Roanoke areas are at a high transmission status right now. When the status reaches the high category, masks are recommended for indoor situations and where social distancing is not possible.
Monkeypox
An outbreak of Monkeypox is making news across the country as public health officials declared Monkeypox, a rare but nonfatal virus, a national public health emergency. Roanoke College officials are monitoring this situation as well.
Student Health Services will communicate with students this fall about how to identify symptoms and how to avoid the virus. A plan for treatment and quarantine is in place should we have cases among the campus community. A vaccine is available for those in high-risk populations. However, anyone in close contact with someone who has Monkeypox can be infected, so everyone should take steps to protect themselves.
Avoid close, skin-to-skin contact with people who have a rash that looks like Monkeypox

Do not touch the rash or scabs of a person with Monkeypox

Do not kiss, hug, cuddle or have sex with someone with Monkeypox

Do not share eating utensils or cups with a person with Monkeypox

Do not handle or touch the bedding, towels, or clothing of a person with Monkeypox

Wash your hands often with soap and water or use an alcohol-based hand sanitizer.
Mental health
Roanoke College's Health and Counseling Services are available to support our students in a variety of ways, including office health visits, group counseling and individual counseling. In addition to campus resources, Roanoke offers the TimelyCare telehealth program for all Roanoke College students. This partnership is designed to complement the services provided on campus by Student Health and Counseling. TimelyCare gives students 24/7 access to dynamic medical and mental health resources. All of these online visits are provided at no cost to all Roanoke College students. TimelyCare is active now at TimelyCare and via the TimelyCare app.
Move-In
All students should assess their health and take an at-home COVID-19 test 24 hours prior to arrival on campus. If you have symptoms or are sick, or your COVID test is positive, DO NOT come to campus. Notify Student Health Services at healthservices@roanoke.edu or call 540-375-2286, and they will advise when you can arrive on campus.
Move-in for new students is Saturday, August 27, and returning students move in on Sunday, August 28. Students should check their email for specific instructions from the Office of Residence Life. Students will check in at the Olin Hall parking lot on Thompson Memorial Avenue, after which they will be directed by Res Life staff.
For the past two years, the College has handled COVID-19 as an emergency-type response, but we have learned that COVID-19 will be with us for some time. We now seek to manage and mitigate the impact of COVID and other health challenges to continue to ensure the health and wellness of the campus community.
I look forward to seeing Maroons from around the country arrive back on campus in Salem. See you soon! Go Maroons!
Sincerely,
Tom Rambo
Dean of Students