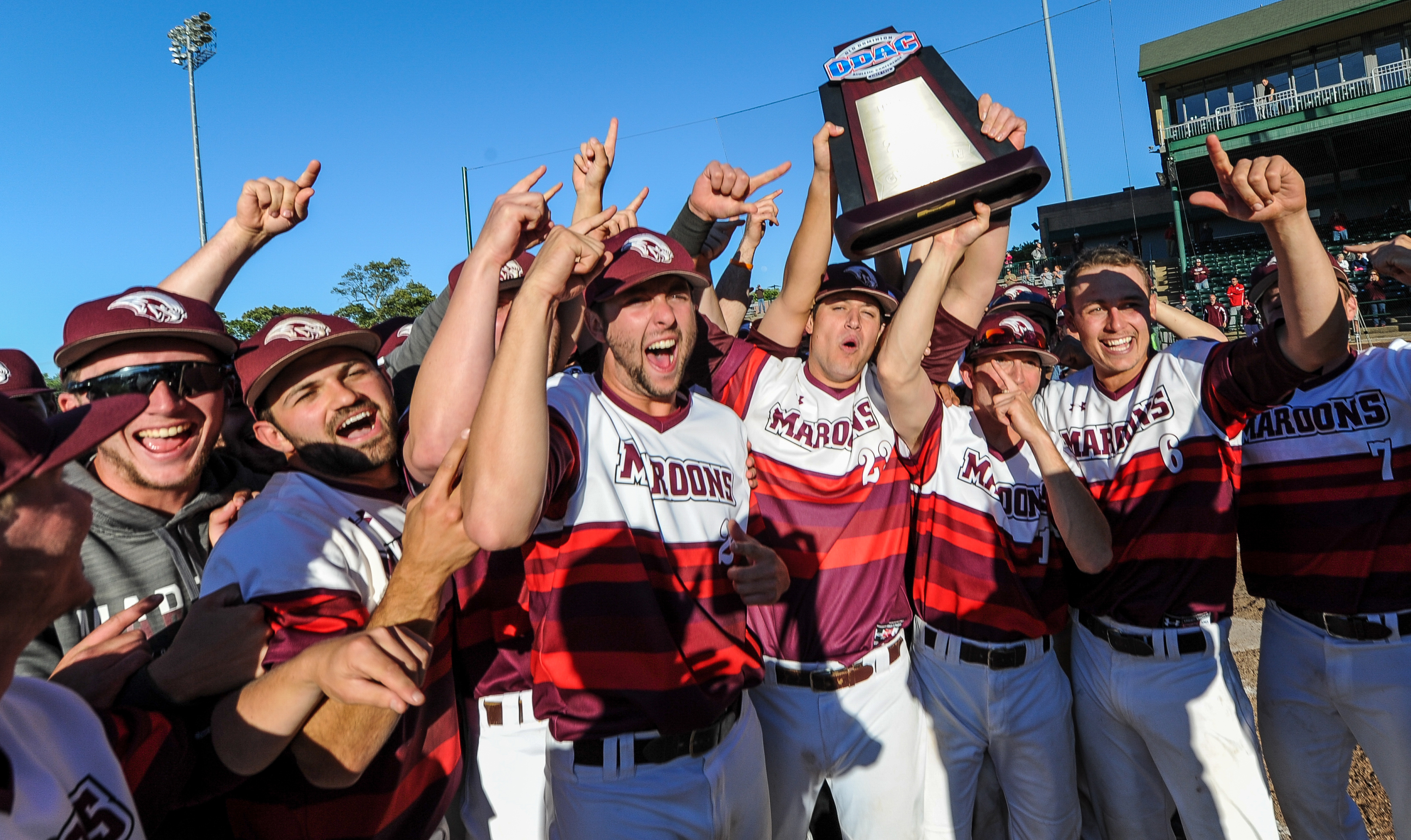 6.21.2017
By Roanoke College News
From nine-man roster to World Series play, RC baseball makes history
The Roanoke College baseball team was in the "Big Apple" over Memorial Day weekend. No, not New York City, but Appleton, Wisconsin, home of the NCAA Division III World Series.
The Maroons hit the big time in just their 15th season as a varsity sport, shattering the school record for wins with 35. That was 12 more than the previous record as the Maroons won the Old Dominion Athletic Conference for the first time, then stunned the South Region by winning that tournament as the lowest seed. Roanoke then went 2-2 in the World Series, battling to the NCAA "Final Four" before being ousted.
"This was a tremendous accomplishment for our program," said Roanoke coach Matt McGuire. "The success validates what we've been doing, and this will open some doors for us. More talented players are going to want to come to Roanoke."
This has all happened in just 15 years of baseball as a varsity sport. Roanoke College was without varsity baseball for over 50 years when some enthusiastic students approached then-Sports Information Director Ken DeBolt about starting a club team in the fall of 1997. Stephen Dean '00, who played high school ball in Massachusetts, talked DeBolt into coaching the Roanoke nine. And, nine is what it literally was.
"We had nine players," said DeBolt, who is now director of athletic communications for Hobart and William Smith Colleges. "I remember one game my shortstop told me he had to leave in the middle of the game to go work at Mac and Bob's. I had to play shortstop myself for the rest of the game."
By 2002 the dream of having an NCAA Division III program team became a reality, but it didn't come easy. Kelly Dampeer, who was named baseball coach in 2001, remembers his first team meeting.
"I had 25 guys show up at the meeting and I asked everyone who pitched in high school to raise his hand," said Dampeer. "No hands went up. Then I asked was there anyone who pitched at all. Two players raised their hand."
If good pitching makes a good team, that was reflected in that first Maroon season. Roanoke lost to Lynchburg College, 24-1, in the team's first varsity game. "And we scored first," Dampeer noted.
Roanoke went 0-13 in 2002, but the seeds had been planted. The program grew under Dampeer, then Richard Morris, and in seven years under Salem-Roanoke Valley Baseball Hall of Famer Larry Wood the Maroons were respectable, just missing a berth in the ODAC tournament several times.
When Wood retired following the 2012 season RC Director of Athletics Scott Allison '79 found the right man for the job in McGuire. A lifelong winner, McGuire played for a state champion in Dixie League, a Virginia High School League state champ at Roanoke County's William Byrd High School and a conference champion team at the College of William & Mary. He boldly predicted the Maroons would win the ODAC in five years.
"I told them that before my first season and they thought I was nuts," McGuire said. "But I truly believed it, and we did it." The program is now thriving. McGuire had 43 players in uniform this season and every one was a recruited player. This spring the team got off to a 14-3 start before hitting a bump in the road, losing a doubleheader at home to Bridgewater on March 11. However, the Maroons continued to battle and clinched a spot in the ODAC tournament on the last weekend of the season.
They got hot in the postseason, sweeping Washington and Lee University at Lynchburg City Stadium to win the ODAC, then knocking off the top seed, Salisbury University, twice in the South Region to capture the title at Dan Daniels Park in Danville. The Maroons were playing with house money in Wisconsin, and it was a great trip. The team broke up a long bus ride by attending a Reds game in Cincinnati against the Cleveland Indians, where they were recognized on the video board. They opened the World Series with a win May 26 over the top seed, Oswego State, but, after advancing to the semifinals, two losses to Washington & Jefferson College ended the dream season.
"They were the best team we faced all year," said McGuire, who vowed to return. "We'll be better next year," he said. "We lose 10 seniors who have been the heart of this program, but we have key pieces coming back."
Brian Hoffman, '74