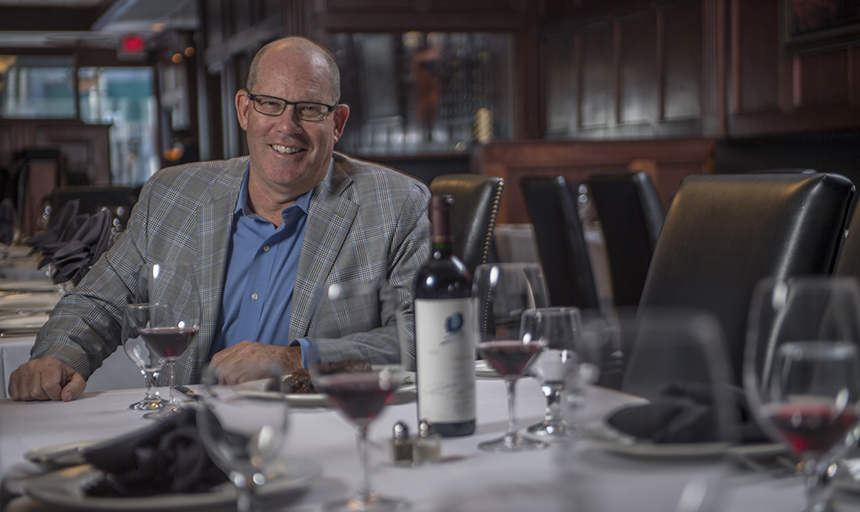 Building an empire
At the corner of East Main Street and College Avenue in downtown Salem, Virginia, stands the old Salem Theatre building, converted over the decades into a rotating mish-mash of businesses—a hot dog eatery, a handbag and accessories shop, a lawyer's office, an Italian ice stand, a pizzeria.
In 2017, the three-story, circa-1930s building was purchased by Roger Neel '85, known throughout Southwest Virginia for the popular restaurants he owns and co-owns in the city of Roanoke, town of Christiansburg and Roanoke County. Their names are as varied as the fare offered and clientele they cater to: Corned Beef & Co., Frankie Rowland's Steakhouse, 419 West, 202 Social House, The Farmhouse, Billy's.
The number of establishments under Neel's wing—six total—might seem daunting, conjuring an image of a juggler perched atop a three-legged stool on one foot, balls airborne. Neel won't pretend that the juggling act is complete myth, that there aren't days when overseeing the operation of six restaurants employing a total of 300 people takes its toll.
"The operations side can beat you up pretty good, but when you have some success, not in terms of revenue but in terms of people saying 'Listen, I had a great steak,' or 'I went down there, you had a band and I had a great time'—that is motivating," he says. "That, for me, works."
Neel is firm in the belief that the success hasn't been a one-man feat. He says he has been fortunate to have, at all levels of the businesses, good people.
"I have been surrounded by really good people who had a desire for success, some who have gone on to open up their own restaurants" Neel says. "It's not about 'I'."
As Neel prepares to open his seventh business, he is thrilled to see his vision for the future of his growing restaurant empire taking shape.
"It's difficult, but it's exceeded where I thought it would go," he says, reflecting on managing restaurant growth that, honestly, has surprised him. "And I don't think it's really slowing down."
That suits him just fine. To slow down would mean to be satisfied with the "what is." Neel has his sights on the "what can be."
"In this business, there are certain things you have to do: manage your costs, control your payroll and keep driving for sales. But most importantly, you have to figure out what people want and get it to them."
Roger Neel '85
Business beginnings
The roots of Neel's foray into the restaurant business can be traced back to the Roanoke College chapter of Pi Lambda Phi fraternity. Neel, a member, decided to explore business opportunities with a few of his fraternity brothers in downtown Roanoke, which was in the midst of revitalization.
In 1986, Neel joined two Pi Lam brothers, Al Pollard '82 and Brian Snediker '82, in the opening of a full-service Corned Beef & Co. restaurant in a corner space of the Roanoke City Market Building. The new restaurant was an expansion of a small food stall Pollard and Snediker had founded and operated inside the City Market building.
Eventually, the restaurant outgrew the corner City Market space, and in 1991, Neel and Pollard moved the restaurant into its current home at the corner of Jefferson Street and Campbell Avenue in downtown Roanoke. (Snediker, by then, had left the business and moved to Alexandria, Virginia.)
In 2001, across from Corned Beef on Jefferson Street, Neel and Pollard opened Frankie Rowland's Steakhouse, an upscale kind of place with leather banquettes, silver flatware and rich mahogany décor reminiscent of the high-end steakhouses found in New York City. The opening of the 419 West restaurant in Roanoke County followed in 2002. In 2005, Neel and Pollard opened a second Frankie Rowland's in Winston-Salem, North Carolina, identical in décor and menu to the Frankie's in Roanoke.
But Corned Beef remained Neel and Pollard's flagship, once credited with drawing a younger night-life crowd to downtown Roanoke and earning the restaurant a Small Business of the Year award from the Roanoke Regional Chamber of Commerce.
In 2006, Pollard died in his sleep.
Neel still feels the loss, still misses Pollard's presence in the businesses they co-founded and shared a genuine delight in planning, developing and operating.
"Al was the food guy. He loved the back of the house," Neel says. "I always liked the front of the house with the customers or the bartending or doing financial stuff. He was the recipe guy. I would have an idea and I would express it to him—maybe a bone-in pork chop with chutney—and he would have a way to move it forward."
"It's kind of funny, bizarre. Some of us talk all the time: 'You know if Al were here, I could find out what to do.' He was really good in certain capacities," Neel says. "He was kind of like 'I'll go figure it out. I'll go fix it,' especially when it came to the back of the house."
Months after Pollard's passing, an early-morning fire heavily damaged the Frankie Rowland's in Winston-Salem. An emergency-light box had malfunctioned.
Neel wanted to salvage the property. But he didn't in that bleak economic climate, coupled with waning interest and "a lot of uncertainty with [Pollard] not being involved," Neel says.
He sold the property. "I wish I had it today," he laments.
"You know how the name came about?" Neel asks, referring the steakhouse's semi-eponymous name. "Rowland is my middle name and Al's full name was Frank Alan Pollard. So we took his first name and my middle name. We thought it sounded really cool."
Way forward
Billy's Ritz was a popular downtown Roanoke restaurant. Founded in 1979, its owner closed the restaurant in December 2007, the month the Great Recession commenced.
Neel and Neal Keesee, a Roanoke lawyer who worked with Neel on previous real estate projects, had been patrons of the restaurant over the years. It was a City Market fixture and they didn't want to see downtown lose one of its cherished dining landmarks.
So they bought the Billy's Ritz property in early 2008. In 2012, the property emerged anew, completely renovated, as "Billy's" restaurant on the first floor and 12 apartments on the upper floors.
"It took a while to get that off the ground because of the banking crisis," Neel says. "Lending stopped; there was no financing to be made. And we're sitting here with a property that's only half-finished. But it worked out. We were able to get it finished."
The duo has since purchased, renovated and reopened two other restaurants—202 Social House, also in downtown Roanoke, and The Farmhouse in Christiansburg, Virginia, like Billy's, a popular, established business.
As a business partner, Neel is "very knowledgeable and strives to understand all facets of the issue before making a decision. He never gets excited or rushed and maintains a steady head," Keesee says. As a restaurateur, Keesee says Neel "thrives because he always sticks to the basic principle of sticking to your core values and doing what it takes to make the guest's experience memorable."
The Salem property encapsulates what Neel envisions as the way forward—a combination restaurant/boutique hotel in the heart of the city that is home to his alma mater. That the building is located in a downtown experiencing a revitalization is a definite plus, Neel says.
Currently, the businesses he owns solely, and with Keesee, are concentrated in the heart of downtown Roanoke.
"That's why I'm kind of excited over in Salem," Neel says. "Even though it's still in the Roanoke Valley, it feels different over there. Salem is its own little program, and it's really unique."
Page Moir, former men's basketball coach at Roanoke, now works as director of corporate development for Neel's restaurant corporation, the Jefferson Street Management Group, Inc. Moir, who has known Neel since high school, has been impressed with Neel's gift for envisioning, then executing.
"It's been cool watching how really good he is," says Moir, who refers to the Salem property as Neel's "CrossFit project," a reference to the high-intensity fitness regimen. "His ability to get the menu right, get the people right, is proven. But watching him rebuild a place has given me a new appreciation for his talents."
Talents he believes were honed at Roanoke, Moir says.
"At Roanoke College, you get something special, that 'critical thinking,' that one-on-one with professors that's not readily available at larger schools," Moir says. "It makes of huge difference. Roger is an example of that."
Neel looks forward to co-existing in a downtown that is well-populated with eating establishments. It's all good, he insists.
"I think it all kind of fits. We all do something different," Neel says of fellow restaurateurs in Salem. "You know, there are two things they say if you want to open a restaurant: 'Go next to the busiest restaurant. Cluster, because when you cluster, people can go from place to place; you offer variety."
Then he laughs. "You know the other thing they say in the restaurant business, about how to make $1 million in this business?"
He pauses, then jokes, "Start with $2 million."
To read about more alumni restaurateurs, see the new issue of Roanoke magazine.