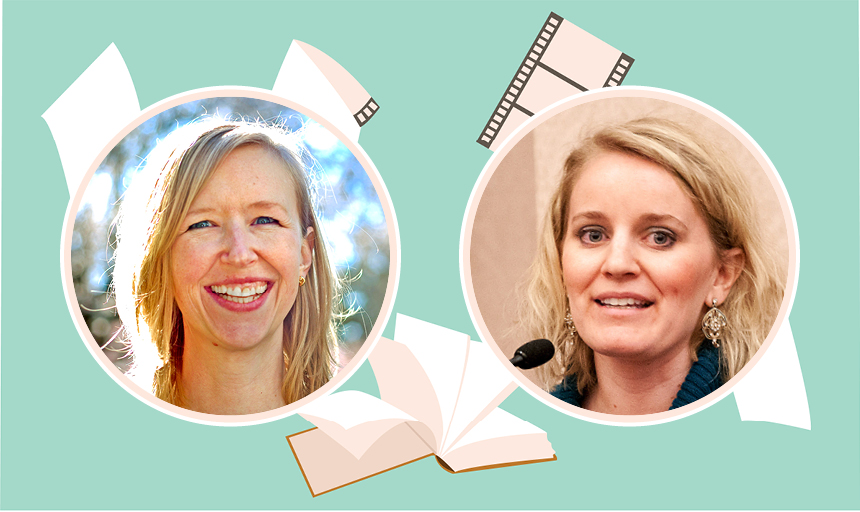 Writers Tamara Duricka Johnson '98, at right, and Mandy Len Catron '03, at left. "It's definitely kind of a cool feeling to see that something you've written has made an impact on popular culture," Catron says.
Reality can bite...but also hold the promise of fame and fortune
After a Hollywood producer options an article, essay or book, the next step isn't necessarily choosing between Anne Hathaway and Viola Davis for the starring role.
As two Roanoke College alumnae can attest, having someone purchase the rights to your work, doesn't mean a movie or TV show will actually get made.
"To option something basically means, 'We'd like to take your idea and make it into a different format,'" explains Tamara Duricka Johnson '98, whose book "31 Dates in 31 Days" published in 2011. "It doesn't even necessarily mean, 'We'd like to make it into a different format.' It might mean, 'We'd like to have permission to possibly, maybe, someday, turn it into a different format, and it may or may not fully resemble your story."
When Mandy Len Catron '03 learned her 2015 essay-turned-viral-sensation "To Fall in Love with Anyone, Do This" had been optioned by a major Hollywood studio, she debated whether she should share the news on social media. She didn't want her friends and family to get the wrong idea.
"It sounds like a big deal and it's not, not a big deal, but it's also like, a very tentative thing," says Catron, whose well-received book, "How to Fall in Love with Anyone: A Memoir in Essays," came out in 2017.
If it hadn't been for a Google alert set for her name, Catron might have never learned her essay, which ran in The New York Times' Modern Love column, was being used as inspiration for a potential Hollywood project. The alert directed Catron to an article about director Malcolm D. Lee's plans to develop a romantic ensemble comedy inspired by her piece.
She quickly got in touch with people at the newspaper, who hadn't heard about the project either. They promised to get back in touch after they got to the bottom of things. Last summer, they let Catron know they'd sold the option for the essay.
"It's just Universal Studios paying The New York Times to not let anyone else make the article into a movie for some period of time. Usually, I think, it's a year or two," Catron explains. "If they do decide to make a movie, then they'll have to buy a full article rights from The New York Times."
After agents take their cut, Catron says The New York Times will give her half of "a small amount of money."
"Which is brilliant," she says. It will be "way more than I got for writing the article. It's still very exciting because it's like this little bonus from having written this article five years ago now," Catron adds.
Over the years, several producers have contacted Johnson to inquire about optioning her 2011 book "31 Dates in 31 Days" for a movie. She always turned them down. "It just didn't feel right," Johnson says.
Johnson's book was born from a resolution she made in 2009 after suffering a string of ugly breakups. With a goal of getting better at dating, Johnson challenged herself to go on a date a day for a month. She ended up marrying one of her suitors. Today, the couple lives in Hollywood with their three daughters. "My life, for real, is the makings of a Hollywood chick flick," Johnson admits.
"My life, for real, is the making of a Hollywood chick flick."
Tamara Duricka Johnson '98
Since it is the story of her life, Johnson wants to make sure it never gets transformed into something not quite up to standard. "I definitely don't want people messing with my life story in ways that I'm going to be embarrassed to have my kids watch," she says.
Johnson said "Yes," on the other hand, when a producer asked to option her story for a reality dating show a few years ago. The concept was far removed from her actual experience — they mostly wanted to borrow the title from her book — and she got to hold on to the rights to turn her story into a feature film.
The filmmakers made a pilot but never got a network to bite. "That's just kind of the way things work," says Johnson, who works as a news producer and writer for KTLA in Los Angeles.
Since Johnson hasn't been happy with other people's ideas for turning "31 Dates in 31 Days" into a film, she decided to roll up her sleeves and do it herself. "I'm in the middle of writing a screenplay," she says. "I don't know if I'll do anything with that, but at least it will give me an idea of where I would be OK with somebody taking my story."
If her happily-ever-after tale never makes it to the Big Screen, Johnson is OK with that. "All I was really trying to do was figure out my dating life," she says of her 2009 resolution. "So everything else is ice cream and cherries on top."
As for Catron, she recently took the leap and quit her full-time teaching position at the University of British Columbia. "I'm able to write pretty much every day, which is the coolest thing that could possibly happen," she says.
In July 2019, Catron's article "What You Lose When You Gain a Spouse" appeared in The Atlantic, which she calls her "dream publication." In the piece, Catron looks at what we humans lose "by making marriage the most central relationship in a culture." Her premise caused quite the commotion on Twitter and earned her an invitation to appear across from Gayle King on "CBS This Morning." "It's been nice to see it getting people talking," Catron wrote in an e-mail after filming the spot.
Since she's no longer getting a regular paycheck, Catron will tell you she's not at all opposed to selling the rights to her work. "Money buys time," she says. "Anything I can do to keep supporting myself as a writer is a win in my book."
During a recent flight, Catron caught part of "The Sun is Also a Star," a young adult drama based on the 2016 book by Nicola Yoon. In both the book and the movie, the characters discuss the 36 questions Catron wrote about in her New York Times essay that went viral.
"It's definitely kind of a cool feeling to see that something you've written has made an impact on popular culture," Catron explains. "It felt very surreal to sit on a plane and be watching a movie that was, in some small way, inspired by something I wrote."
That said, Catron would be delighted if Lee never transforms her essay into a movie. "I have no particular interest in seeing my life portrayed on the screen," she says. "It makes me uncomfortable to think about it."
A surprising statement coming from a writer who has been very open about her life in her work.
"I know I write about my personal life, but I feel very in control of that," she says. "Otherwise, I like a little bit of privacy and a little distance from these kinds of things."