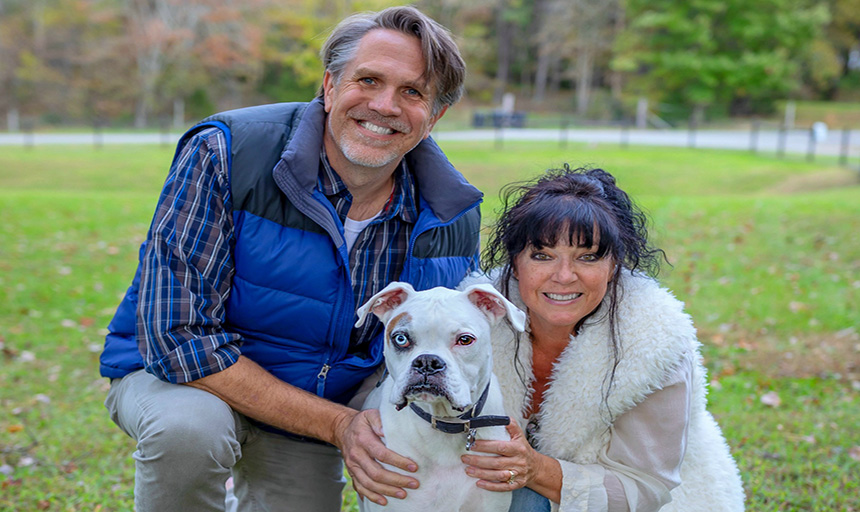 Dr. Chris Lee, math professor at Roanoke College, and his wife, Christina - shown here with their late dog Nitro - co-founded a national organization dedicated to saving deaf dogs.
About Us: Hearing with their hearts
Dr. Chris Lee, professor of mathematics at Roanoke College, has always been a dog lover. But he couldn't have imagined how a malnourished, emaciated white boxer puppy would capture his heart and give thousands of special needs dogs around the world a chance of finding forever homes.
The happy ending started with a photograph. Chris' wife, Christina, visited the Salem Animal Shelter one day in November 2010 to take photos of dogs available for adoption to post on social media — something she did often. The staff introduced her to Nitro, who had been abandoned near the Roanoke River and rescued by Salem Animal Control officers. The tiny boxer would need an extra-special home: He was completely deaf. Could the Lee family take him in, the shelter director asked?
Though the Lee farm already was home to three dogs and three horses at the time, Christina took Nitro's picture home to show Chris.
"Nitro needed someone to cherish him and always keep him safe," Christina says. "I knew Chris and I could possibly be the people who could help him."
Though a bit apprehensive about taking in a puppy with special needs, Chris agreed: Nitro would join their family.
"I love a challenge, I love learning, and the idea of working with a deaf dog was interesting," Chris says. "And if I'm being completely honest, Nitro was just so damn cute and in such need of a home that he won us over immediately."
As the Lees prepared to bring Nitro home, they discovered that resources about caring for and training deaf dogs were scarce. So, in August 2011 they launched Deaf Dogs Rock, a nonprofit with a mission to "promote the care and well-being of deaf dogs." Since then, the organization has gained national recognition among animal shelters, rescue agencies, veterinary clinics, and current and prospective deaf dog owners.
"Deaf dogs are just dogs that need to be helped with a bit of communication. "
Dr. Chris Lee, co-founder of Deaf Dogs Rock
Deaf Dogs Rock has helped over 3,500 deaf dogs find homes and has financially supported the rescue of more than 600. The nonprofit also has been instrumental in changing the prevailing notion that deaf dogs are "unadoptable," saving thousands of animals from being euthanized.
"Word is getting out — deaf dogs make great additions to your family," says Chris, adding that four of the couple's six dogs are deaf. "Old stereotypes and stigmas are fading. Deaf dogs are just dogs that need to be helped a bit with communication. We may be a bit biased, but we prefer deaf dogs now. And deafness in a dog is wonderful during a thunderstorm."
Christina — a former advertising executive who serves as president of Deaf Dogs Rock — advises prospective deaf dog adopters to "make sure they have the time commitment to train, socialize and help their new deaf dog or puppy be the best they can be for the first year." The Lees enrolled Nitro in puppy training classes and taught him commands in American Sign Language. To help others, they have posted videos and blogs filled with training tips from their own experiences on the nonprofit's website, deafdogsrock.com — which also features listings of deaf dogs available for adoption, heartwarming success stories and links to online resources.
"A deaf dog is a dog first, a breed second and deaf third — in that order," Christina says. "What that means is a deaf dog is a dog first and learns like a regular hearing dogs using positive reinforcement training methods."
Sadly, Nitro died in November 2018. But thanks to him, life is better for countless deaf dogs all over the world.
"Nitro leaves behind a legacy of love with families and their deaf dogs around the globe," Christina wrote in announcing his death on deafdogsrock.com.
"He is the reason why Deaf Dogs Rock was launched, [to] help deaf dogs just like Nitro make it out of shelters alive and into partner rescues. … There won't be one single day that goes by that our hearts won't miss Nitro's presence, but his legacy will continue through our work here at Deaf Dogs Rock. … [Nitro] will always be our hero dog."
For more information about Deaf Dogs Rock, visit www.deafdogsrock.com, or www.facebook.com/deafdogsrock.