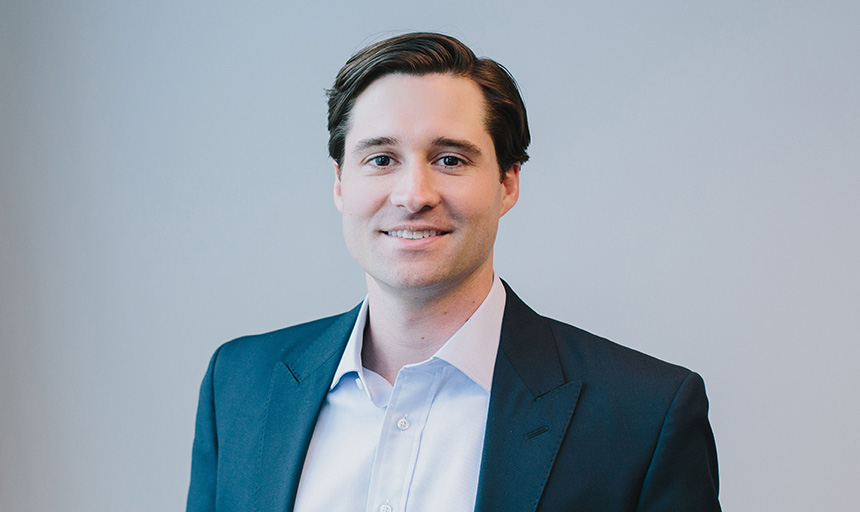 Shaking up philanthropy
Micah Spruill '11 majored in biology at Roanoke College, with plans to enter medical school after graduation.
That is, until he was introduced to Dr. Dar Jorgensen's physiology research lab, known not only for producing medical school-bound students, but for its disciplined method of study and research. Spruill shifted his pursuits to finance but because of that rigor, was well prepared for the shift and the challenges it posed. He learned that at the fundamental levels of everything, even finance, is math and science.
"It gave me an entirely different perspective on finance than other students who did study finance, not sciences," Spruill says.
The pull toward finance was so great that Spruill spent the summer between his junior and senior years interning in day-trading. At the start of his senior year, Spruill approached Dr. Larry Lynch about enrolling in Lynch's Student-Managed Fund class, in which students use their skills, innovation and teamwork to responsibly grow an actual investment portfolio, a portion of the College endowment.
Initially, Dr. Lynch told Spruill that the class was reserved strictly for finance students. But when Spruill shared details of his day-trading internship, Lynch "made an exception and allowed a biology student into the class," Spruill says.
The class was transformational, Spruill recalls, so much so that it sealed his desire to pursue a career in finance. Moreover, the opportunity Dr. Lynch extended to him left a desire to ensure future Student-Managed Fund students had the same opportunity—with a slight twist.
This year, Spruill gave Roanoke College its first gift of cryptocurrency. It is in the form of bitcoin, which is, in the simplest terms, "a type of digital currency." Bitcoin can be used as an investment vehicle.
"I knew I always wanted to give back to the school, but I wasn't sure in what form," said the Atlanta, Georgia-based Spruill, who is co-founder and managing partner of Xsquared Ventures, a blockchain-focused venture capital fund. He also is founder and chief executive officer of MS2 Consulting—chief operating officer is Ben Everest '13—a consulting firm in the blockchain space. (Blockchain is the record-keeping technology behind bitcoin, now widely used by other cryptocurrency.)
Spruill's gift—an initial 6.5 Bitcoin ($25,000 at the time and already appreciating in worth) with an additional $25,000 over the next six months—will be managed by students in the Student Managed Fund class. (The fund, created in 2004 at a value of $500,000 is now valued at more than $1.1 million.) Spruill believes his gift distinguishes Roanoke as one of the few, if not only, higher-ed institutions to have cryptocurrency invested in and managed by students.
"Cryptocurrency is going to shape the way we interact with money."
Micah Spruill '11
Dr. Timothy Carpenter, assistant professor of business administration and economics who teaches the Student Managed Fund class at Roanoke, shares that belief.
"This gift makes us one of the first institutions to make trading in cryptoassets with real money available to our students. To our knowledge, we are currently the only institution with this offering, which once again puts us at the leading edge of experiential learning in finance," Carpenter says.
"Our students now have the incentive and opportunity to examine these assets and to put their research into action," he adds. "This gives the opportunity for a greater understanding of this emerging sub-field in finance, which opens up new potential placement opportunities upon graduation, particularly given our proximity to Blacksburg [Virginia], a budding hub in this field."
That Spruill's gift is not in the form of cash, check or stock, is an intentional nod to his generation. He cited a recent survey that asked if millennials would rather own stock or cryptocurrency. "The majority said cryptocurrency," Spruill says.
In fact, a 2018 study found that people under the age of 30 are more likely to spend money on cryptocurrencies, finding investing in them less intimidating than putting money in the stock market.
Spruill said he believes blockchain technology and its accompanying tool, cryptocurrency, will be one of the most "disruptive" technologies—meaning shaking things up—since the internet.
"Cryptocurrency is going to disrupt money, or the way we view money and understand money, in the same way the internet disrupted forms of communication, payment, laws and more," Spruill says. "It's going to shape the way we interact with money."
Spruill's gift of bitcoin, he says, serves as a "gateway" for others who might be considering giving in the same paradigm-shifting fashion.
"I wanted to break down barriers and break the friction," says Spruill, who is a member of the President's Advisory Board at Roanoke. "It's not going to be the last time someone gives a gift of cryptocurrency; it's going to be the first of many."