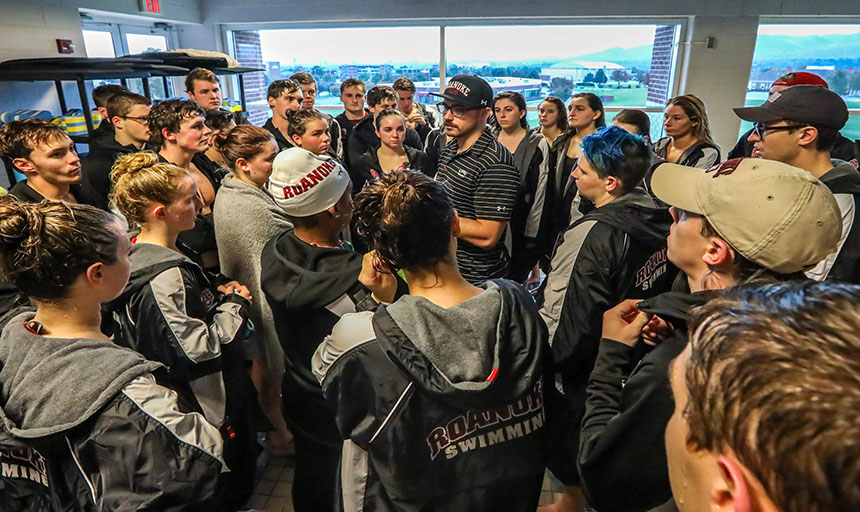 A swimming success
When Maroons swimmers took to the blocks at the 2017 season-opening meet against William Peace University and were instructed to "take your mark," they weren't poised just for the start of a swim race; they were poised to dive into the first season of Maroons swimming in 35 years. It was a season that exceeded all expectations, starting with resounding wins that day for both the men's and women's teams.
The history of swimming at Roanoke College is one of an on-again, off-again sport that has floated back and forth between official NCAA Division III status and club sport. A men's team, led by Coach Fran Ramser, is featured in a 1947 Rawenoch yearbook, and the last officially recognized team was the 1982 women's squad, under Head Coach Brian Snediker '82. In between is a history of winning seasons, losing seasons and non-existent seasons.
In 2016, the College announced that it was reintroducing both men's and women's swim teams and that Scott Thacker—a graduate of Florida State University and a member of its 2007 ACC championship swim team—would head up both programs.
Thacker was an individual ACC champion in 2010 in the 100 breaststroke and a 2012 Olympic trials qualifier. He came to Roanoke from the Shenandoah Marlins Aquatic Club in Waynesboro, Virginia, where he was the director and head coach of the program.
Thacker hired 2017 Towson University graduate and former swim team captain Brandon Ress as assistant coach for the Maroons. The two quickly went to work building the program.
"We had five months to identify, recruit and find the young men and women who would make up our first roster," Thacker says. In the world of collegiate sports, which generally works at least two years ahead on their recruiting classes, it was not much time. "Finding the right avenues and the best, most efficient avenues, for recruiting was definitely the most challenging part," the head coach says.
Not surprisingly, the first roster was lean. NCAA rules do not cap a team's total roster, but it does cap conference and NCAA scoring rosters at 18 men and 18 women. The total Maroons swim team roster for its first season had 22 names on it—11 men and 11 women. The teams were not even large enough to enter a full slate in each event at the meets.
Expectations by others were modest for the Maroons, perhaps eighth place in the ODAC conference, Ress said. But he and Thacker approached the season optimistically and worked strategically to maximize the scoring potential. "We figured out how to win with a very undersized roster," Thacker says. "You have the have the right people in the right 'seats.' It's possible."
"We're definitely looking to establish our presence and make noise. I think that people were definitely aware that something was brewing here."
Head Coach Scott Thacker
Thacker's finesse in meet strategy yielded impressive results and blew expectations out of the water. The men's team finished fourth of 10 ODAC teams and the women garnered a fifth place berth in a 12-team field. The combined dual meet win-loss record was 25-7. Four Maroons swimmers, all freshmen, earned All-ODAC honors. On the women's side, freshman Reilly Bird '21 was named to the First Team; she also won the league title in the 100-yard backstroke. Freshman Sarah Virginia Scott '21 was named to the Third Team. On the men's side, freshmen Nick McGrath '21 and Ethan Gordon '21 earned Second Team and Third Team honors, respectively.
"We're definitely excited to be part of the rebirth of the program," says Thacker. "It's been exciting and challenging and very rewarding." He points to team successes such as winning their first meet, beating Hampden-Sydney in a men's dual meet, placing well at the ODAC championships and having a conference champion the first year as "very memorable."
"Being the top new program, beating established programs…was hugely rewarding," Ress says. "When I was applying for the [assistant coaching] job, I was just thinking how cool it would be to build a new program. Just to see the team grow, from two years ago, from zero…is just amazing."
The current season is well underway and, with the advantage of a little more time to recruit, Thacker and Ress have put together a roster of 20 men and 19 women, which Thacker calls "very, very exciting." Fourteen are returning swimmers, including each of the All-ODAC honorees, and 25 are newly-recruited freshmen.
The coaches anticipate that, for the next few years, they will cut off overall team size at about 50 swimmers. The Maroons split their training sessions between the small Alumni Gym pool--affectionately known as "The Tank," and the eight-lane Salem YMCA pool, which also hosts the Maroons' home meets. "The Y has been an incredible partner," says Thacker, "And the school is very supportive. We can't do it without a lot of support."
A new campus pool facility would be in the "distant future," if at all, Thacker said, but it would allow the team to grow to 60 or 70 swimmers. For now, both he and Ress are just excited about this season and the next. They've been recruiting for 2019 throughout the fall and are already working on the 2020 recruiting list.
And what are their expectations for this season?
"Definitely just want to make noise," said Ress. "Top three for both programs," says Thacker.
"We're definitely looking to establish our presence and make noise," Thacker adds. "I think we did that last year. I think that people were definitely aware that something was brewing here and that we're on to something."