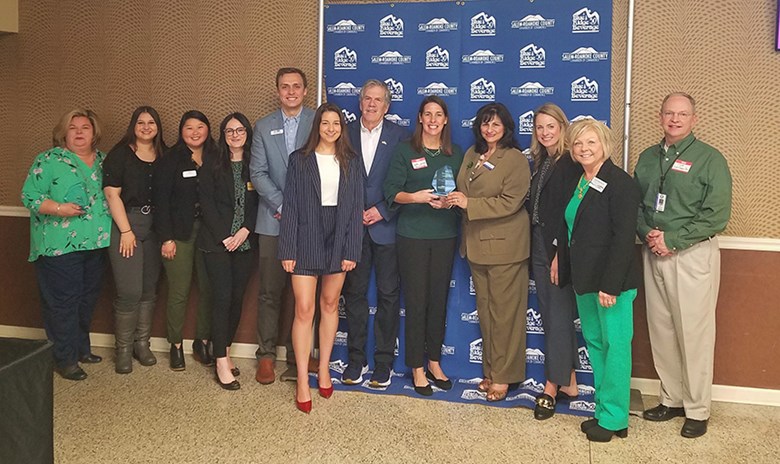 A group of Roanoke College alumni celebrate the school's Large Business of the Year Award at the 2023 Business Awards Breakfast, including (left to right): Scotti Hartman '95, Brenna Valle '23, Libba Cooper '15, Madeline Sefcik '17, Evan Brown '19, Vanessa Brown '23, Bob Rotanz '78, Heather Jackson '96, Renee Turk '77 (Mayor of Salem), Meghan Jester, April Woodward '93 and Joe LeGault '93.
Roanoke College adds Large Business of the Year Award to its accolades
Roanoke College has been named the Large Business of the Year for the City of Salem. The award was presented by the Salem-Roanoke County Chamber of Commerce at its annual Business Awards Breakfast on March 17.
The Large Business of the Year honor is given to an organization that provides meaningful partnerships in the Roanoke Valley. Roanoke College hosts many community events and meetings throughout the year, including speakers from a variety of genres, from Henry Louis Gates Jr. to Steve Forbes. The College has also provided volunteers and leaders for community events. More than a dozen Roanoke College alumni were in attendance at the breakfast, including Scotti Hartman '95, who accepted the Nonprofit of the Year award for Good Samaritan Hospice.
Roanoke College was also acknowledged for producing interns who work in the Chamber's office and provide insight from their point of view.
"Great interns also help the Chamber office, providing their knowledge and keen instincts, while growing as young professionals," said Denise "Dee" King, a member of the chamber's board of directors.
The chamber's mission is to create and support growing businesses in the Salem-Roanoke County Community, and collaboration with the community is an important priority for the College.