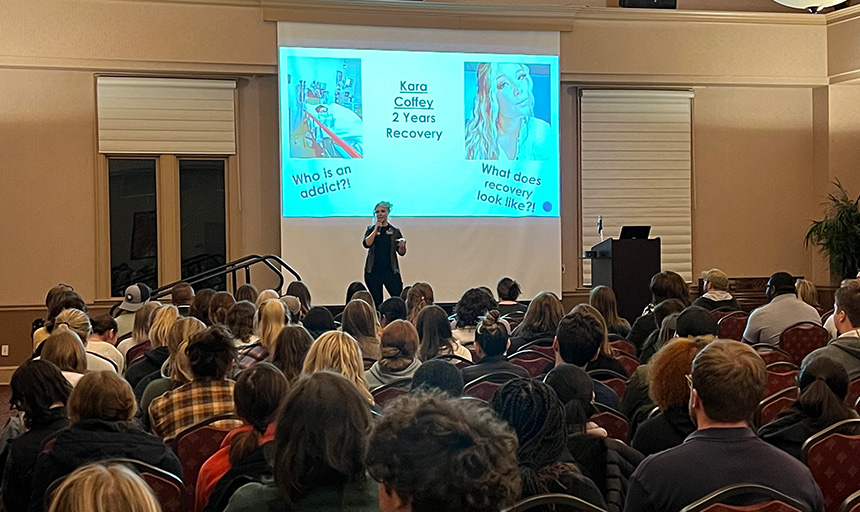 Over 130 students took part in a naloxone certification training held on-campus Dec. 1. In addition to learning how to administer the life-saving medication, attendees heard from speakers who dispelled stereotypes and misconceptions about the nationwide opioid epidemic.
Creating a community of helpers
It's an epidemic that stretches beyond any one campus, city, county or state — and it's been weighing on the minds of Selma Sosic '23 and Kavya Iyer '22.
The public health major and biochemistry major found themselves talking about the heartache wrought by the nationwide opioid crisis. Both their classroom learning and on-the-ground experience in internships with prevention and outreach groups had driven home the magnitude of the deadly addiction scourge.
They knew work had to be done to break down stigmas and barriers to care. They knew whole communities had to be part of creating solutions. They knew action had to be taken.
"This is a problem that everyone needs to be educated about," Sosic explained. "That was our goal. For people to learn more about what's happening and to learn that each one of us can be a part of saving someone in a life-threatening crisis."
That conversation spurred Sosic and Iyer to launch a complex project last semester that culminated in more than 130 Roanoke College students getting certified in the administration of naloxone. The training, which was the first of its kind held on campus, taught students how to apply the life-saving medication that can rapidly reverse the effects of an opioid overdose by slamming shut the nervous system receptors to which opioids would otherwise bind themselves.
"This is as crucial to know as CPR," Iyer said. "You don't need to wait until you know somebody personally at risk. You don't need to have a medical background. If a situation comes up, this training can be the difference between life and death. That human good, that opportunity to save someone's life, is something unparalleled."
The two classmates, who've been friends ever since bonding over their genetics coursework in Roanoke College's "Fly Lab," said they were encouraged by the crowd that turned out for the Dec. 1 training session. In addition to students, other community members and college leaders came together to learn how they could help in a crisis. President Frank Shushok Jr. was among those who took part to get certified.
"It was really special to be able to do this here. To look out and see both familiar faces and people I had never met before," said Iyer, who graduated last spring and is now in a doctoral program at Virginia Tech. "It was great to see students from all across campus show up. Hopefully, we can keep it going."
The naloxone workshop, organized in partnership with the Virginia Department of Health's "REVIVE!" initiative, offered both practical training and a wider look at the destruction being caused by substance use disorder. Speakers included Virginia State Police First Sgt. Joe Crowder and Kara Coffey, a peer recovery specialist with the Bradley Free Clinic's HOPE Initiative.
DID YOU KNOW?
Alumna Bryn Haden, co-valedictorian of the Class of 2022, is now an epidemiologist with the Virginia Department of Health and helped put on the REVIVE! training at Roanoke College.
The strong turnout and support for the event embodied the Maroon spirit that she's come to know, she said. "The campus is a close-knit community. People are so supportive and help you take your ideas and run with it."
Sosic, who graduated at the end of fall semester with plans to go onto a physician assistant program, said that type of firsthand insight into the epidemic was a vital piece of what organizers wanted to impart. Nationwide, fatal drug overdoses have skyrocketed by fourfold over the past decade. In Virginia alone, overdoses are the leading cause of unnatural deaths, cutting a swath across all demographics and regions.
"You can't make assumptions about it," Sosic said of the wide reach of addiction. "You could talk to someone, literally look them right in the eye, and never know what they're going through. There are people who won't tell you that they're struggling. It could be your next-door neighbor. It could be your friend. This is a problem that affects every community. This type of training is something we need to be doing everywhere."
Sosic added that the complexity of the opioid epidemic was something she and Iyer came to better understand through hands-on work they did while in school. Sosic did a student internship with the nonprofit Partnership for Community Wellness (PCW) and volunteers as an EMT for Roanoke County. Iyer, who's now building toward a career in clinical research, did an honors course project with the Drop-In Center, a harm reduction group in Roanoke. Both Sosic and Iyer also worked outside of school as technicians in local pharmacies.
That experience not only helped hone their understanding of the crisis but also aided them as they set out to organize the training workshop. Neither had tackled such a large-scale event before, but they were able to draw on the people and organizations they had built relationships with for guidance.
Both the Drop-In Center and PCW were partners in the on-campus training. Nancy Hans, longtime executive director of the PCW (formerly the Prevention Council of Roanoke), said she was overjoyed when she saw the crowd of students and college leaders that came to the event.
"To have over 100 students who now have this training and can go out and share this message is incredible," she said. "This is what we need. We know that fighting the crisis of addiction can't be done by just one organization. It takes a community of helpers."
Hans said it was inspiring to see students stepping up to take leadership roles in the push for change. "It honestly warms my heart. Selma and Kavya were just wonderful to work with. They're go-getters. I'm so excited about what they've done."
She added she hoped the college-community partnerships created will continue to grow over time. She was struck by the enthusiasm of the professors and administrators she met at the event. "I have to give a ton of credit to the staff at Roanoke College," Hans said. "They were really engaged and supportive."
Sosic and Iyer also hope to continue the initiative. They're already talking with each other about holding more events on campus and branching out to other small colleges that don't have REVIVE! programs.
Organizing their first event had been more demanding than they ever anticipated. Three months of behind-the-scenes work went into securing state and local partners, ironing out details and navigating disruptions in the supply chain of naloxone that was provided to participants for free by the REVIVE! program.
As Sosic put it, the project "wasn't all flowers and dandelions." But the two never gave up on it. They knew it was something worth doing. And organizations and campus leaders, including their professors who Iyer said were onboard from the start, began lining up to support them.
"I'm so glad we got to do it here," Iyer said. "Roanoke College is going to live very long with me. It's made an impact on who I am not just academically but also personally. It's taught me a lot about myself and what I can do."
Virginia State Police First Sgt. Joe Crowder (above) and peer recovery specialist Kara Coffey with the Bradley Free Clinic's HOPE Initiative were among the experts who addressed over 130 students during an on-campus training held Dec. 1.