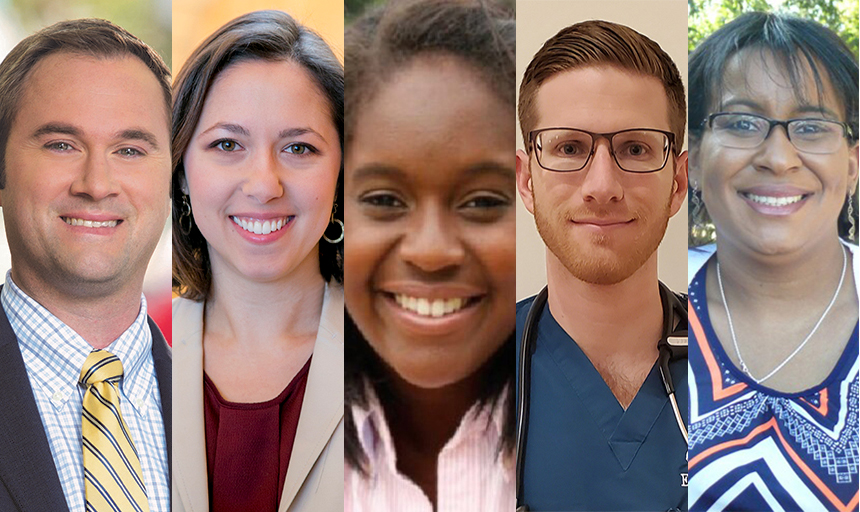 Young science alumni, from left to right: Dr. Jared Herr '04; Lea Lupkin '09; Taylor Ferebee '17; Kenneth Lampert, PA '12; and Tamara Poles '08.
Rising Giants
One year shy of a decade ago, Roanoke College magazine featured a cover story about three alumni who, after graduating in the first half of the 20th century, went on to exceedingly distinguished science careers.
"Science Giants," they were called.
The three, Dr. Theophilus Painter 1908. Dr. Vernon Mountcastle '38 and Dr. Carl Gottschalk '42, were "exemplars in taking what Roanoke offered and using it to change the world through science," Roanoke College President Michael C. Maxey said then. Each of the three, each now deceased, was "a giant in his field."
Roanoke College's longstanding tradition of educating, nurturing, training and preparing students for careers in the sciences — the same tradition that brought national and international acclaim to Painter, known for his work in identifying genes in fruit flies; to Mountcastle, known for his foundational discovery in the field of neuroscience: and to Gottschalk, who perfected the application of micropuncture technique to the study of kidney function — endures.
Who now stands on the shoulders of these giants? Who now serves as a daily reminder that science programs at Roanoke College continue to inspire generations of students?
Who are the rising giants?
Dr. Jared Herr '04, a heart failure and transplant cardiologist at California Pacific Medical Center's Center for Advanced Heart Failure Therapies.
Lea Lupkin '09, the founding manager of behavioral products and programs at the International Coaching Federation (ICF) Pittsburgh.
Taylor Ferebee '17, who is combining her expertise in genetics, network analysis and computer science to better inform geneticists and corn breeders about the inner workings of maize.
Kenneth Lampert '12, a physician assistant working in a variety of fields at the Albany (New York) Medical Center.
Tamara Poles '08, a community engagement specialist for the Morehead Planetarium and Science Center at the University of North Carolina at Chapel Hill who has dedicated herself to making science more accessible and understandable for people of all ages.
To learn more about these five accomplished young alumni, click here.