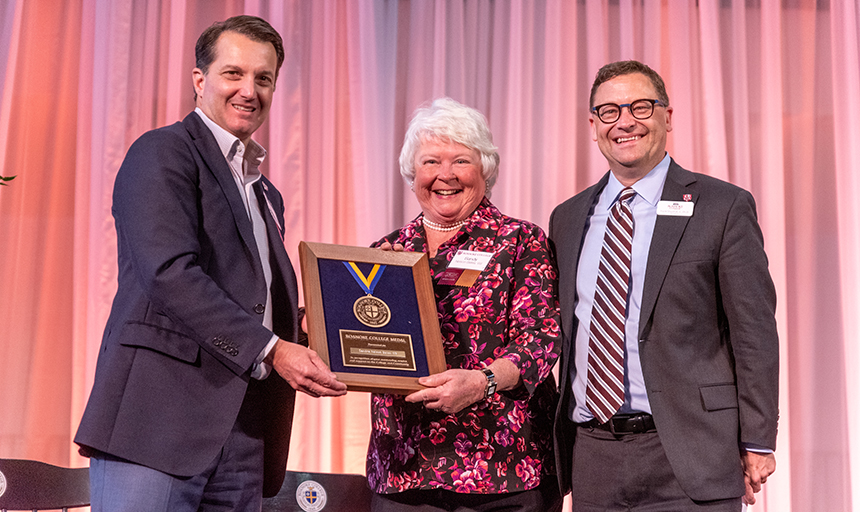 Sandra (Nelson) Bates '69 (center) receives the Roanoke College Medal from (left) Malon Courts, chair of the board of trustees, and (right) President Frank Shushok Jr. during the Society of 1842 luncheon on Alumni Weekend 2023.
Roanoke College honors 2023 medalist and emerging alumni
A member of the Class of 1969 who dedicated her life to government service was awarded the Roanoke College Medal during Alumni Weekend, while two additional alumni received the Emerging Alumni Award.
The Roanoke College Medal recognizes outstanding alumni who demonstrate characteristics of responsible leadership, intellectual integrity and good citizenship through their professional accomplishments, and service to their community and alma mater.
This year's Roanoke College medalist, Sandra (Nelson) Bates '69, retired from the General Services Administration (GSA) in 2005 after 37 years of service to the federal government. At Roanoke, Bates studied business administration and was a member of Chi Omega.
Bates spent the first 10 years of her career in the GSA, where she worked on the original government-wide long-distance services program, Federal Technology Service (FTS). She then transferred to NASA, where she ultimately became chief of communications, with responsibility for all NASA operational, command and control networks worldwide.
In 1996, Bates returned to the GSA, working her way up to commissioner of the FTS, which is responsible for more than $8 billion in products and services to federal government agencies each year. Bates is now an executive consultant for Topside Consulting, LLC, which provides a range of services to companies seeking to do business with the federal government.
Bates and her late husband, Tommy, generously established an endowed scholarship that aids incoming freshmen who require assistance beyond family resources to attend Roanoke. Recipients also must demonstrate their well-rounded attributes through involvement in co-curricular activities such as church youth group, community service, music, athletics or student leadership. Bates is a member of the Society of 1842 and the Presidents Society.
Dr. Jared Herr '04 (left), recipient of an Emerging Alumni Award during the Society of 1842 luncheon on April 21, with one of his mentors, Professor of Biology Dar Jorgensen.
The Emerging Alumni Award, a new honor in 2023, highlights outstanding alumni under the age of 50 who have made significant contributions to their communities and the Roanoke College family.
Dr. Jared Herr '04 is an advanced heart failure and transplant cardiologist in the Center for Advanced Heart Failure Therapies at California Pacific Medical Center (CPMC). He serves as director of the Continuing Medical Education Program for the Palo Alto Foundation Medical Group and is active in clinical research and graduate medical education at CPMC and Sutter Health.
Herr graduated from Roanoke magna cum laude with a B.S. in biology and biochemistry, then went on to earn a medical degree with honors at The University of Texas Medical Branch. At Roanoke, he was a member of Pi Kappa Alpha fraternity and Omicron Delta Kappa, Beta Beta Beta and Alpha Chi honor societies.
Herr also serves as a member of the President's Advisory Board and Science Center Campaign Committee. He actively supports alumni engagement in California and is a member of the Associates Society.
Rosemarie Stephens-Booker '08 uses her leadership and relationship-building skills to bring companies and governments together to solve global climate issues and move toward reduced carbon emissions. She advances that mission daily as director of state mobilization at the California-based Building Decarbonization Coalition.
Previously, Booker worked with the Biden-Harris Administration as a presidential appointee to the Department of Energy, where she connected the department's resources and technical assistance with local communities, states, Tribal nations and external stakeholders. She has also worked as a senior associate at BlocPower and a program manager for the Environmental Protection Agency's ENERGY STAR Program. She also serves on Alexandria, Virginia's Energy and Climate Change Task Force and on the board of Upstream.
Booker earned a B.A. in environmental policy at Roanoke College and an MBA from the University of North Carolina's Kenan-Flagler Business School. At Roanoke, she was a member of the choir, Young Democrats, Earth Bound, Maroon Core, Habitat for Humanity and Lutheran Student Movement.
She has served her alma mater as a member of the Roanoke Rising Regional Campaign Committee for the Washington, D.C. Chapter and the 2008 Reunion Committee. In addition, she and her family initiated the Marilyn Stephens Booker Endowment for Undergraduate Research Fellowship in Environmental Studies.