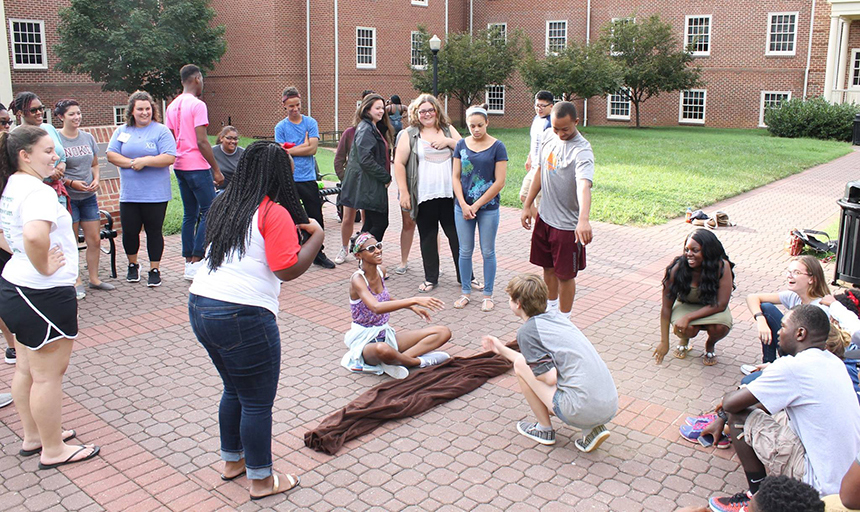 Campus diversity brings nation, world to Roanoke
Growing up in Roanoke, Kalie Morris '22 was well aware of what Roanoke College had to offer — small class sizes, a tight-knit campus community, good academics — but had always assumed it was mostly in-state students.
With Roanoke being a small, private college in southwest Virginia, Morris figured it would be mostly students from the area.
"Then I found out how diverse it really is, and how many people come from all over the country, out of the country," Morris said. "I think that's a big part of the Roanoke community, is everyone being able to come together no matter where they're from."
Though Roanoke College is only 80 acres and is tucked away behind Salem's main drag, it offers a global population and a gateway for students to experience the rest of the world.
"It's really nice to see people from other places come together in such a small area," Sebastian Harlow '20 said. "There's a lot of widespread diversity that's nice to see from our international students."
As of the beginning of the fall 2019 semester, students from 38 states and 31 countries were enrolled at Roanoke. There are a variety of vibrant multicultural clubs and organizations on campus, including Asian Students United, Black Student Alliance, Hispanic Organization for Leadership and Achievement, Lamdba Alliance and others.
"I think that's a big part of the Roanoke community, is everyone being able to come together no matter where they're from."
Kalie Morris '22
Olivia Kitt '20, who graduated from Patrick Henry High School in Roanoke (same as Morris), had a similar concern before she learned more about the College. She envisioned a so-called "suitcase school," where many students left campus on the weekends to go home.
Kitt found that not to be the case at all. Nearly 80 percent of students live on campus, and many of them stay on campus through the weekends. There's so much to do on campus and in the Salem area, Kitt said, that there's no reason not to stay.
Kitt said the diversity of her friend group has introduced her to places all over the country and world, even though the College is located just a few miles from where she grew up.
"Most of my friends are from the New England area or from abroad," Kitt said. "It's been a fun experience to be able to visit them on every single summer break, and travel to their hometowns and see where they're from."
Those friendships have been key to many local students' experience at Roanoke, including Tyler Derrick '20. Derrick, who attended Northside High School just 10 minutes from Roanoke's campus, said one of his favorite aspects of the College is how many different people he's grown close to over the years.
"The many different people you can form relationships with and how those relationships turn out is super exciting and super fun," Derrick said, "and I think it's pretty unique to us."