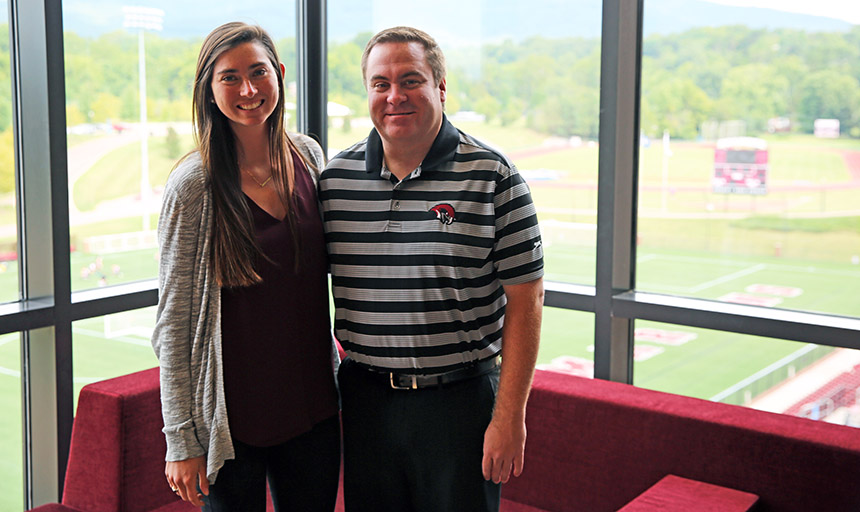 8.28.2017
By Roanoke College News
Roanoke Earns ODAC Sports Information Award
At the annual meeting of the Old Dominion Athletic Conference (ODAC) sports information directors in August, the Roanoke College athletic communications department was awarded with the conference's Sports Information Director of the Year award. The honors were bestowed in recognition of Chris Kilcoyne '02, director of athletic communications, and Kelly Higbie '15, assistant director of athletic communications.
Kilcoyne and Higbie, evidenced by this award, have shined in disseminating the achievements of Roanoke College student-athletes, coaches, and teams in addition to working with media to further the College's footprint with local, regional, and national outlets.
During the 2016-17 academic year, Kilcoyne and Higbie conducted much work in publicizing the opening the Cregger Center. They served as stewards of the facility and the College in-general as co-hosts (with the ODAC and City of Salem) of the 2016 NCAA Division III Men's and Women's Soccer Championships in addition to the 2017 NCAA Division III Women's Lacrosse Championship.
Their championship endeavors continued during the Maroons' run to the NCAA Division III Baseball Championships. In addition to general sports information processes, Higbie traveled with the team to Appleton, Wis., to provide first-hand documentation of the squad's experience in the eight-team event. That included publicizing a pair of victories, which were the first for any ODAC member at the Division III baseball championship site.
Kilcoyne, a native of Holden, Mass., is in his third year back at his alma mater after previous stays at the Atlantic-10 Conference, Randolph-Macon College and at the ODAC office. He has been integral in the reorganization of all of Roanoke's athletic communications, including a robust streaming platform and new Internet home for Maroons athletics with PrestoSports. He has overseen increased visibility and branding for the athletics department with several local vendors in addition to conducting operations for the Maroon Club.
Higbie, who hails from Midlothian, Va., is a former Roanoke Female Athlete of the Year and record-holder of five all-time standards for the Maroons' softball program. Higbie got her start in athletic communications as an undergrad. She also served as an intern with the Salem Red Sox and gained experience with Virginia Amateur Sports. Following graduation, she spent a year on the sports information staff at James Madison University. Higbie's responsibilities at Roanoke include oversight of the Maroons' social media platforms, which saw a spike of 800 increased followers on Instagram over the past calendar year.
The ODAC sports information directors committee is comprised of the athletic communication professionals --- directors and assistants --- from each of the conference's 14 full-time member institutions. The group conducts a closed vote (one per school) each year to honor the office of one of its peers based on a number of informal criteria included but not limited to media relations, inter-school communications, effectiveness with the media, game day operations, and excellence in other responsibilities germane to each institution's specific athletic communications protocols.