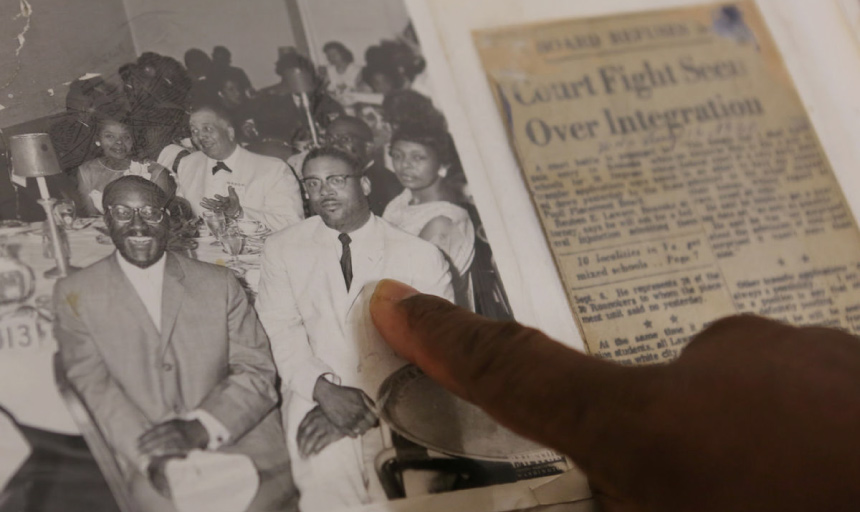 photo by Heather Rousseau, The Roanoke Times
1.10.2018
By Tiffany Stevens, Roanoke Times
Roanoke project digitizes civil rights-era documents
Reprinted by permission of The Roanoke Times.
Beverly Brower recalled when she and other black Roanokers were finally allowed to watch movies in the American Theater.

The downtown theater, demolished in 1973, was once considered a space only for white patrons. Even when the now 62-year-old Brower and other black residents were permitted to enter, they had to scale a fire escape on the side of the building to reach the upper floor. Buses carrying children to the cinema were forced to park in an alley, away from the main entrance.
"Little did the little white kids know that were sitting below, we had to sit in the balcony, but we loved it," Brower said. "We took all our spit balls and all our bubblegum balls and all our popcorn and threw it down on their heads."
Brower's stories - and others shared at a recent gathering at Hill Street Baptist Church - lent personal faces to a recent project conducted by Roanoke College students for an introduction to public history class. The 25-student class spent the fall semester digitally preserving more than 200 newspaper clippings collected by the northwest Roanoke church between the 1950s and the 1970s.
Those articles - representing work from The Roanoke Times, The Roanoke Tribune and The Roanoke Star - are now available to the public through an online database (http://bit.ly/2CbB17X). The class also created a timeline (http://bit.ly/2zCBgUo) that highlights some of the major issues experienced by the black community during segregation, such as the dump operated in Washington Park, which posed numerous health risks to the historically black neighborhood.
The project also documents landmark efforts to desegregate Roanoke, like the Woolworth lunch counter integration and the integration of city schools.
Radiance Mack, a 21-year-old junior majoring in pre-law, said the project helped her understand better the stark reality that black Roanokers once faced in the city.
"What I got out of it was that we should speak up and take steps to make sure that doesn't happen again," she said.
Gregory Rosenthal, a Roanoke College assistant professor who spearheaded the project, said students spent several weekends working in the Raymond R. Wilkinson Memorial Library at Hill Street, coordinating with the church to carefully scan the articles, which were housed in a large scrapbook protected by a vacuum-sealed bag.
Students who signed up for the class were not told beforehand that they would be conducting a large-scale project, Rosenthal said.
"As their professor, I'm very impressed that they've developed such an understanding of local history and such a compassionate understanding of the diversity of people's experience over time," Rosenthal said. "We could have just as easily read a bunch of books and sat around the class, but I do think this kind of public engagement is what an education should look like."
The Rev. Johnny Stone, pastor at Hill Street, said the library, which contains an assortment of books and encyclopedias as well as computers, is open every Saturday. The small library also has several historic pictures documenting the church's history, including pictures of its original location.
A new building was erected for the congregation after the church was forced to move from its original location on McDowell Avenue by the housing authority during urban renewal.
The library's namesake, Wilkinson, served as Hill Street's pastor for 33 years and also was president of the Roanoke chapter of the NAACP from 1959 to 1969. He was a prominent civil rights leader in the area, spearheading desegregation efforts and establishing a biracial committee of doctors and preachers who worked to end segregation at drug stores and lunch counters.
He also held secret meetings with white business owners and city leaders to negotiate the smooth integration of the city. His daughters, Nadine and Cassandra Wilkinson, were among the first black students to integrate formerly whites-only schools in Roanoke.
At the class's presentation, several church members said that they were moved by the class's efforts to make Wilkinson's work accessible not only to locals, but to anyone with internet access. Darnell Wood said he remembers when Wilkinson baptized him and his brother at Hill Street's original church.
He also remembers when Washington Park, despite the rotting trash and proliferate vermin, was the only playground he and other black children could use. He said that he hoped the project would be used in Roanoke's high school classes, as a way to continue to teach younger generations about the discrimination the city's black residents have faced within living memory.
"I'm 59 years of age, and I've lived through a lot of this," he said. "And we're going to continue to live through it because discrimination is still out here."
See the article, along with more photos, at roanoke.com.