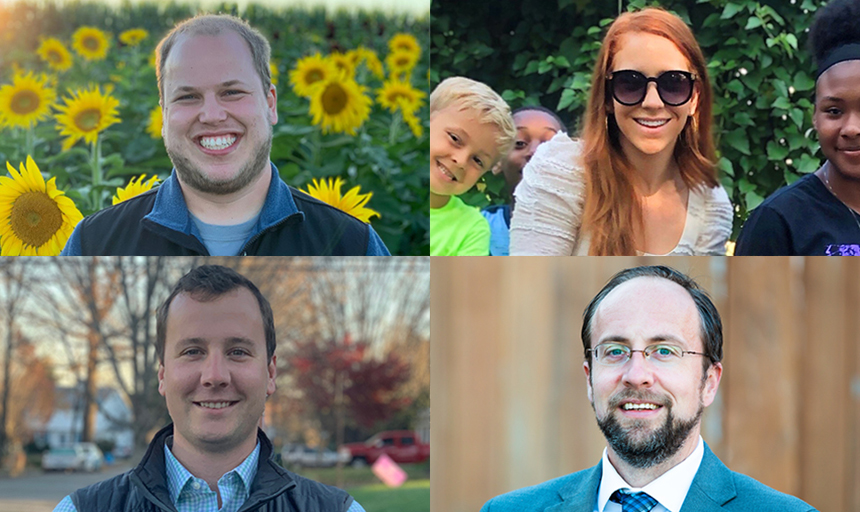 Clockwise from upper left: Matthew Brown '13, Amanda Nastiuk '11, John Hull '04, Chris Vail '14.
Maroon alumni make local '40 Under 40' list
The Roanoker Magazine's annual 40 Under 40 list usually includes a number of Roanoke College alumni, and this year is no different.
Six Maroons were nominated by their peers and selected by the magazine's staff. They're involved in the community in a number of ways, from running a youth center to using innovative digital strategy to helping local organizations to doing standup comedy with a political bent.
Below are the Roanoke alumni who made the list, with comments from those who nominated them.
Matthew Brown '13
Age: 29
Profession: Customer Solutions Expert, Shelterluv
Other community involvement: Brown volunteers with the Humane Society of the United States as a District Leader for the 9th Congressional District of Virginia. He works with a local animal shelter, helping to increase adoptions and establish new income streams.
Major(s) at Roanoke: Computer Information Systems
What nominators said: "Brown's dedication to Animal Welfare sets him apart, not only working on the local level affecting change for animals within the community, but seeing the need for change across the country and taking the steps necessary to get there."
Johnny Camacho '12.
Johnny Camacho '12
Age: 31
Profession: Assistant Manager, Deschutes Tasting Room
Other community involvement: After studying improv at the Upright Citizens Brigade in New York, Camacho founded the Comedy Lab in Roanoke. He created Trivia Night and Literary Night at Deschutes Tasting Room in Roanoke. He taught a summer camp program and all-ages workshop at Mill Mountain Theatre in 2019, plus weekly adult workshops.
Major(s) at Roanoke: Theatre Arts
What nominators said: "Camacho is funny, interesting, talented and freakishly intelligent! He is kind and will do anything in his power to help out those in need. He works hard, he is conscientious and does whatever it takes to get the job done, whether it be for his employer or for his fellow comedians."
John Hull '04
Age: 38
Profession: Director of Market Intelligence, Roanoke Regional Partnership
Other community involvement: A tenured volunteer with the Boy Scouts of America, Hull established the first female Scouts BSA troop in Roanoke. He has completed more than 10 half marathons, a full marathon and a 24-hour ultra marathon.
Major(s) at Roanoke: Political Science
What nominators said: "Hull genuinely cares about the economic success of the Roanoke Region and has used his impressive research skills to provide the data that leads to informed decisions about the future of the Roanoke Region. … He believes that numbers, trends and outcomes help shape the future we desire and is a reliable and timely resource to community leaders."
Amanda Nastiuk '11
Age: 33
Profession: Executive Director, West End Center for Youth
Other community involvement: Joined the West End Center for Youth in 2018 as a development associate and middle school group leader before being promoted to executive director in 2020. She overhauled the center's Tuition Credit Program and coached her 10-year-old son's football team.
Major(s) at Roanoke: Sociology
What nominators said: "When Nastiuk assumed the position of West End Center's Executive Director in mid-May of (2020), undertaking that role was a virtual baptism by fire. A wholly unfamiliar debacle, COVID-19, had begun to dominate every aspect of life and created unique and massive obstacles for families and educators. ... Understanding that the Center provides so much more than a mere safe haven for children, she forged ahead with the objective of protecting their families and helping young students to adapt to the huge new undertaking of virtual learning."
Chris Vail '14
Age: 29
Profession: Real Estate Appraiser, Vail Appraisal, LLC
Other community involvement: Member of the Board of Zoning Appeals from Roanoke City Council, former member of Economic Development Committee for the Roanoke Valley Association of Realtors and former public relations chair for the Virginia Commonwealth Chapter of the Appraisal Institute.
Major(s) at Roanoke: Health and Human Performance
What nominators said: "Continual drive and dedication to being the most credible and thorough real estate professional in the Roanoke Valley. Commitment to the betterment of Roanoke in the means of real estate, land use, and growth."
Fredy Wright '05
Age: 36
Profession: Digital Director, Wheeler Digital
Other community involvement: Wright has volunteered for March of Dimes, Ronald McDonald House, Children's Miracle Network and the Spina Bifida Association. He recently did pro bono digital strategy work to help RAM House, a day shelter founded and operated by Roanoke Area Ministries, and brought Amazon Premium targeting to the Roanoke Valley.
Major(s) at Roanoke: English and Communications
What nominators said: "He has built hundreds of campaigns for local and national brands, leading to proven sales increases by blending the roles of creator, technologist, strategist and businessperson. …With clients in Roanoke and beyond, Wright is seen by many local businesses as an essential part of their marketing team. He brainstorms and strategizes new and unique ideas with each of them (no two campaigns are alike)."