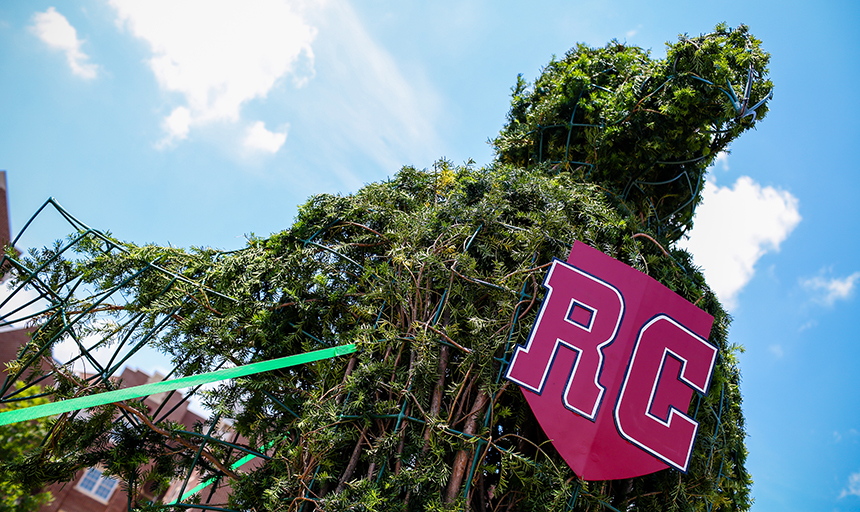 8.28.2017
By Roanoke College News
Rooney Topiary stands guard over Maroon Athletic Quad
This summer, a living, growing-and somewhat imposing-Rooney was planted near Kerr Stadium field. At 14 feet tall, this topiary stands guard in the sun, rain, snow and wind, a living symbol of the Roanoke College spirit. The topiary was dedicated Tuesday, Aug. 29 on the Maroon Athletic Quad.
The Rooney topiary was presented by Joanne Leonhardt Cassullo '78, a member of the Roanoke College Board of Trustees, and her sister, Andrea Cassullo Harkins, in loving memory of their mother, Dorothea L. Leonhardt, and in honor of the 1977 and 1978 lacrosse teams and their coach, Paul S. Griffin.
Dorothea Leonhardt was a big fan of the 1978 NCAA championship lacrosse team, Cassullo said. At the time, Roanoke's team was relatively new and not well funded.
"When she learned that the team did not have matching traveling bags to take to the playoffs, she arranged through our family foundation to purchase them for the team so that we looked like the champions we were to become," Cassullo remembered. "In fact, she was by my side to welcome the team home at 1 a.m. after they won that championship—right before graduation."
The topiary was designed by artist Matt Larkin of Black Barn Farm in Richmond, Massachusetts. He first welded the metal armature into the shape of Roanoke's maroon-tailed hawk. In June, Larkin brought the form to campus, along with a 20-year-old yew tree to plant. After planting the tree, Larkin weaved, tied and trimmed the yew to connect it to the form.
The metal skeleton is visible through the topiary's branches but as it matures, the plant material will grow and thicken eventually forming the shape of a mascot that exemplifies achievement, strength and school spirit.
"Being a student in the 1970s at Roanoke was to be embraced by an intense and almost magical school spirit," Cassullo said. "I sense that this is still the case today. My senior year, my advisor encouraged me to take an art history class which not only awakened a new passion within me, it helped to set me on a career path that took me deep into the heart of the contemporary art world of New York City. It was a gift to be given the opportunity to explore new academic interests."
"That is the beauty of a liberal arts education at Roanoke College, to discover something new about yourself before you set off to change the world."
Rooney Topiary Report