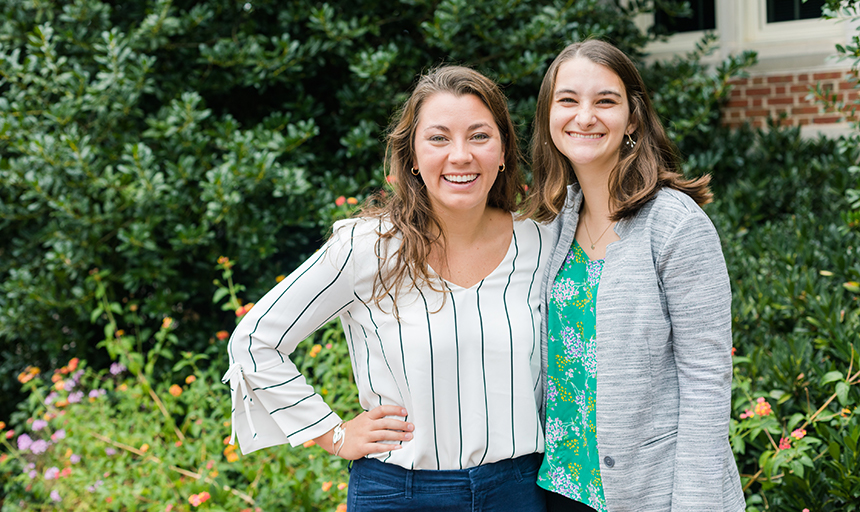 Natalie Whitney and Emily Spangler
Two Roanoke students receive Rotary International scholarships
The first weekend of September proved especially exciting for two Roanoke College students.
On Friday, Sept. 7, Natalie Whitney '20, of Nobleboro, Maine, learned she was the recipient of the prestigious Rotary Skelton/Jones Scholarship. This national-level scholarship funds one year of post-baccalaureate study at a recognized university in a country other than the United States or Canada
Two days later, Emily Spangler '20, of Goochland, Virginia, learned that she also had received a Skelton/Jones Scholarship.
They are the second and third Rotary Scholars in the College's history. The first Rotary Scholar from Roanoke College was Jessica Compton '15.
Whitney, of Nobleboro, Maine, is a health and exercise science major with a minor in Spanish. She plans to apply to graduate programs in speech language pathology in Australia, New Zealand and Spain. Spangler, of Goochland, Virginia, is a biology and public health major with a concentration in anthropology and is a member of the Honors Program at Roanoke. Spangler is interested in applying to a master's degree program in global health at the University of Copenhagen.
"My family has a long Rotary connection," Whitney said. "I have been involved in annual ski race fundraisers with Rotary at home for as long as I can remember."
Said Spangler, "I want to be able to help populations of people," Spangler said. "The helping people component of Rotary scholarships was important to me and felt like a good fit for me because there aren't a lot of scholarships for the public health field."
Both scholarships were awarded through Rotary District 7570, which covers an area from Greeneville, Tennessee to Winchester, Virginia.
Whitney, who is from a family that valued exploring the world, spent this past summer at an English immersion camp in Istanbul, Turkey. On campus, she is a member of Roanotes, a student-led a cappella group, and teaches group fitness classes. She also worked as news and information director for WRKE, the College radio station, for several years.
As a freshman, Whitney resurrected the RotarAct Club, a youth version of Rotary club, and was the RotarAct president for several years. RotarAct has grown and flourished under Whitney's leadership. The club partners with the Salem Rotary Club, and is assisting in an international fundraiser on campus and at Olde Salem Days, where the club sold handmade goods from a community in Ahuano, Ecuador.
Whitney's scholarship application was sponsored by the Salem Rotary Club. Members of the Salem club helped review her application and provided an opportunity for her to participate in mock interviews to help prepare her for the scholarship interview.
Dr. Pamela Schlosser, associate professor business and economics at Roanoke, and faculty advisor for the College's RotarAct Club, described Whitney as "an extraordinary person who brings creativity, excitement and dedication to all the work she does and truly exemplifies Rotary's core values of 'Service Above Self'." Schlosser, who is president-elect nominee of the Salem Rotary Club and a director at the Salem Rotary Club Foundation, added that Whitney "has been instrumental in starting our Rotaract chapter at Roanoke College, and has worked diligently, building a club filled with students of different disciplines that all share a common goal of finding a way to make a difference. I am so glad Rotary selected Natalie to develop her project surrounding such an important issue as speech therapy."
Spangler is founder of the College's Public Health Club and is president of Alpha Epsilon Delta, the health professions honor society. She has conducted research in the biology department with Dr. Darwin Jorgensen, Thornhill Professor of Biology at Roanoke.
Spangler also participated in research in Palau about the effects of globalization on health with Dr. Chad Morris, associate professor of anthropology at Roanoke and director of the College's Honors Program. She traveled to Palau in her May Intensive Learning Term course in 2018, then stayed for the remainder of the summer for an internship, working on communicable diseases with the Ministry of Health in Palau.
This summer, Spangler was a Summer Fellow at the National Cancer Institute, where she worked on a systematic review looking at the effects of particulate matter air pollution on GI cancers.
Spangler actually applied for the Rotary scholarship while studying abroad for five months in Ghana this past spring. She also spent two weeks this summer in Zambia to assist in setting up mobile medical clinics.
Spangler's award is through Rotary District 7570 and her application was sponsored by the Botetourt Rotary Club. Members of the Botetourt club helped review her application and provided feedback to her drafts — even while she was in Ghana but continuing work on the application.
"I'm very thankful for my professors," Spangler said. "They've been very helpful and supported me through this process and worked with me as I traveled abroad."