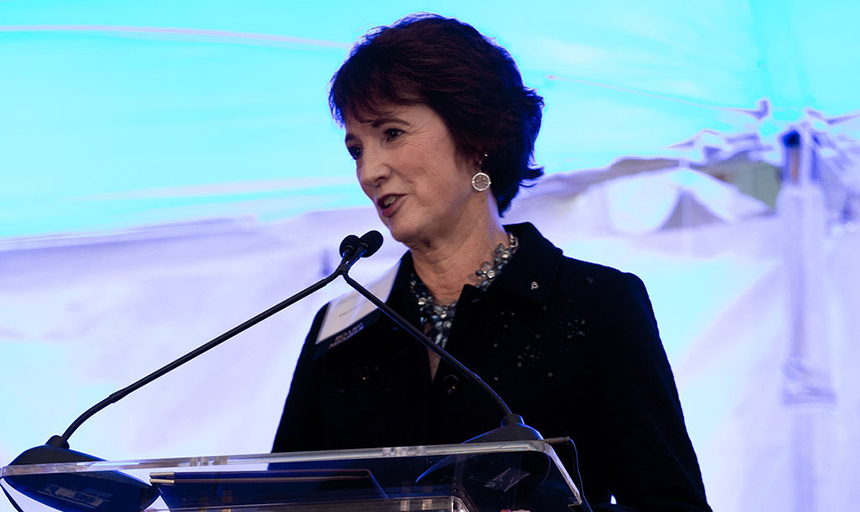 Southard honored for her diabetes advocacy
Roanoke College graduate Sally Waters Southard '77 was the honoree of the 16th Annual Star City Denim & Diamonds Gala held in Roanoke on March 30, 2019. She received the Living and Giving Award for her many years of service to JDRF at this fundraising event.
The eradication of Type One (juvenile) Diabetes became a cause close to Southard's heart when she was diagnosed with the disease at the age of 10. She now serves on the Board of Directors for the Greater Blue Ridge chapter of the JDRF. Another contribution to this cause is her participation in numerous clinical trials for the closed loop artificial pancreas system at the University of Virginia.
Southard graduated from Roanoke College with a bachelors in psychology and the University of Virginia with a bachelors, masters, and pediatric nurse practitioner certificate. She is a recipient of the 2012 Charles Brown Award, awarded by Roanoke College to a Salem citizen to acknowledge their contributions to the city.
Sally was a pediatric nurse with Carilion Clinic for 38 years before retiring in December, 2018. She worked as a pediatric nurse practitioner at Carilion Children's Pulmonary and Allergy Clinic for 24 years . While there, she precepted many pediatric nurse practitioner students from Radford University, the University of Virginia, Old Dominion University, and the University of Southern Alabama.
Southard served as the Chair of the Virginia Asthma Coalition Asthma Action Plan committee, endorsed by the Virginia Department of Health and the Virginia Department of Education. This plan is used in school divisions and medical practices across the Commonwealth. She served on the Salem City School Board for three years before becoming the chairman of the board- a position she held for 13 years. She currently serves as Vice President of the Board of Directors for the Child Health Investment Partnership of the Roanoke Valley. Southard is also a member of the American Nurses Association, the Virginia Nurses Association, and the Virginia Council of Nurse Practitioners.