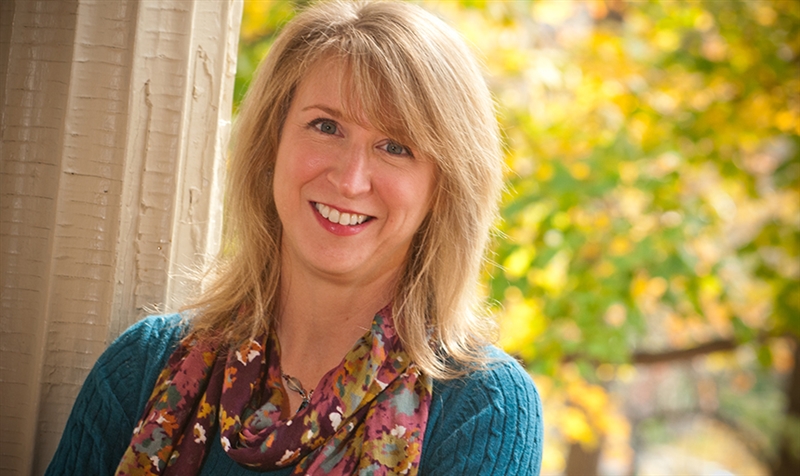 Roanoke College remembers Dr. Sandee McGlaun
Dr. Sandee McGlaun, associate professor of English and director of the Writing Center, died Sept. 4 after a long battle with breast cancer.
Her husband, Steve Prisley, posted to her social media: "The earth has lost a beautiful soul today as Sandee McGlaun left her weary and wounded body after a long and determined battle with cancer. Visit her Still Life Beyond Cancer blog to read her encouragement to hold your loved ones close, always choose kindness, and savor each moment."
McGlaun has taught at Roanoke since 2006. She earned her bachelor's degree from Agnes Scott College and her master's and Ph.D. from Ohio State University.
As a writer, McGlaun taught many interesting classes, such as one on nature writing. She taught and mentored many student writers through her classes and through her work in the Writing Center.
"With her academic background in rhetoric and writing, Sandee brought professionalism to the Writing Center through a full-credit tutor training course, and opportunities for student tutors to share their research at national conferences," Wendy Larson-Harris, chair of the English and Communication Studies Department said. "Sandee made the most of her split position between teaching Creative Writing and INQ courses in our department, and running the Writing Center and recruiting and training the student tutors. While faculty largely encounter students in the classroom, Sandee worked with students in the Writing Center, forming lasting bonds. Sandee was able to mentor students both academically and professionally."
McGlaun was always up for a fun and unusual project. She's one of the dancing professors in the College's popular lip-sync video from 2018 (center in the picture above.) She also was one of the first faculty members to do a faculty takeover on Snapchat. The College was just starting to use Snapchat to help prospective students and current students see all the College has to offer. McGlaun happily took on the assignment and did a great job in showing a day in the life of a professor. (Video compilation of her takeover is shown below.)
"This tribute can never capture the impact she had on my life," Emily Densmore '17 said. "She was wise, brave, and immensely talented. Her loss has left a devastating absence in the lives of all those who were privileged enough to know her."
She served as the artist-in-residence at Carilion Roanoke Memorial hospital through the Robert L.A. Keeley Healing Arts program. She also blogged about her battle with cancer on Still Life Beyond Cancer, where she shared about the challenges of her treatments, living with cancer and her reflections on life and community.
Her poetry and creative writing appeared in a variety of publications, including Artemis, Southern Discourse, Kentucky English Journal and in audio form on WVTF Public Radio.
McGlaun also created visual art and is one of the featured artists this fall at a New Leaf Gallery in Floyd, Va.
McGlaun is survived by her husband, Steve Prisley, and stepsons are Roanoke alumnus Tucker Prisley '12 and Dustin Prisley. She is also survived by her parents Garry and Margaret McGlaun of Gainesville, Georgia, brother Todd McGlaun of Athens, Georgia and five nieces and nephews as well as two grand-nieces.