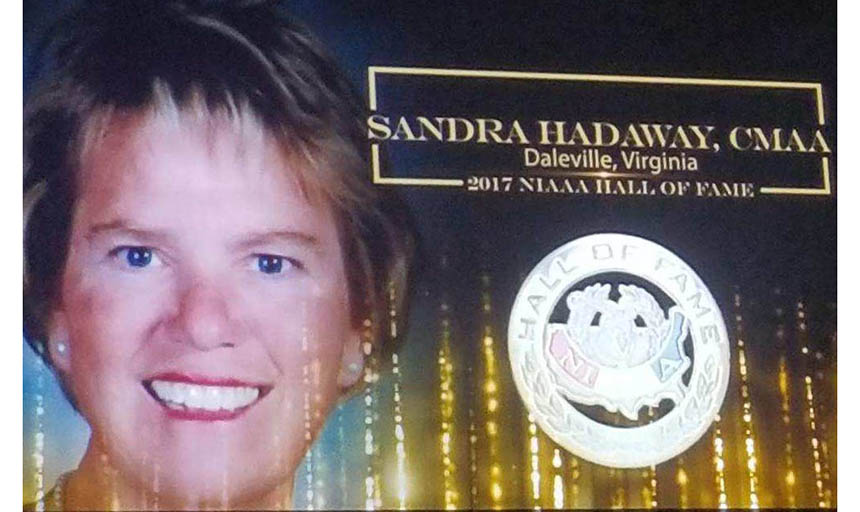 1.23.2018
By Roanoke College News
Hadaway inducted into National Hall of Fame for ADs
Sandy Hadaway '74 has been inducted into the National Hall of Fame for Athletic Directors.
During Hadaway's time at Roanoke College, she was a member of the basketball, golf, field hockey and volleyball teams. She helped the basketball and golf teams go to the Virginia State Intercollegiate Championships. Her efforts earned her a spot in the Roanoke College Hall of Fame in 1982.
Hadaway was a distinguished member of the Salem High School community for 33 years, first joining in 1981 as assistant principal. She took on the responsibilities of athletic director and student activities coordinator in 1990, adding girls and boys soccer, girls and boys lacrosse, and girls and boys swimming. During her 24 years as athletic director, Hadaway also directed more than 200 district, region and state tournaments for the Virginia High School League (VHSL).
Outside of Salem High School, she was a member of the Virginia Interscholastic Athletic Administrators Association, where she held positions of treasurer, president-elect, president and three time chair of state conference. Hadaway also officiated basketball, volleyball, field hockey and lacrosse games at the high school level and at the collegiate level in the Old Dominion Athletic Conference.
Among her numerous awards, Hadaway was named Virginia AA Athletic Director of the Year in 1995. The following year, she was awarded the National Institute on Alcohol Abuse and Alcoholism (NIAAA) State Award of Merit. In 2003, she was given the NIAAA Distinguished Service Award and was a Virginia High School Hall of Fame inductee in 2007.