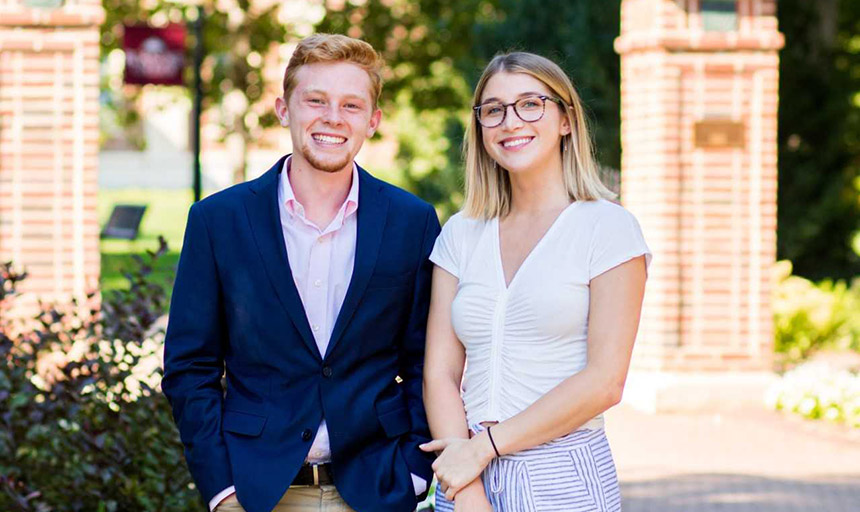 Two Seniors Receive Delta Mu Delta Scholarships in Business Administration
Madison Kantor '19 and Gabriel Umland '19 have been awarded the 2018 Delta Mu Delta Board Award, which includes a $1,000 scholarship. Delta Mu Delta is an international honor society founded at New York University in 1913 to recognize and reward superior scholastic achievement of students with concentrations in Business Administration.
Madison Kantor '19 is a business administration major and sociology minor from Roanoke, Virginia. She is the vice president of member education for Delta Gamma Fraternity, vice president of Delta Mu Delta business honor society and vice president of Order of Omega Greek honor society. She is also a member of a number of other honor societies, such as Alpha Lambda Delta freshman honor society, Alpha Chi national honor society and Alpha Epsilon Delta premedical honor society. On top of her campus involvement, she also works the front desk for the Center for Learning and Teaching, is a tutor manager at Subject Tutoring and works with Dr. Christina McCart, a professor in the Business department, as a student assistant. This summer, she spent her May term in Paris, France, and was an intern for UBS Financial Services.
Gabriel Umland '19, from Quaker Hill, Connecticut, is a business administration major with a concentration in marketing and a minor in math. He is the vice president of Roteract and is involved in frisbee as well as A Capella on campus. In addition to his club involvement, Gabriel works for the IT department, the Resource Development department, the PR department, and just finished an internship with marketing, advertising, and public relations agency Eddy Alexander. He is an avid photographer, has marketed a startup brand, was a participant in the Roanoke College Innovation Challenge, and has studied abroad in New Zealand, which earned him the Spitz Award for Experiential Learning. Gabriel also spent last summer teaching English in Istanbul, Turkey.
Roanoke College's Upsilon Chapter of the Delta Mu Delta business honor society was also recently named as a 2018 Star Chapter, one of 20 recipients of this award out of approximately 300 chapters nationwide. This is the first time Roanoke College Delta Mu Delta chapter received the Star Chapter recognition. The advisors are Dr. Gulfem Ivy Kutlu and Dr. Christina McCart.