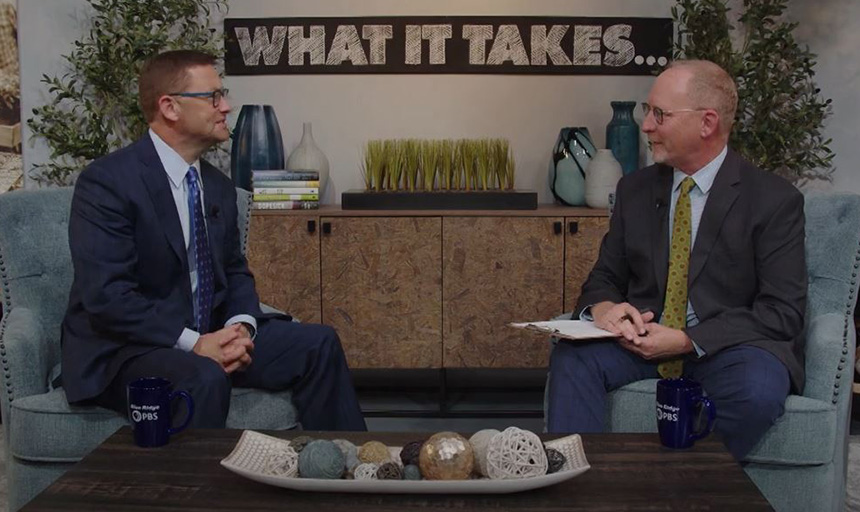 President Frank Shushok Jr. on the left and "What It Takes" host Tom Landon on the right.
Shushok featured on Blue Ridge PBS' "What It Takes"
President Frank Shushok Jr. recently was featured on the Blue Ridge Public TV program "What It Takes." The program is now streaming through ECHO and can be viewed here.
Host Tom Landon held a wide-ranging conversation with Shushok, discussing his background in higher education, including his stint at Virginia Tech before becoming Roanoke's 12th president. Shushok also shared that school was hard for him as a young student, but engaged teachers helped him rise above his educational challenges and learning disabilities.
Shushok also talked about the importance of Roanoke College to the Roanoke Valley community and how the community and the College can work together.
"Our mantra is 'Our purpose is to help you find yours,'" Shushok said. He talked about the intimate and customized education offered by Roanoke and how Roanoke's faculty members are involved in both educating students and planning Roanoke's future. He also discussed how a Roanoke College liberal arts education prepares students not only for a career, but also for the multiple jobs they will hold as they reinvest themselves throughout their career.
"Our mantra is 'Our purpose is to help you find yours.'"
~ President Frank Shushok Jr.
Roanoke College's future is rightly on Shushok's mind, and he talked about his plans to grow Roanoke College's enrollment in the coming years and to consider new academic offerings. Shushok said the College is working on plans to increase enrollment — possibly up to 2,500 students in 10 years — and to expand academic offerings. For example, Roanoke will welcome its first MBA class in May.
Landon even noted Shushok's social media video where he playfully took on the role of a first-year "student" as he became familiar with Roanoke's traditions, learned his way around campus and got settled in for his first year. Watch that video here.
Note: Be careful to get the right post before you kick the post for good luck. The PBS video shows a post similar to the Kicking Post, but it's actually a memorial post shown in the video's b-roll.