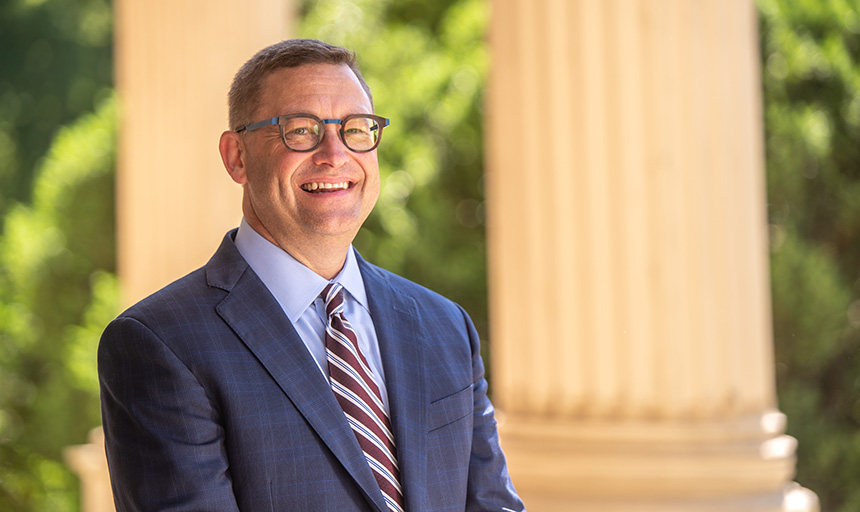 A message from President Shushok
Dear Colleagues,
Today, I write to you from our beautiful Roanoke College campus where I have officially begun the role of 12th President. Thank you for the incredibly warm welcome you have extended my family and me. Over the summer, Kelly and I helped our oldest son, Brayden (22), get settled in his new residence in Sarasota, Florida. In the coming weeks, you'll likely see our other two children exploring campus, including Christian (20), a rising Junior at Sewanee, and Ivy Anne (17), a rising senior at Blacksburg High School. No one, however, is more excited about being a Maroon than our one-year-old dog Maple, who received her acceptance letter from Dean Poggendorf in April. We're simply so honored to be part of the Roanoke College family.
I know I'm filling the very big shoes of President Mike Maxey, who served with unshakeable character and a deep reverence for the mission, traditions, and people of the College. I'm grateful and humbled to join you on this storied and important journey. Thank you for being a community of remarkable educators and stewards of a valiant mission in motion since 1842.
Since the beginning of the presidential search process, I have learned that Roanoke College is a community with a soul that sees and serves goodness in a world replete with challenges. I love how laser focused you've been on student success, with an "all-in and whatever it takes" spirit that is a guiding light of the College's cultural fabric. Your willingness to engage the constant tension between tradition and new possibilities is also abundantly clear. You have inspired me greatly!
Presidential transitions are important moments for institutions, as they often represent a new chapter in a book already bulging with inspiring stories, courageous people, victories, defeats, resilience, and perseverance. The most recent chapter certainly tells how hard the past few years have been, as well as just how much you have sacrificed for Roanoke College. Thank you for staying the course, for believing in what is still possible, and for remembering that a Roanoke College education is a unique game-changer for scores of students and their families.
I recognize that new chapters can be also scary, even for the new president! My first and foremost responsibility in the coming months will be to become your student, listening intently to your stories, fears, and hopes. Whatever the future holds for us, it must be woven together by the entire community with transparency, trust, truthfulness, integrity, and goodwill. I promise to do my best to live up to such important expectations.
"I love how laser focused you've been on student success, with an "all-in and whatever it takes" spirit that is a guiding light of the College's cultural fabric. "
President Frank Shushok Jr.
As a way of further introducing myself, I wanted to share a few core convictions that inform my work. I truly believe:
If you're discouraged by what you see "out there" (increased polarization, eroding mental health, growing inequity, health disparities, among hundreds of other challenges), there is no better place to be than right here at Roanoke College. We serve as the learning laboratory for experiences that will prepare the next generation to tackle these challenges with courage and resolve.
The well-being of our students and our workforce has been tested like never before, especially in this Covid-19 recovery phase. Having a culture of care is critical to our collective flourishing. As a community, we must challenge the status quo and find ways to bolster our holistic health, including mental health.
EVERY person working at Roanoke College—whether a professor, housekeeper, facilities technician, dining services worker, administrative assistant or vice president is an educator and is equally influential in the success of our students. From my vantage point, there are no unimportant people and there are no insignificant moments at Roanoke College.
We can be "barrier breakers" for students by understanding deeply the challenges they face, empathizing with their experience, and designing new ways to promote their success.
We must be brave enough to view students as partners in the educational enterprise, especially in the designing of experiences. This requires a willingness to share power with students and invite them to contribute meaningfully in all that we do.
We must understand and respond to the needs of today's and tomorrow's students and community and find the courage to challenge the structures, policies, and practices that were built for previous generations. This requires a spirit of innovation, agility, courage, and humility to engage regularly in evaluating and redesigning our work for now and tomorrow.
Inclusion and belonging are everyone's responsibility. Every interaction, communication, environment, class, program, and policy should reinforce that Roanoke College is a place where we value one another and where we can all feel that we belong.
When a single student finds a calling, becomes compelled by the cause of justice, learns to care for humanity, discovers a talent, hones a skill, or finds the courage to speak up for a value, the world stretches. I cannot think of a better way to spend a life than right here with you.
You'll learn that I sign my notes and letters by saying "with hope." I use this phrase intentionally—not as another form of "sincerely" or "yours truly," nor as a synonym for "wishing." Hope is not superstition nor passive ambition, it is a well-researched psychological practice. Thanks to groundbreaking research of the late Rick Snyder, distinguished professor of clinical psychology at the University of Kansas, we know that hope is a psychological tool for making progress toward a reality that we can practically create—as individuals and as a community. Hope requires that we have clear goals, that we see pathways toward reaching them, and that we have a sense of agency to influence their achievement. We can learn to have hope by understanding how hope works. In the days ahead, I trust Roanoke College is and will be a hope-building community at both individual and institutional levels.
Thanks to early conversations with many of you during my trips to campus, I've learned that you are full of ideas for our next chapter. Soon we will develop a structure and process for a series of community-wide, collaborative, and inclusive visioning exercises that will be foundational for a future strategic-planning process. Kelly and I also look forward to hosting smaller meet and greet times with you in our new home.
There is so much more to share and many conversations that I hope we will have in beautiful time, but alas, it is my first day, so I should probably get down to work. Please know I believe our future together depends on my getting to know, learn, and serve each of you, your families, and your many aspirations for our community.
With hope,
Frank Shushok Jr., Ph.D.
President