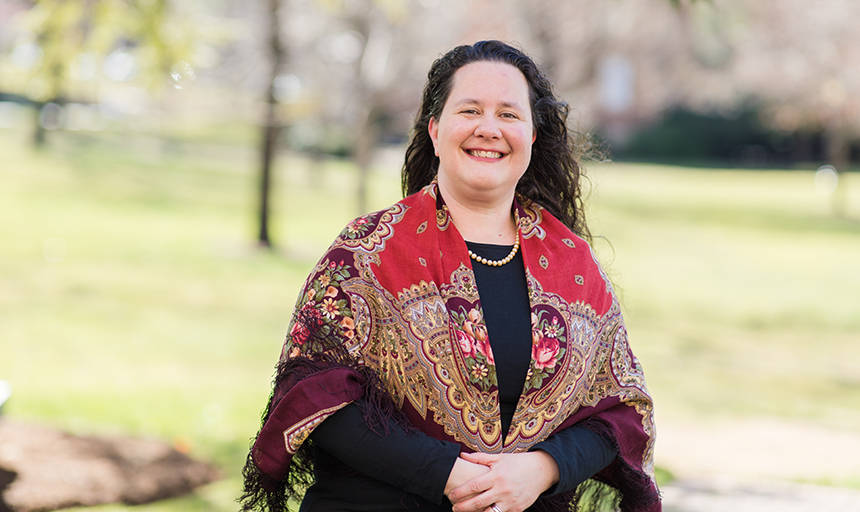 Associate Professor of Fine Arts Julia Sienkewicz
Sienkewicz curates exhibition, participates in panel discussion
Julia Sienkewicz, an associate professor in the Fine Arts Department at Roanoke College, has guest curated an exhibition at the Clay Center in Charleston, West Virginia, that examines the work of William Louis Sonntag and other 19th century landscape painters.
"'More Than a Passing Observation': William Louis Sonntag and Landscape Mania in the United States," will be on display at the Clay Center through March 19. The exhibition took a turn in Roanoke College's Olin Hall Galleries during the last quarter of 2022.
On Feb. 17 at 5:30 p.m., Sienkewicz will participate in a panel discussion about historic landscape painting and issues of race in 19th century art, which will take place in the Caperton Planetarium & Theater in the Clay Center's Juliet Art Museum. The other guest on the panel is Wendy Castenell, an assistant professor of art history at Washington and Lee University. The title of their discussion is "Thoughts on the American Landscape Tradition and Issues of Race." The panel discussion is free and open to the public. Sienkewicz will also offer private tours of the exhibition for museum members.
Sienkewicz credited two members of the Roanoke College Board of Trustees, Joanne Leonhardt Cassullo '78 and Andrew Teeter '71, for their support of the project. The exhibition catalog was funded by the Joanne Leonhardt Cassullo Center for Art, and Teeter was a key lender and is a supporter of the Clay Center.