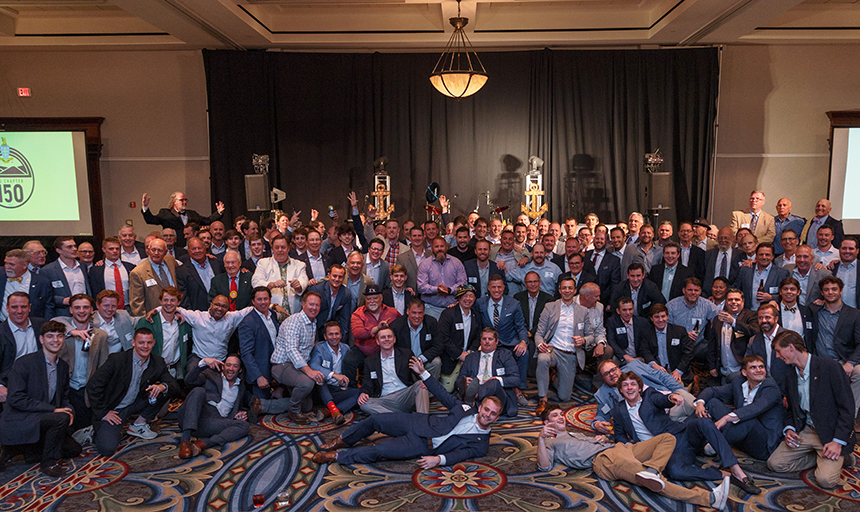 Sigma Chi celebrates 150 years at Roanoke
Sigma Chi International Fraternity brothers, alumni, "sweethearts" and friends gathered during Roanoke College's 2022 Alumni Weekend to celebrate the 150th anniversary of the founding of the fraternity's Tau Chapter at Roanoke.
That founding is due in large part to the leadership of James M. Liddell, Class of 1873, who transferred to Roanoke from the University of Mississippi in the autumn of 1871, and Liddell's roommate, George C. McConkey, Class of 1875. Liddell, McConkey and six others were initiated as charter members on the evening of Jan. 9, 1872.
Since its inception, Tau Chapter has been one of the leading organizations on the Roanoke College campus. In addition to the chapter's contributions to campus life as undergraduates, Tau alumni have gone on to serve the College community as Board of Trustees members, faculty and staff. They include Dr. Charles J. Smith, Class of 1901, who served as fifth president of Roanoke College.
The weekend of events kicked off on April 22 with a golf tournament at the Waterfront Country Club in Moneta, Virginia. On the morning of April 23, a Sigma Chi Ritual meeting was held for brothers in Antrim Chapel. The meeting was followed by a White Rose ceremony in the Olin Courtyard for brothers, past and present, and friends and family. This ceremony honored the memory of the deceased brothers of Tau Chapter.
The weekend culminated with a black-tie gala with almost 500 brothers at the Hotel Roanoke & Conference Center in downtown Roanoke, featuring a silent auction and a program recognizing the achievements of the Tau Chapter and its brothers.
Sigma Chi 150th anniversary