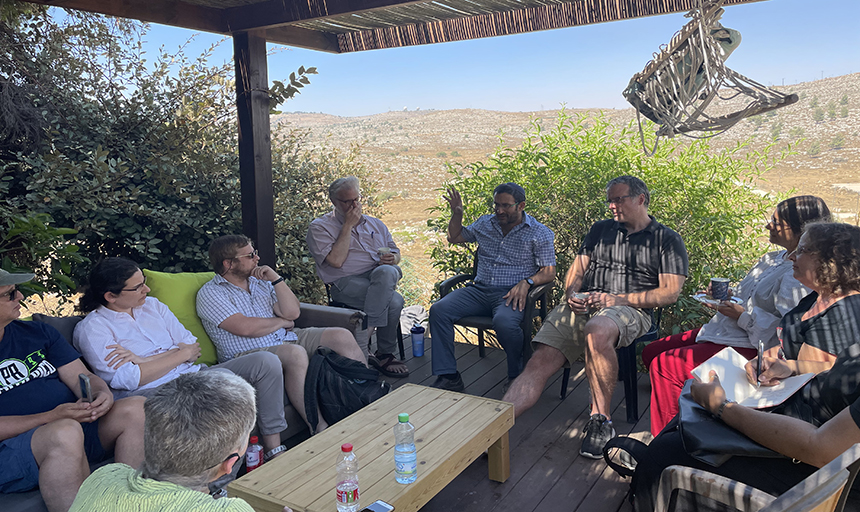 Dr. Jonathan Snow, seated third from the far left, participates in a discussion with a Jewish settler in the West Bank during an immersive 10-day study tour in Israel in July. Photo courtesy of Dr. Jonathan Snow.
Fellowship offers faculty member an enlightening study of Israel
Dr. Jonathan Snow, associate professor of public affairs at Roanoke College, had the rare opportunity this summer to participate in the Summer Institute for Israel Studies, a faculty fellowship that examines the subject, and complexity, of Israel.
Snow, who also serves as coordinator of the College's International Relations and Middle East Studies programs, was one of fewer than 15 professors from colleges and universities around the world who were selected for the competitive fellowship.
The intensive program began with a multidisciplinary, two-week seminar in June on the campus of Brandeis University in Waltham, Massachusetts, during which fellows explored perspectives on Israeli society, politics and culture, and drafted a syllabus to teach at their home institution. Fellows — who represented a variety of backgrounds including politics, history, religion, literature, dance and fashion — then traveled to Israel in July for an immersive 10-day study tour. There, they engaged with Jewish and Arab scholars, politicians and community leaders.
After almost 18 months of lockdowns and COVID-19 restrictions, "coming together with such a diverse group of professors and getting to focus intensely on the intricacies of Israel during a period of political and social transition, both there and internationally, was a unique opportunity," Snow said.
"Israel has, in many ways, been a test case on handling COVID, especially regarding mass vaccinations," he said. "It was nice to see how many elements of life are beginning to return to some sense of normality there, and that provides hope that the rest of the world will also be able to replicate those successes, even if we all still have a road ahead of us."
"I hope that as travel restrictions start to lift in the coming months, we will also be able to find some new sources of revenue that will ensure our students will have the opportunity to engage with the region regardless of their own financial situations."
Dr. Jonathan Snow
For Snow, the main takeaway was how the larger society in Israel is continuing to grapple with the same issues it had before the pandemic. With the country's fascinating mixture of different cultures and groups, the resulting division it faces can be intense, he said.
"From the outside, too often the focus is just on the Arab-Israeli conflict and its consequences, but the truth is that day-to-day Israelis and Palestinians from across social and political sectors are dealing with a myriad of issues beyond the conflict, and the myopic focus on that aspect can minimize the complexities of the lived experiences of the people of the region," he said. "Being on the ground is invaluable in highlighting how issues have shifted and remained stagnant over time in a way that is hard to capture from the United States."
Snow said he returned from the program with renewed excitement for helping students begin to untangle the complexities of Israel and the greater Middle East, and with an increased focus on assuring that as many Roanoke students as possible have an opportunity to experience the region for themselves.
Two years ago, Snow took a group of students to the region and has May Term travel courses scheduled to travel there again in 2023 and 2025. He also has begun exploring the possibility of creating a semester abroad program based in Jerusalem, with the hope of finding the financial resources to do so.
"The more time students spend studying and experiencing the Middle East, the less foreign it feels and the more they are able to move beyond the simple headlines and partisan politics that they experience regarding Israel and the region in their outside lives," Snow said. "My goal is to allow the space to get into the nuances of Israeli and Palestinian societies because these are amazing and rich cultures."
"I hope that as travel restrictions start to lift in the coming months, we will also be able to find some new sources of revenue that will ensure our students will have the opportunity to engage with the region regardless of their own financial situations."