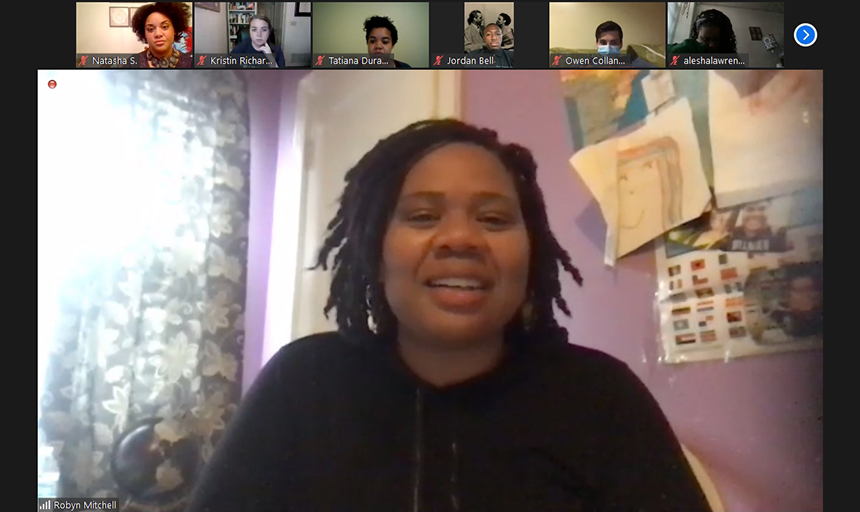 Robyn Mitchell '18 speaks to current students as part of a Social Justice Panel on Sept. 15.
Social Justice Panel teaches students about local efforts, history
As protestors take to the streets around the country, some Roanoke College students learned about the social justice initiatives going on in the Roanoke Valley.
On Sept. 15, three local activists met with about 20 students via Zoom to talk about what inspired them to get involved in grassroots organizations in the Salem and Roanoke communities. They spoke about recent demonstrations in the wake of the death of George Floyd, who was handcuffed and pinned to the ground by a Minneapolis police officer's knee earlier this year; protests near Roanoke's downtown police station; the "End Racism Now" mural on Campbell Avenue downtown; and more.
The event was sponsored by the College's Office of Multicultural Affairs, Department of Sociology, Accessible Education Services and Roanoke College Center for Spiritual Life and Campus Ministry. Natasha Saunders, director of Multicultural Affairs, and Kristin Richardson, a sociology lecturer, moderated the discussion, asking the panelists questions and helping to provide context as well.
Robyn Mitchell '18 was one of the speakers, along with Hollins University student Tatiana Durant and local historian Jordan Bell. All three speakers graduated from Roanoke-area high schools and are heavily involved with social initiatives in the area.
"My takeaway from the panel is that doing your part in your own community goes a long way for fighting injustices anywhere."
Alesha Lawrence '21
The speakers talked about how they became interested in getting involved in their communities, and they all gave their own definitions of what "activism" means. For Durant, activism means taking action instead of just talking about making a difference. For Mitchell, activism is about education and making sure everyone is informed about how the world works. Bell said activism is all about making someone's life better.
"Using your powers in the places you work, the places that you interact with people, school, church, if you use that in a positive way to impact someone's life or impact policy or a law that will impact somebody's life in a positive way, to me that's activism," Bell said.
Durant spoke extensively about No Justice No Peace Roanoke, a local organization Durant co-founded that promotes events and information addressing systemic racism in Roanoke. Bell spoke extensively about his research into Gainsboro, a historically Black neighborhood in Roanoke that was a victim of urban renewal programs in the 1960s and 1970s.
For many of the students, including Alesha Lawrence '21, hearing about local efforts and local history was the most interesting part of the panel presentation.
"It opened up the discussion of looking into our own community, and sometimes that is often not discussed on campus," Lawrence, who is from nearby Bedford, said. "Especially if you are not from Virginia, or Roanoke itself, you normally aren't aware of what is happening outside of the campus even though the school is part of the community."
Lawrence said the panel made her want to get involved in the community and see if there's anything she can do to help those in need.
"My takeaway from the panel is that doing your part in your own community goes a long way for fighting injustices anywhere," Lawrence said.