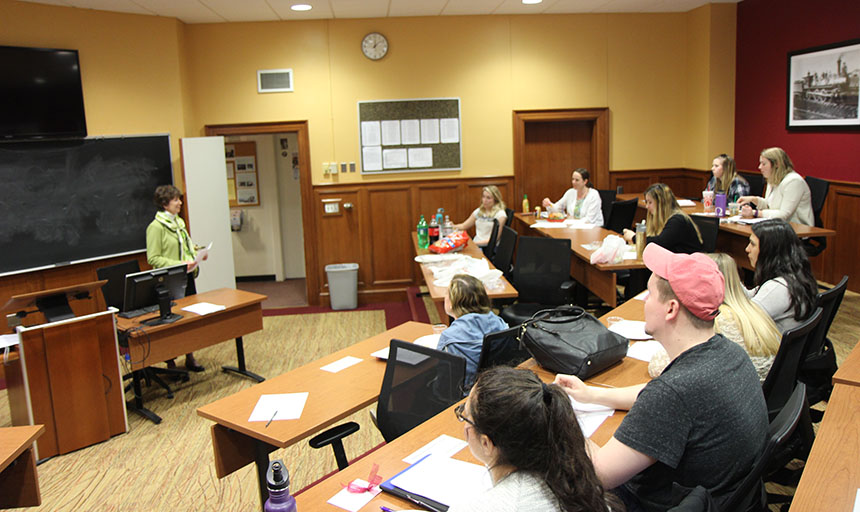 7.24.2018
By Roanoke College News
Society for Human Resource Management earns Superior Merit Award
Roanoke College's Society for Human Resource Management (SHRM) chapter has been distinguished with a Superior Merit Award for the third year.
"The SHRM Student Chapter is active and has won national awards in 2015-2016 and 2016-2017 for its active engagement," said Dr. Johanna Sweet. "The students have done an excellent job. They have organized over 14 guest speakers, three job shadows, and have created a strong relationship with the local SHRM Professional Chapter who will now offer a SHRM student scholarship of $3000 annually."
Under the direction of the faculty advisor, Dr. Sweet, the College's SHRM chapter has hosted various speakers, including Stephanie Whitecross, Caroline Anthony and Greg Richards. The chapter partnered with Delta Mu Delta, an international business honor society, held professional meetings for students and hosted a professional chapter for discussions of the #metoo movement and social media policy in the workplace.
SHRM began in 1972 and has grown into the world's largest HR professional society, representing 285,000 members in more than 165 countries. It was created with the intention of encouraging student chapters to require ongoing excellence in the following areas: student chapter requirements, chapter operations, chapter programming and professional development of members, support of the human resource profession, and SHRM engagement.