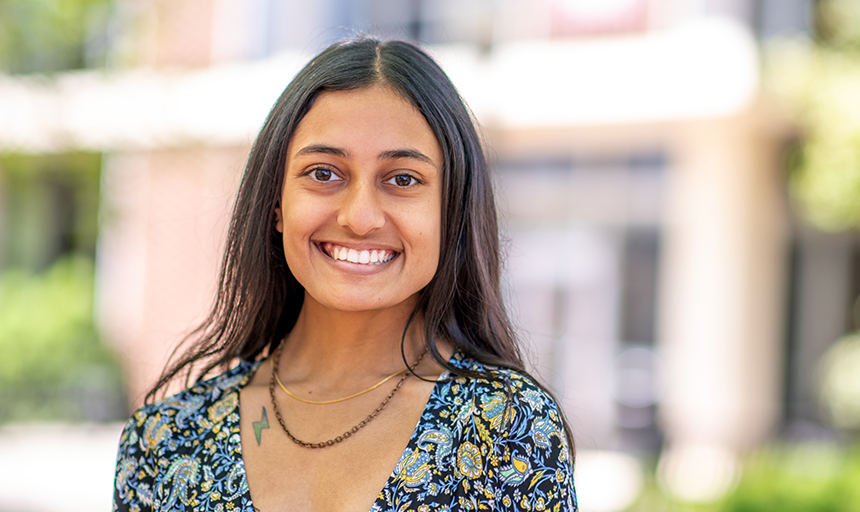 Spotlight: Tanvi Savarkar '24
Name: Tanvi Savarkar '24
Majors: Mathematics and Actuarial Science w/ a concentration in statistics
Hometown: New Delhi, India
Sights set on: Graduate school in mathematics or statistics field
People might not know: Tanvi, who's been a singer since age 7, earned a four-year scholarship to be part of Roanoke's student choir.
How did you become interested in studying overseas?
I always knew I wanted to come to school in the U.S. I spoke with seniors of mine in India, and from their experience it just seemed like such a holistic way to learn. I knew I wanted to come to a liberal arts college. I wanted that flexibility to explore a bunch of subjects while still knowing there would be a lot of practical application to what I was studying.
What were the biggest changes for you during your first year and what helped you get acclimated?
I had never been to the U.S. before college. Getting on that first flight, I was so excited. I knew that whatever was waiting for me on the other side was going to be something that I'd never experienced before, and I was going to make the most of it.
There are adjustments. I had lived in India my entire life, and entered an environment where almost nobody else was from India. But I started to make friends and join activities. And I really enjoyed my classes. My professors are really sweet and accessible. They're always willing to help no matter what, and they take the time to pay attention to each student.
What would people find surprising about Roanoke College?
I think there's a misconception that Roanoke College isn't diverse. But since I've been here, there's been a lot of representation. Right now, I'm friends with people from Palestine, Pakistan, Korea, China, so many places. We are a big community. I want other students considering Roanoke to know that there is a home for them here. People are really friendly, and that makes it easy to adjust if you're open to it.
It's also in a really beautiful part of the country. There are so many things to do, especially if you like the outdoors, which I do. I've been able to start hiking and mountain biking and kayaking. One of my favorite areas is Carvins Cove. It's just beautiful out there, and there are so many different trails you can use. One of them is called the Enchanted Forest, and it's really what the name suggests. It feels magical. You can really connect with nature here.