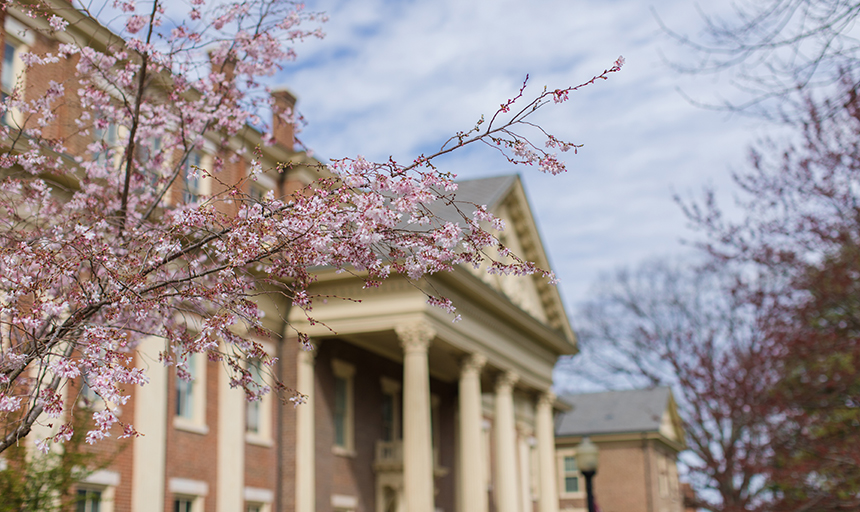 Plans for Spring 2021 Semester
Dear Maroons -
Today I write to you with news of the College's plans for Spring 2021 semester.
In planning for spring, we worked together with faculty and staff to determine the safest way to provide students with an enriching educational experience while prioritizing the health of the Roanoke College community. This fall, the entire community rose to the challenge of meeting the extraordinary environment presented by COVID-19, and I am grateful to all of you for your perseverance. I am thrilled to see so many good things happening on campus and connections taking place in creative new ways as we manage through this debilitating pandemic. Thank you for doing your part.
Spring 2021 Semester Format and Key Dates
Next semester, students will have the choice to live on campus or take classes remotely. I have heard from many of you and anticipate that we will have more students in residence next spring, which is good news. The format for spring remains the same as this fall. However, next semester, there will be more in-person classes offered and a mix of instructional class formats available. When registering for Spring 2021, students will be able to see the designated format of their selected class. Classes will be instructed in the following ways:
Online only (in asynchronous or synchronous format)

Flex, where some students attend class online, while other students attend in-person or in a hybrid mix of in-person and online (with physical distancing and other health protection policies in place)

In-person only (with physical distancing and other health protection policies in place)
It is our hope that by allowing students the choice to live on campus or take classes remotely, each person will choose which best suits their comfort level and optimal learning environment.
Registration begins on November 9. Students will receive an email from the Registrar's Office with details and their assigned registration time. All students must schedule meetings with their academic advisors prior to registration. Other important highlights for the Spring 2021 calendar are outlined below:
| | |
| --- | --- |
| January 16-17 | Welcome Back Orientation for returning First Year students |
| January 11-17 | Move-in and testing protocols for all students. [Residential students will be able to choose from specific dates and groups will be separated for a phased, safe return. Everyone who returns must be back in residence on campus by Sunday, January 17.] |
| January 18 | Martin Luther King Jr. Day. Classes will not meet but there will be events planned to commemorate MLK Jr. Day. |
| January 19 | First day of classes |
| No Spring Break | There will be no spring break. We realize that will be disappointing to many. However, the decision was made in order to reduce travel and prevent ways in which COVID-19 can spread. The revised Spring 2021 calendar includes days where faculty will give students breaks from classes through the semester. |
| May 1 | Class of 2020 Commencement* |
| May 8 | Class of 2021 Commencement |
(*The commencement ceremony for the Class of 2020 was postponed from its original date and is now scheduled for May 1, 2021. The following week, the Class of 2021 will graduate. As always, these plans may change due to the pandemic.)
On Campus Housing and Health Services Information
Residence Life & Housing will email ALL students the first week of November with details on room assignments for spring semester, information about returning to campus housing, and move-in dates for all returning students. Students will need to respond to this email with their housing preference and then room assignments for those returning to campus will be made before the end of the fall semester.
For those students who are currently at home, we are excited to welcome you back to campus if that's what you choose. We encourage you to return to campus this spring in order to take advantage of the activities, resources and support available. It's the personal connections, even at 6-feet apart, that make Roanoke College a vibrant and impactful place to learn and grow. You have the option, and we certainly hope you choose to be here. We want to welcome you.
Thanks to the hard work and careful actions of so many; currently, there are zero active student cases and one staff case of COVID-19. We will continue to do everything we can to maintain our low level of positive cases next semester. Of course, we are monitoring the prevalence of COVID-19 and other factors that could affect our plans for the spring.
We will extend all health and safety protocols in place now to the spring semester, and we plan to conduct more testing as well. One change for the spring is that students will be required to take a pre-arrival test within five days of returning to campus in January. Students will be required to submit those results to Student Health and Counseling Services.
As noted above, in the coming weeks, we will send additional details about move-in and pre-arrival testing for the spring semester.
Please note, students will have until January 13, 2021 to change their decision about living on campus next semester. No refunds will be available for housing and meal plans after that time, unless the College has to send all students home, due to COVID-19, which we sincerely hope does not happen.
My thanks to everyone who worked diligently to determine the final Spring 2021 calendar and format.
We will continue to send you regular updates as we complete the fall semester, and I look forward to seeing even more of you on campus this spring!
President Michael C. Maxey
P.S. Additional questions may be sent to questions@roanoke.edu or you may leave a voicemail with your question by calling 540-375-2244.