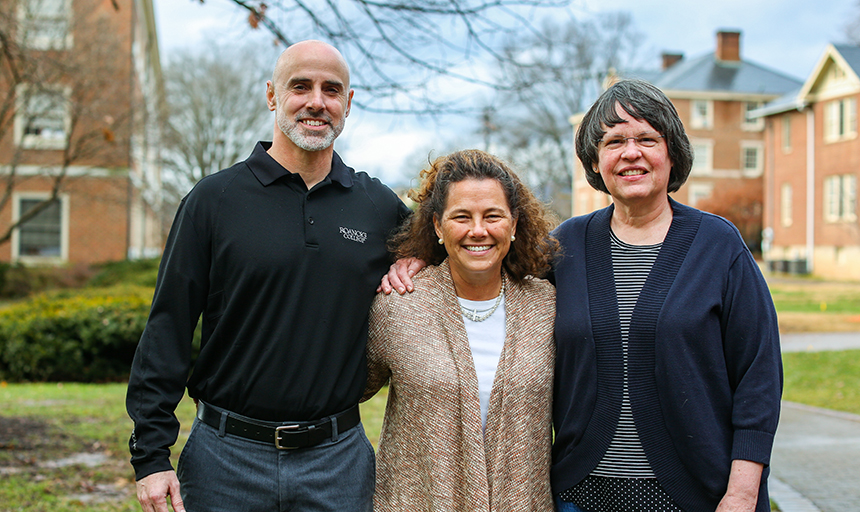 12.21.2018
By Roanoke College News
Three Roanoke employees receive the 2018 STAR Award
Each holiday season, Roanoke College recognizes employees who go above and beyond the call of their job duties with the Service to All Roanoke Awards (STAR Awards). Winners are staff members who have an immensely positive impact on the Roanoke College community, whether interacting with colleagues or students. STAR Award recipients also contribute in some way to their local community.
The 2018 winners were chosen from athletics, the president's office and dining services.
John Farmer is the assistant athletics director and director of the Cregger Center. As assistant athletics director, Farmer ensures that the College meets NCAA and conference compliance rules and supports other needs of athletics programs. For six years, Farmer also coordinated athletics' budget management. As director of the Cregger Center, Farmer and his facilities team are responsible for the setup and breakdown of every event held in the Cregger Center—practices, games and annual events such as Convocation, Baccalaureate, President's Evening, Hall of Fame Induction Ceremony and more.
One of his co-workers cited Farmer's eagerness to "take on anything and everything for the good of the department, the welfare of his colleagues, and the good name of Roanoke College." Others say that he puts students first, has a great attitude and is diligent. He is described as the department's "unsung hero."
Tracy Lively previously worked in the Office of Admissions as a counselor and now serves as an administrative assistant in the president's office. Not only does Lively perform her job in a responsible, helpful and caring manner, but she has been particularly helpful to our international students. She has picked up these students from the airport; provided housing and meals to students for up to three months; donated towels and bedding from her own home; and reached out to her church community to provide dorm and school supplies as needed. Lively also has taken students grocery shopping and to doctor appointments. She has become "Mom" to many who needed one during their time away from home.
Dale Nulf has worked at Roanoke for 17 years and serves as the dining room coordinator in Commons. A dedicated and faithful employee, she is loved by students and co-workers alike. Many of our graduates have a story about how Nulf helped them through problems and challenges, and have fond memories of how special she made them feel. She cares for students as if they are her own children, and is affectionately known as "Momma Dale" or "Dr. Dale" to many. She knows most students by name and recognizes when the challenges that some are facing require help beyond what she can provide, often referring students to the CARE team. Dining services depends on her for many things outside of her job description. She is a shining example of what a STAR employee should be.
The STAR award is given annually to nominated College employees in exempt, non-exempt and hourly categories and includes a monetary bonus.