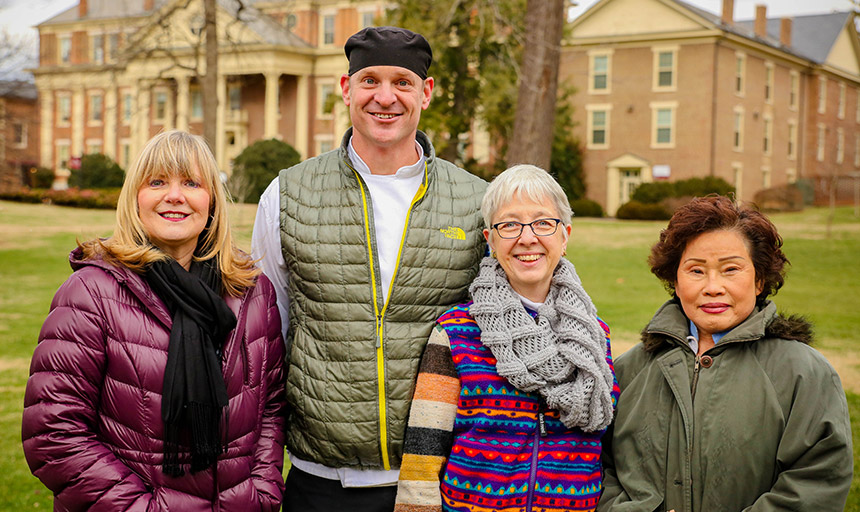 Roanoke College 2016 STAR Award winners, from left to right, Trina Mitchell, Matt Phillips, Patty Powell and Choung Wirt.
1.27.2017
By Roanoke College News
Four Roanoke staffers receive STAR Awards
Four Roanoke College staff members were honored for their service at the College's annual employee holiday celebration in December. Each recipient, representing dining services, Fintel library, business affairs and housekeeping, received the College's annual Service To All Roanoke, or STAR, award.

Executive chef Matt Phillips, catalog librarian Patty Powell, administrative assistant Trina Mitchell and housekeeper Choung Wirt were recognized for high standards of performance and noteworthy accomplishments.
Phillips, known around campus as "Chef Matt," has been preparing meals at Roanoke since 2002. In addition to his excellent culinary skills, he was cited for his dedication to serving others, whether that entails accommodating special dietary needs, providing top-notch catered events on campus, or interacting personally with students in the dining room.
Powell, who has been at Roanoke for 25 years, serves as catalog librarian. Two years ago she stepped up to fill the gap left by the sudden loss of Fintel Library's director, Stan Umberger, and this year she oversaw the updating of catalog records to include 30,000 new electronic books added to the collection. Her nominators praised her "boundless energy" as she serves in a multitude of ways and involves herself in campus activities.
Mitchell has worked at Roanoke for 26 years and currently is employed as administrative assistant in the business affairs office. For the past two years, she has coordinated closely with various vendors and College personnel during the construction of the Cregger Center, all the while keeping up with her usual responsibilities. Her enthusiasm for the project was highlighted, as was her ongoing encouragement of her fellow employees.
Wirt has been a housekeeper in Olin Hall for more than 19 years and is known for her warm smile and her eagerness to help. Her colleagues described her as dedicated, hardworking, and a "strong asset to Roanoke College." Her work, they said, is "impeccable."
The STAR award is given annually to nominated College employees in exempt, non-exempt and hourly categories and includes a monetary bonus.