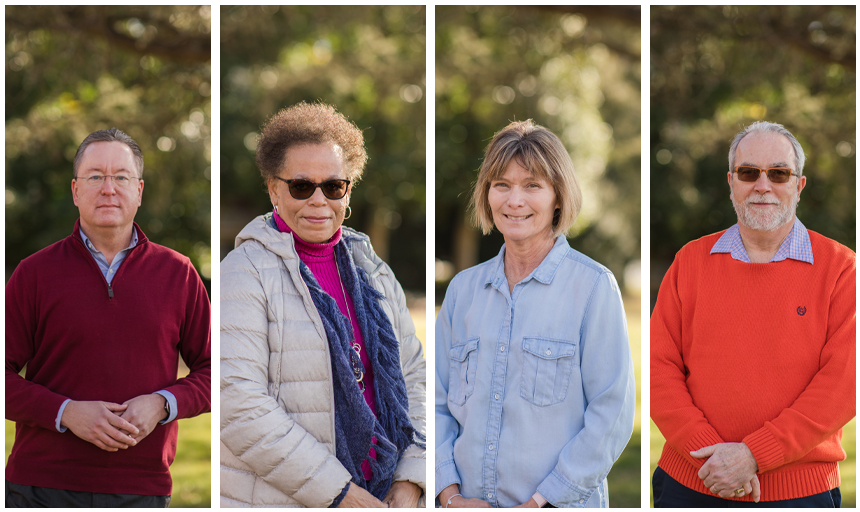 From left: Tom Rambo, Nella Hamm, Diane Johns and Tim Tenon.
Four Employees Honored with 2020 STAR Awards
Each December, Roanoke College recognizes employees who go above and beyond the call of their job duties with the STAR Awards. STAR — Service to All Roanoke — Award recipients are individuals who have a tremendously positive impact on the College community, whether interacting with colleagues or with students. The winners also contribute in some way to their local community.
STAR Award winners are chosen from throughout the campus in three employee categories: exempt, non-exempt and hourly. On Dec. 11, in a virtual celebration, the College awarded 2020 STAR Awards to four staff members in three categories: exempt, non-exempt and hourly.
Tom Rambo, Interim Dean of Students, and Tim Tenon, general manager of Dining Services, received awards in the exempt category.
Rambo has been at the College for six years and goes "above and beyond" expectations even during normal times, but over the past few months, President Michael Maxey says Rambo has been there at every turn, offering exceptional leadership especially during difficult times. Following the announcement made on March 11, 2020, that campus would be closing, Rambo took the time to go to each residence hall to address any questions or concerns students had to ensure students felt like there was a college official looking out for them. The pandemic management leadership was all done in addition to his regular full-time work. "Tom has provided calm, clear-eyed leadership and decision-making in a time of incredible challenges," said Maxey.
Tenon has been with the College for four years, and this year he worked tirelessly to change the entire business model in dining services in order to effectively and safely feed students and other members of the College community in a pandemic. Tenon has accommodated to social distancing guidelines, occupancy limits, serving and sanitation requirements, and supply chain issues. In addition, "Tim even oversaw the opening of a brand-new dining location, Freshens, which required tremendous time and attention," said Maxey.
Nella Hamm, the coordinator of major and planned gifts program, received the STAR Award in the non-exempt category. During her 20 years at the College, Hamm has become "a well-known fixture in the Resource Development office and always has a smile on her face," said Maxey. "Hamm is the portal for many of our donors and loyal alumni to keep in touch with their alma mater. She is supportive of the Roanoke College mission and epitomizes what Roanoke College strives to have as an employee," said Maxey.
The STAR Award recipient in the hourly category is Diane Johns in Housekeeping. "Diane Johns advocates for what the team needs behind the scenes in housekeeping, but isn't often recognized for doing it," said her nominator. Johns has been at the College for nearly 11 years and frequently steps up to train new housekeepers and finds the extra time to help colleagues in need. This extra time was hard to come by as "she was charged with inspecting all 900 dorm rooms, kitchens, bathrooms, and common areas in less than 30 days before the students returned to campus this fall, all while completing her normal housekeeping duties. This was not an easy task, but Diane tackled it with her hallmark can-do attitude and a smile," said Maxey.
Roanoke College recognizes these dedicated employees with the 2020 STAR Awards.