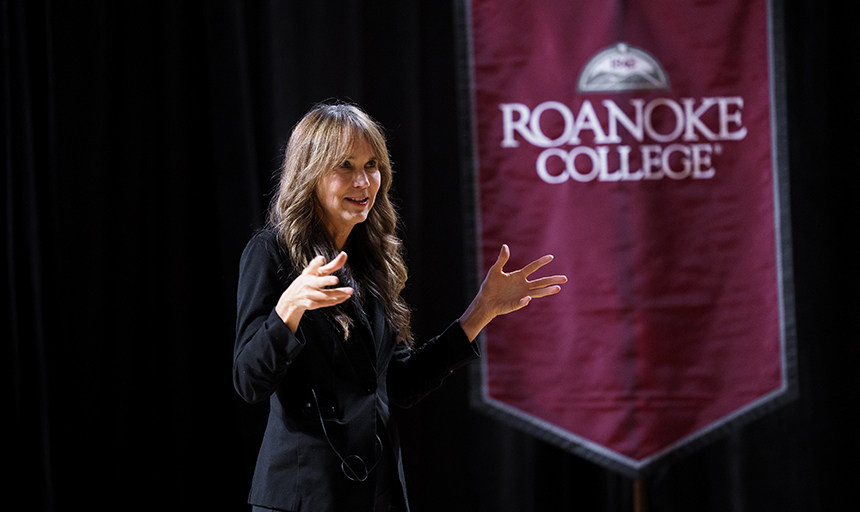 Stuckey's CEO treats audience to sweet success story
Stephanie Stuckey, CEO of Stuckey's, has been on a personal journey after purchasing her family's business in 2019. Since 1937, Stuckey's has been known as a roadside oasis, famous for its pecan log rolls. The company was founded by Stephanie Stuckey's grandfather, W.S. Stuckey Sr., in Eastman, Georgia. Stuckey is adding her own signature to the family brand, the logo of which is fashioned from her grandfather's handwriting. Stuckey's was once revered and recently sputtering, but now, thanks to Stephanie Stuckey, it is back and in the black.
At the eighth annual leadership speaker's event presented by Pi Lamda Phi Fraternity and the Center for Leadership and Entrepreneurial Innovation on Oct. 6, the Roanoke College crowd was welcomed by Pi Lamda Phi alumnus Andy Jowdy '82, who was also responsible for transporting the crowd-pleasing pecan rolls to the event. Gary Scott, executive vice president and Roanoke branch manager at Davenport & Company, the lead corporate patron of the evening, introduced Roanoke College President Frank Shushok and spoke of his memories of Stuckey's stores dotting the roadside like colorful candy.
Shushok engaged the crowd in a debate about the "correct" pronunciation of pecans as he introduced the evening's speaker. When Stuckey kicked off the evening by leading a rousing cheer, "Here We Go, Maroons!", the crowd knew they were in for a sweet treat.
Stuckey said she traded in her life as a successful lawyer and politician to buy her family's business, one that was "frankly a hot mess." After purchasing the eponymous brand with her entire life savings, it was soon revealed to her that Stuckey's had a rough road ahead. Stuckey had the crowd laughing and reminiscing as she described the history of the company known as a road stop to buy sticky candy and rubber alligators. Her company purchase revealed many hidden surprises including a surplus of kitschy souvenirs like Britney Spears t-shirts, forgotten fidget spinners and even toilet-shaped ashtrays that said, "Put your butts here."
Stuckey spoke with meaning about the importance of purpose on her journey to success. She said her ability to focus on purpose enabled her to accomplish much of what may have seemed impossible to others at the beginning. There were many times when resilience was called on throughout the company's 83-year-old history, including today, as she works to ensure Stuckey's pecans are sold beside other popular brands including Blue Diamond almonds and Planters peanuts. As she focuses on growing the beloved brand through the enhanced manufacturing of packaged goods, she said, "the most important thing is to have a sense of purpose."
"Whatever you do ... if you have a sense of purpose of why you're doing what you're doing, then the hard times are going to be okay."
~ Stephanie Stuckey
Stuckey said her grandfather's business papers revealed that the phrase "every traveler is a friend" is much more than a tagline on a billboard. True inclusion and welcoming all travelers, even during the segregation era when Black Americans were always welcome at Stuckey's, is what has kept her moving forward on her road to success. "Anyone who comes in contact with our brand is a friend, that's our purpose."
"Whatever you do, if it's running a business or having a family or pursuing a college degree, whatever it is, if you have a sense of purpose of why you're doing what you're doing, then the hard times are going to be okay," she said.
Stuckey received both her undergraduate and law degrees from the University of Georgia. She worked as a trial lawyer, was elected to seven terms as a state representative, ran an environmental nonprofit law firm, served as director of sustainability for the City of Atlanta, and taught as an adjunct professor at the University of Georgia School of Law. She purchased Stuckey's in November 2019 and assumed the role of CEO at that time.
Stuckey's achievements include being named one of the 100 Most Influential Georgians by Georgia Trend Magazine and graduating from Leadership Atlanta. She is active in her community and has served on many nonprofit boards, including the National Sierra Club Foundation.
----
Joe Dashiell from WDBJ7 talked to Stuckey for a news story. View that story here.