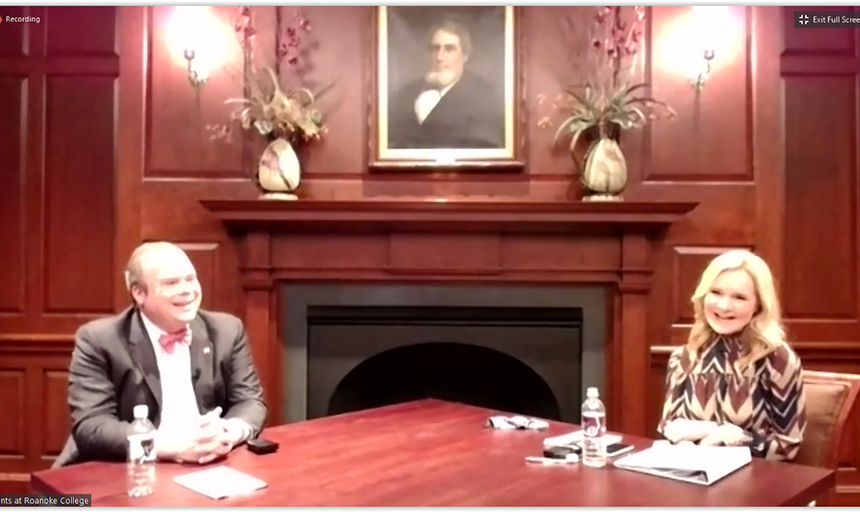 Political analysts and editors Chris Stirewalt, left, and A.B. Stoddard discuss the 2020 presidential election on Monday night as part of the Henry H. Fowler Distinguished Public Speaker Program.
Political analysts break down strange, historic election
With the dust still settling after a dramatic and divisive election season, two nationally respected journalists spoke to Roanoke College students and faculty about the ramifications this era will have on the future of American politics.
A.B. Stoddard and Chris Stirewalt, who frequently appear on national news networks to analyze national politics, spoke and answered questions for about an hour and a half Monday night. The program, which was done online via Zoom, was part of the 2020 Henry H. Fowler Distinguished Public Speaker Program.
Stoddard, an associate editor and columnist with the political news site and polling data aggregator Real Clear Politics, began and ended the program by talking about the uncertain ground upon which the Democrat and Republican parties now stand.
"The parties are on their deathbed," Stoddard said
Stirewalt, politics editor for the Fox News Channel, agreed wholeheartedly and said these parties are failing for two main reasons.
First, he said, is that primary elections only serve to radicalize parties and punish incumbents for reaching across the aisle. Secondly, he said, party leadership in recent years has promised what Stirewalt called "total victory," where there's not a spirit of compromise. These factors are driving the parties apart and driving voters away from the parties, he said.
It doesn't help when parties try to delegitimize the other party's president, Stirewalt said. President Donald Trump's administration, for example, is alleging widespread election fraud without substantial evidence in an attempt to convince their supporters that President-elect Joe Biden did not win fairly, she noted.
"What we're doing here is poisoning each other," Stirewalt said. "We're sitting at the same table, pouring poison into each other's food, and continuing to eat."
Stoddard said this growing divisiveness is hurting both parties come election season.
"Strong parties produce strong candidates that can win, and that's why weak parties are a disaster," Stoddard said.
""You don't need to be on Twitter all day. It will just make you angrier, more discontent, and it will make you more likely to hate strangers. And you should not hate strangers.""
Chris Stirewalt, politics editor at Fox News Channel
Dangers of misinformation and social media
Attendees had numerous questions for Stoddard and Stirewalt, and the two analysts spent about 45 minutes answering them. They touched on everything from national polling to changing demographics in the country to media bias.
The two of them kept coming back to the harm that social media and misinformation have done to the American republic.
"You don't need to be on Twitter all day," Stirewalt said. "It will just make you angrier, more discontent, and it will make you more likely to hate strangers. And you should not hate strangers."
Stoddard pointed out that the Biden campaign's success is due in part to not "living on Twitter," as she put it. The people who ran Biden's campaign didn't get caught up in the bubbles of social media but instead tried to appeal to a mass audience, Stoddard explained.
During the Democratic primary, Stoddard said, many progressives on Twitter believed someone more flashy and exciting such as Bernie Sanders or Elizabeth Warren was going to earn the nomination. But voting totals didn't bear that out, as Biden earned the nomination. Once Biden did get the nomination, his team turned away from Twitter as President Trump continued to use Twitter obsessively, she said.
"Basically, they decided they weren't going to listen to the world of Twitter in the final months of the campaign, and they didn't read it," Stoddard said of the Biden campaign. "I thought that was wonderful because I think (social media) are garbage heaps for getting our system back."
Monday's program was the first time the Fowler lecture series — which began in 1983 — has been conducted remotely. Dr. C. William Hill Jr., director of the Fowler program, was moderating the event and told the two analysts that he thought Monday's presentation was one of the most illuminating that he could recall.
"I really enjoyed and learned a great deal from this," Hill said to the presenters. "I'm only sorry we don't have a large audience that could reward you with what I'm sure would be a sensational round of applause."
Sara Gubala '98 was in attendance virtually, and said she's continually impressed by the speakers the Fowler series brings and benefitted from the program being held on Zoom. Gubala, a political science instructor at Lamar University in Beaumont, Texas, asked a question during the presentation that got answered, and wouldn't have been able to do so if the event had been held in person, as usual.
"To be able to hear Chris Stirewalt and A.B. Stoddard less than a week after the election is another benefit of attending Roanoke College," Gubala said. "I am grateful that Roanoke is always so willing to have important conversations and to encourage their campus community to think about issues differently."