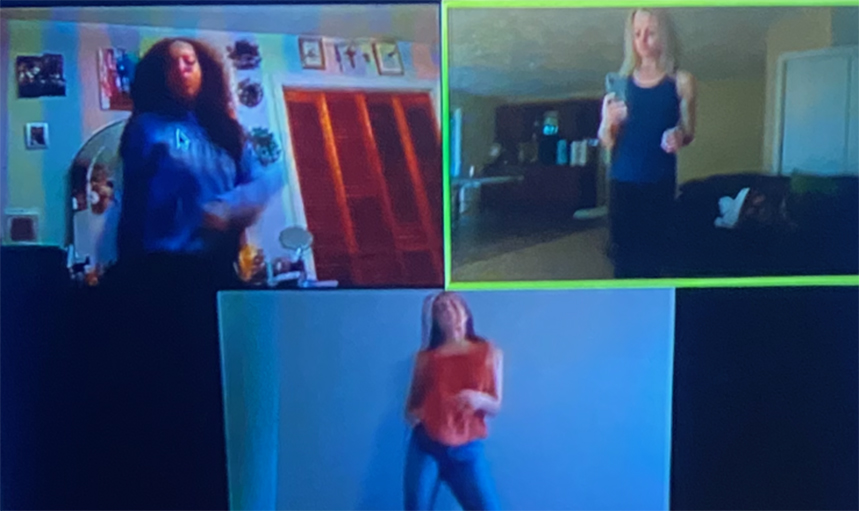 Campus Rec fitness instructors enjoy a dance party via Zoom.
Stories of Connection: Students, faculty stay healthy with help from one another
Campus Rec fitness instructors are all over the country now, from Maine to New Mexico. But that's not stopping them from working out together.
Jodi Fetrow, fitness coordinator for Campus Recreation, says fitness instructors have been missing the classes they teach on campus. Six of the eight fitness instructors are students, Fetrow said, and most of them regularly teach two classes a week.
Those classes aren't happening now, with students off campus and at home due to the spread of COVID-19. A few weeks ago, the fitness instructors came up with an idea to at least keep in touch with one another — Zoom dance parties. The parties are voluntary, and Fetrow hopes they allow students to connect without feeling like they're attending academic class or a meeting.
"I don't want it to add stress," Fetrow said. "I wanted it to be something that feels good, feels right, and that will bring a little joy, a little positivity to your life. Something to look forward to, not something that, 'Oh my gosh, one more thing I need to do.'"
The playlists have been diverse so far, ranging from Wham!'s "Wake Me Up Before You Go-Go" to Rednex's "Cotton Eye Joe" to ABBA's "Dancing Queen" to Alex Newell's "Kill the Lights."
The College's student fitness instructors live all over the country, including Maine, New Mexico and Connecticut, Fetrow said. Though they miss seeing each other in person, they've been able to grow closer in a different way. Fetrow said it's been fun to see where everyone lives, and to collaborate from afar on dance moves. It's been a bit surreal, but often entertaining, she said.
In a time that can be scary and stressful, exercise can help improve moods and even help the body fend off disease, according to a recent study from the University of Virginia. These Zoom dance parties help in those ways, but Fetrow said they're also allowing another kind of medicine to work for them — laughter.
"Hopefully this is not the new normal forever," Fetrow said, "but this is one of the things where you've got to laugh or it'll get to you."
"I wanted it to be something that feels good, feels right, and that will bring a little joy, a little positivity to your life."
Jodi Fetrow, fitness coordinator for Campus Recreation
Yoga prompts
Jill Loftis, an adjunct lecturer in Health and Human Performance att the College, has continued to keep in touch one-on-one with students and check in on their mental health. In addition to a weekly recorded lecture and two live classes per week, Loftis, also a yoga instructor at Roanoke, has been sending "mental health homework" to her students.
Prompts include:
Tell me three things you are grateful for.

Notice how you feel; then take 20 deep breaths in a row and describe how you feel now.

What is your greatest strength? What is your greatest challenge? How can you use that strength to meet your challenge?

Walk outside and please tell me the most beautiful thing you saw on your walk.

Find your favorite comedian or clip on YouTube and laugh for a few minutes. If you don't have a favorite comedian, put on your favorite musical artist and DANCE.

These assignments, Loftis said, help her to be involved with students individually, and has helped her offer ideas and help.
Stress relief challenge
On Tuesday, April 21, Student Health & Counseling Services sent out a challenge to all students. That challenge, which will result in one student receiving a $50 Amazon gift card, asks students to take stress-relieving measures. These include meditation, yoga, taking a virtual safari thanks to the Cincinnati Zoo, hosting a Zoom party, giving themselves a manicure, and more.
The challenge encourages students to do one of these activities every day during finals week to help keep stress at bay.
Counseling services continue
Along with encouraging students to engage in stress-relieving activities at home, staff members at Student Health & Counseling are still holding meetings and operating groups remotely.
Counselors Mollie Guzo and Colleen Quigley said they began to explore telehealth options immediately after students were asked to leave campus on March 11. They found ways to meet with students one-on-one while still protecting student privacy in compliance with health privacy laws.
"This has worked well, but we found ourselves missing the students we regularly saw during our various support groups," Guzo and Quigley explained via email. "As we had begun to use Zoom for staff meetings, we began to consider its use for informal support group gatherings because we suspected that the students missed each other as much as we missed them."
Before long, they were holding Zoom group meetings with groups including RC Drive and Love Your Selfie. Students have been generally receptive, Guzo and Quigley said, and the counselors have been thrilled to figure out a way to see their students.
"We don't know what the future will hold for us or our students, but we are confident that we will find a way to stay connected," Guzo and Quigley wrote. "It's the RC way."