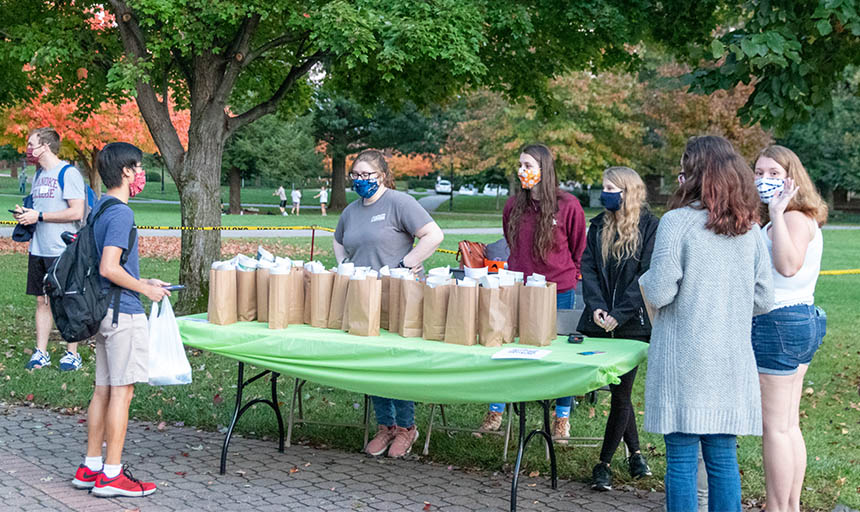 Student Activities Focused on Making This "the Best Semester Yet"
With social-distancing guidelines and mask protocols still in place, Student Activities and the Campus Activities Board spent time over break planning a record number of events — all of which are safe. Fan favorites are back. There is also a number of new events and ways for students to connect.
"This semester will be a blend of new and traditional ideas that we hope will bring a little bit of something for everyone," said Campus Activities Board Supervisor Liz Werner '22.
Some of the oldie but goody events include not one, but two silent disco events, two classic Bingo nights, the always exciting trivia night and karaoke night, and the popular wine and paint night with wine provided for students 21 and older. Hour of Dates Live will also be back this semester where two students will be blindfolded among four contestants and asked compatibility questions to find their perfect match.
Special boxes filled with goodies will also be available for free on a first come, first serve pick-up at the Information Desk on a couple of occasions. Date night boxes will be available for students to pick up on Valentine's Day and relax packs will be available for students to pick up around midterms.
New events are sure to be big hits around campus. A virtual cooking show taught by our very own Commons staff will teach students how to cook some of Commons most requested meals. An Easter egg hunt will take place, with a number inside each egg corresponding to a prize. At the end of the year, there will be Roanoke College's first ever flea market that will give students the chance to recycle things no longer needed before going home, sell handmade products, or use this as an advertising opportunity.
"Our team consists of only students, so we hear you and understand you. We are your peers, and we will do our best to make this semester one of the best," said Werner.
Five pavilions were added at popular outside areas- by Crawford, Marion, Chalmers and New Hall dorms and by Bast Gym and the BBQ pit — to ensure fun can be had rain (or snow) or shine. These pavilions were placed over break to give students more opportunities for to safely congregate outside this semester.
"They are big enough to have a small study group under or a bite to eat and are fully available for students to use. It's important to reiterate we are looking for ways to keep social distancing protocols and COVID protocols."
Former SGA President Senn Boswell '21
Students can look forward to all of this and more in the coming months as the weather gets warmer during the spring semester.