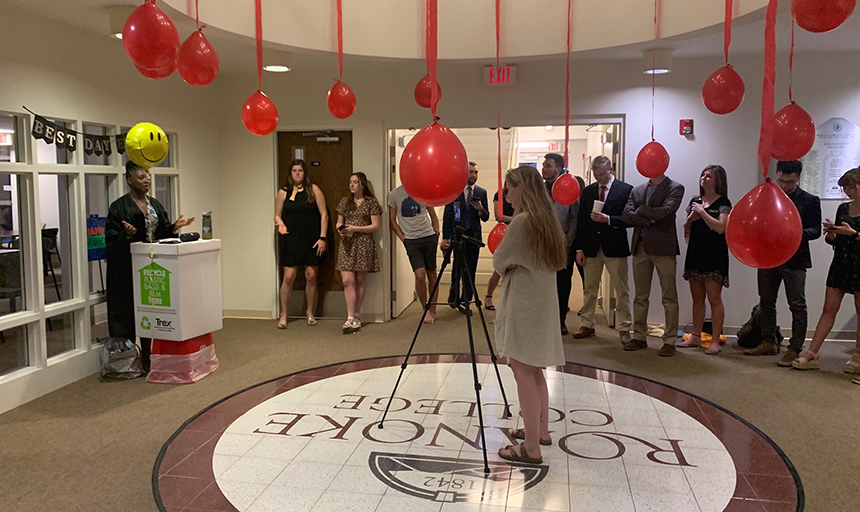 Resourceful seniors hold impromptu graduation before leaving campus
When Peyton Holahan '20 packed up her belongings and left campus earlier this month, she made sure to include something she'd just received — her college diploma.
The diploma didn't bear an official signature from President Mike Maxey. It didn't list Holahan's major. No, it was the USA Today crossword puzzle page.
Holahan received this diploma during an impromptu Commencement ceremony that she and fellow seniors organized before they left campus. The ceremony idea started as Holahan's friend group wanting to celebrate their time at Roanoke before they left.
Students were asked to leave campus by March 15 as a precaution against the spread of the COVID-19 pandemic. Then, on March 20, President Maxey announced that Commencement, scheduled for May 2, would be postponed to a later date.
Putting on their own small graduation ceremony, Holahan said, was only partially because of the uncertainty about Commencement.
"I think we just did it more so because as a group we didn't know when we would be together for the next time," Holahan said.
The plans began over lunch in the Commons, Holahan said. It was Thursday, March 12, the day after in-person classes had been suspended; students were asked to leave campus by Sunday, March 15. Holahan and her friends had just done a photo shoot around campus with Ashley Eagleson '20, a student photographer in the College's Office of Marketing and Communications.
Almost as a joke, Eagleson said they should stage their own Commencement ceremony too.
Quickly, plans fell into place. Eagleson had a cap and gown that she uses for graduation photos. A professor they knew let them borrow another cap and gown. They talked with Dining Services employees, who happily allowed the students to take leftover cookies and desserts. Someone put "RC 2020" in icing on the cookies, Holahan said.
"It wasn't celebrating our academic four years at Roanoke, but definitely our friendships at Roanoke the past four years and showing how much we can come together in times of strife and confusing times where nobody really knows what the future holds."
Peyton Holahan, '20
The students went to a dollar store and stocked up on celebration supplies. They got smiley face balloons. They bought a large banner that read, "Best Day Ever."
"We had to get creative," Holahan said.
As they organized the event, they invited more and more people. When the ceremony happened that Friday night, more than two dozen seniors showed up. Many of them pulled out all the stops, wearing dresses or suits.
The 34-minute ceremony was live-streamed on Instagram. They gathered in the lobby of Beamer Hall, decorated with red balloons and streamers. Junior Tara Hrdlick acted as President Maxey, even donning an untied bowtie for effect. Olivia Kitt '20, the former Student Government Association president, gave a speech. As Pomp and Circumstance played from a portable speaker, Hrdlick handed out the "diplomas," which were pages of USA Today editions, available for free from Commons.
A few of them, Holahan included, like to do the USA Today crossword puzzle. The diplomas made from the crossword page were reserved for those students.
After the ceremony, a few of the attendees went over to Mac and Bob's for dinner. They sat at a long table and talked about the highs and lows of their years at Roanoke.
Organizers of the event included Holahan, Eagleson, Kitt, seniors Natalie Whitney, Beckie Emerson, Kyle Grohbrugge, Lacey McGraw, and juniors Hrdlick and Claudia Jacobs.
The mock graduation ceremony wasn't the only effort from Roanoke students to ensure they'd have a Commencement. Students created a petition on change.org to ask Roanoke College leaders not to cancel graduation but to move the ceremony to another date. As of Monday, March 23, more than 1,700 people had signed the petition.
Comments poured in on the petition page, including one from senior Kayla Capeheart.
"I'm signing the petition because I am a graduating senior at Roanoke and I am a first-generation college student," Capeheart commented. "Commencement is more than just getting a degree, it's a testimony of all the sacrifices my family has made for me to further my education beyond high school."
In his announcement postponing graduation, President Maxey specifically mentioned that he'd seen the petition. He also said he and his cabinet would find a way to get the seniors back together.
"I would love nothing more than to shake hands with and pass a diploma to every one of this year's graduating seniors in the future," Maxey wrote in the announcement.
As she reflected on the student-organized Commencement ceremony, Holahan said her friends' graduation ceremony went beyond what she and her classmates had accomplished in the classroom.
"It wasn't celebrating our academic four years at Roanoke," she said, "but definitely our friendships at Roanoke the past four years and showing how much we can come together in times of strife and confusing times where nobody really knows what the future holds."
The College is still planning on holding a graduation ceremony for seniors. Commencement, originally scheduled for May 2, is postponed but not canceled.