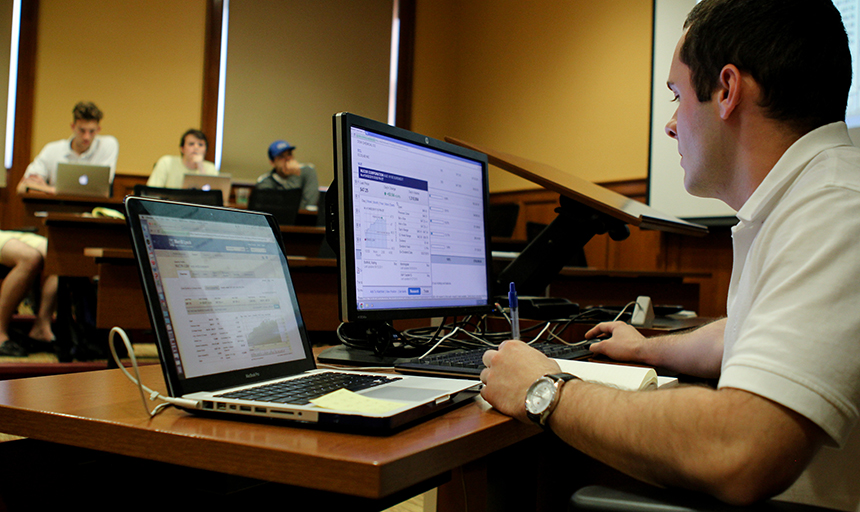 Student-Managed Fund Surpasses $1,000,000
The Student-Managed Fund (BUAD 322) has been a course offering at Roanoke College every semester since 2004. Unlike traditional portfolio simulators, which may encourage unrealistic and brash investment strategies, the Student-Managed Fund challenges Roanoke students to use their skills, innovation, and teamwork to responsibly grow a real investment portfolio.
When the class meets in West Hall, a fast-paced review of stocks ensues as students report on the companies placed on the fund's "Watch List." While a Roanoke College business faculty member serves as a resource and guide, the students are responsible for discussing changes they want to make in the fund's strategy and a student manager runs the class.
To date, the students' fund has consistently beaten its benchmark (a combination of the S&P 500 and the Barclay's Aggregate Bond Index). In fact, the initial $500,000 investment has more than doubled and is now worth more than $1,062,723.
Coupled with several distributions, these gains have given the fund a net increase of approximately $600,000 under the leadership of countless student portfolio managers!
The fund's biggest $ gainers through 2017 include: Lockheed Martin (LMT), DowDupont (DWDP), NVIDIA (NVDA), Phillips 66 (PSX), & Home Depot (HD).
The fund's biggest $ loser in 2017 has been General Electric (GE).