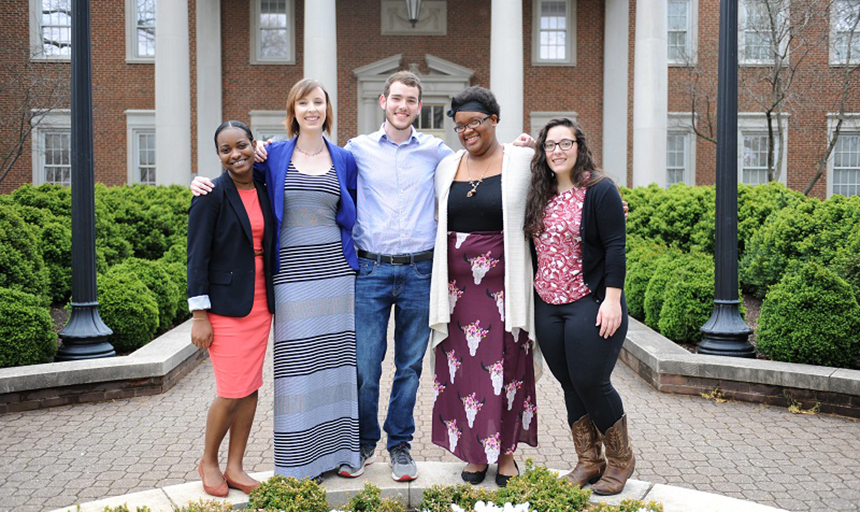 4.20.2017
By Roanoke College News
Subject Tutoring and Writing Center Successes
Subject Tutoring and Writing Center are garnering lots of attention in no small part thanks to the hard work of the College's student tutors.
This year, Roanoke College's Emily Densmore '17 was presented with the Southeastern Writing Center Association (SWCA) Undergraduate Tutor of the Year award. The SWCA recognizes one student from the universities, colleges, and high schools within the 11 states and territories every year for the honor. She was recognized at the keynote luncheon of the SWCA conference at Ole Miss in February.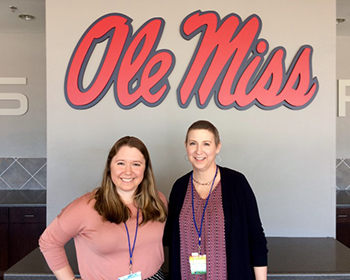 Densmore has been a member of the Writing Center staff since 2015 where she helped both native speakers of English with their writing skills and especially students whose second language is English. She served as a summer assistant in 2016 when she helped plan orientation and get the Writing Center ready for the fall semester. Densmore updated the student tutor handbook, learned how to build a webpage and created content for the new blog.
Densmore is currently a tutor at the Writing Center as well as the co-editor of the Writing Center's new blog, Off the Page. She has previously studied abroad, completed an independent study, and maintained an excellent GPA over the course of her four years at the College. "… that is the kind of student and tutor Emily is: driven, dedicated and capable," said Dr. Sandee McGlaun, associate professor of English and director of the Writing Center.
Subject Tutoring is being recognized globally for its International Tutor Training Program Certification (ITTPC). This year five Roanoke students set a goal to attain their Level II, Advanced Tutor certification. Dantae Elliot '17, Alicia Malin '17, Thane Jones '17, Jessica Slayton '18, and Stephanie Whitecross '17 earned Advanced Tutor certification which requires an additional 10 hours training in combination with a minimum of 50 hours student interaction.
The tutors are scholars themselves, and their hard work has been recognized both inside and outside of the tutoring center. Whitecross, head tutor, has been awarded the Subject Tutoring award for Leadership and Excellence from Roanoke College due to her irreplaceable hard work with training and developing the staff for Level II certification. Whitecross has a job with Human Resources at Carilion upon her graduation this spring. Jones has been accepted into a chemistry Ph.D. program at N.C. State, and Kristin Wicander '17 has won a Fulbright to teach in Spain.
Visit the Roanoke College Writing Center's blog, Off the Page.