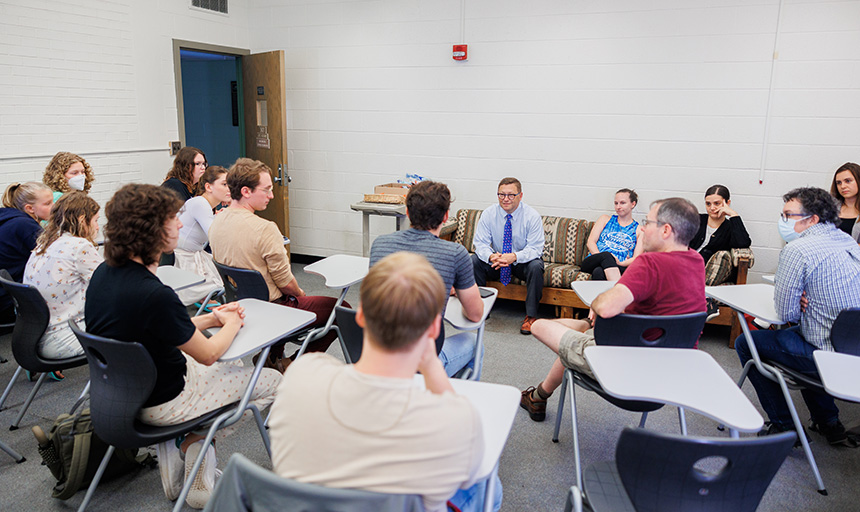 President Frank Shushok meets with the 2022 Summer Scholars.
Roanoke Summer Scholars Dive into Research
While some students spent this summer in swimsuits and sunglasses, Luke Konst '23 donned a white lab coat and safety goggles to conduct undergraduate research in a Roanoke College chemistry laboratory as part of the school's Summer Scholars Program.
Konst, a chemistry major from Cary, North Carolina, is one of 13 students selected to participate in this year's competitive program, which gives them the opportunity to work one-on-one with a faculty member on an important research project. Scholars also receive a $3,000 stipend, summer housing and a summer course credit, and they participate in a number of educational or social activities with the rest of their cohort throughout the summer.
"The research I'm doing this summer is directly applicable to what I want to do in graduate school," Konst said, "so having that experience as an undergrad is going to be really useful."
This year's group of Summer Scholars includes students majoring in biology, history, art, computer science, art history, chemistry, psychology, health and exercise science, math, music and sociology. Their projects are just as diverse as their areas of interest, and they include both humanities and STEM topics such as the effects of intermittent fasting on zebrafish metabolism, analysis of antimalarial drugs from developing nations, and the racial makeup of the Evangelical Lutheran Church in America.
Biology Professor Chris Lassiter, director of undergraduate research at Roanoke College this summer, said the Summer Scholars were excited to get back to hands-on research after the pandemic. "The ability to be in-person and dive deep into their chosen discipline is very rewarding for them," he said.
Konst is spending the summer exploring the synthetic utility of palladium-catalyzed carbon-carbon bonding reactions with William Brenzovich, associate professor of chemistry and director of Roanoke College's Honor Program. Konst is interested in someday working in pharmaceutical development, and he said optimizing those bonding reactions might have multiple benefits in that field down the road, including time and money savings that could be transferred to patients.
Another 2022 Summer Scholar, Ivey Kline '23, has been a fixture at Fintel Library and the Salem Museum this summer as she conducts research with Jesse Bucher, associate professor of history, college historian and director of the College's Center for Studying Structures of Race. Kline is mining the archives in an attempt to learn all she can about Georgianna Saunders, a Black midwife who practiced in Southwest Virginia between 1914 and 1940.
Saunders, part of the first generation born post-emancipation, kept extensive birth records for her practice and was an essential part of the local medical community, but because of her race, she is virtually absent from official records. Kline is analyzing what records do exist to evaluate the segregation of medicine, the importance of Black midwives, and the demographics of the poor women Saunders served. "The project will fill an important scholarly deficit regarding Black midwives," Kline wrote in her Summer Scholars application, "since most scholarly work regarding birth work focuses on white midwives or male doctors inventing obstetrics."
"The research I'm doing this summer is directly applicable to what I want to do in graduate school, so having that experience as an undergrad is going to be really useful."
Luke Konst '23
Kline, a history major from Rockville, Virginia, has worked for three years at Roanoke's Center for Studying Structures of Race and helped launch the Genealogy of Slavery Project, which is dedicated to uncovering information about the enslaved people who built Roanoke College.
"It's really nice to be able to devote so much time to a project and not have it be something that I'm doing in between classes," Kline said of her Summer Scholar work. "It's nice to be able to fully focus on it because I want to do justice by [Saunders] like she deserves."
The students selected as Summer Scholars are not the only students who get to conduct undergraduate research at Roanoke, but the Summer Scholars Program involves a longer and more concentrated period of research, and offers additional funding and networking opportunities.
"We often have around 300 students doing research in any given year, but during the academic year they get pulled in different directions, with classes and extracurriculars," Lassiter said. "During the summer, they can focus intensely on the research process and get an idea of what it is like to push the boundaries of knowledge."
This summer, the scholars also have attended weekly workshops on topics such as how to design posters for conferences and how to apply for prestigious scholarships and fellowships, and they enjoyed down time together during movie nights, hikes and a baseball game.
All of the Summer Scholars will write papers about their summer research that will be filed in the library, and some will publish their work or present it at conferences. Konst will present his work at the American Chemical Society conference next year, and he hopes to co-author an article with Brenzovich and have it published in a scholarly journal, a valuable and uncommon opportunity for an undergraduate student. Scholars will also present their work at a poster session on campus during Family Weekend on Sept. 23-25.
Being a Summer Scholar "definitely helps to pave the way to get into graduate and professional programs or jobs," Lassiter said. "They've got that firsthand experience in their field of choice."
Konst said it's been an exciting and eye-opening experience to take his first steps into what will hopefully be a lifelong profession.
"Summer Scholars and research in the department really gives you the opportunity to learn about yourself, your place within the field, where you want to go and what your career is going to mean to you."
2022 Roanoke College Summer Scholars
David Adams '24, a biology major, is working with Visiting Assistant Professor of Biology Samantha St Clair on a project titled "The Effects of Intermittent Fasting on Zebrafish Metabolism."
Janelle Costa '23, who is double majoring in art history and history, is spending the summer researching "Visiting An Ancient Egyptian Oasis: What Ceramic Artifacts from 'Split Rock' Can Reveal About Ancient Travelers and the Paths They Chose" with Leslie Warden, the Joanne Leonhardt Cassullo Associate Professor of Art History.
Aaron Gabryluk '23, who is studying computer science at Roanoke, is working with Durell Bouchard, associate professor of computer science, on "Immersive Virtual Reality: A Study of Haptic Feedback's Influence on Presence."
Isabelle Hill '23, an art major, is working with Associate Professor of Fine Arts Kate Shortridge on a project titled "Transfiguration: Morphing of the Female Body in Myth."
Haley Keene '23 is a biochemistry major who is working with Timothy Johann, professor of chemistry, this summer on "Development of Methodologies to Analyze Antimalarial Drugs from Developing Nations."

Luke Konst '23 is "Exploring Synthetic Utility of Palladium-Catalyzed Reactions" with William Brenzovich, associate professor of chemistry.

Ivey Kline '23 is working with Jesse Bucher, associate professor of history, on a project titled "The Legacy of Georgianna Saunders: Race, Gender, and Black Midwifery in Southwest."

Zachary Krumm '23, also a biochemistry major, is researching alongside Chemistry Professor Gary Hollis. Their project is "Exploring the Use of Sodium Potassium Alloy in Metal Reduction and Coupling Reactions for Highly Fluorinated Aromatics."

Cooper Neeble '23, a health and exercise science major, is working with Cory Scott, visiting instructor of health and human performance, on "Accuracy of Fitness Metrics in Wrist-worn Wearables Between Dominant and Nondominant Arms in a Diverse Cohort."

Maryam Nishtar '23 is studying psychology and biochemistry at Roanoke. This summer, she's working with Associate Professor of Psychology David Nichols to research "Physical Changes in the Brain as a Function of Clinical Dementia Ratings in Women with Alzheimer's Disease."

Lillian Pingel '23, a sociology major, is studying "The Evangelical Lutheran Church in America: The Whitest Christian Denomination in the United States" with Melanie Trexler, associate professor of religion and philosophy.

Megan Reynolds '23, who is earning a double major in history and music, is working with Samantha Rosenthal, associate professor of history, on "The Internal Lesbian Menace: Challenges Within the Lesbian Feminist Movement, 1970 to the Present."

Davis Tingle '23, a math and computer science major, is working with Professor Anil Shende on a project titled "Drone Delivery Optimization in Mixed Fields."