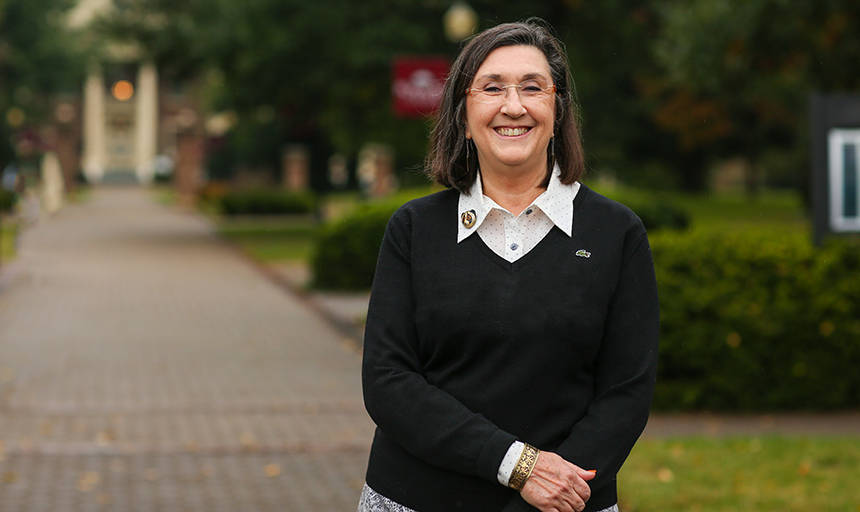 12.18.2018
By Gene Marrano
RC alumna reflects on her career path
Dr. Susan Ford '74 has long been interested in all creatures great and small—mostly the smaller ones.
As a teenager, Ford first thought about studying marine worms; a high school anthropology course followed. Then Ford discovered Roanoke College, settling on biology as a major because there was no anthropology track at the time—and because "it was the most challenging and fun," she says.
Now retired from Southern Illinois University-Carbondale after a long career as a professor of anthropology and then as provost and vice chancellor for academics, the upstate New York native came to Roanoke College because of its Lutheran affiliation, a scholarship offer and, yes, because it was warmer in the winter. Ford was a National Merit Scholar Semifinalist as a high school senior.
"Roanoke just seemed to be the perfect fit," said Ford during a return visit to the school in October—her first in over two decades.
Ford went on to earn a master's degree and Ph.D. in Anthropology at the University of Pittsburgh. Ford wanted to concentrate on biological anthropology in humans, and in apes and monkeys and Pittsburgh offered faculty members who had that expertise. She then found her way to Southern Illinois and a long teaching career spanning almost four decades. Ford's work as a primatologist—the study of primates—also took her to locations in South America and the South Pacific.
In the field, she studied species such as the slow loris, a nocturnal primate that resembles a sloth, and a South American owl, or "night monkey." Much of Dr. Ford's research on primates as an evolutionary biologist also involved the skeletons of South American primates, which brought her to museums in Chicago, New York, Washington, London, Zurich and Brazil to study preserved specimens.
Functional anatomy has always been a major fascination—the body structure of animals and how animals move. Studying animals can help us understand human anatomy and how we do things, since humans evolved from other primates, Ford says. Similar anthropology research is also performed in medical schools—Johns Hopkins, Duke, and Stony Brook, for example—and there is crossover to the medical field. Ford has written about her work in numerous publications over the past three-plus decades.
Ford adds that she "fell in love" with South American monkeys early on in graduate school because at the time, not much had been written about them. Those who study human fossils or chimpanzees and gorillas might get more publicity, Ford says, but she was content with her lower-profile career path.
Ford, who spoke at a campus event during her October visit to Roanoke College, came to realize how much a liberal arts undergraduate degree meant to her education and career. "I came from this very broad background. It infused everything I did, not only in grad school but throughout my career."
"You can never know when that spark is going to hit you. Be open to it. It can be a foundation on whatever pathway you take, a great foundation that leads you forward."
Dr. Susan Ford '74
For example, that meant not only thinking about the small primates Ford was studying, but the trees they lived in and the surrounding forests—even the parasites there "because I had taken microbiology," Ford says. "It really made it a much richer approach."
The encouragement to "explore a lot of avenues," that Ford received at Roanoke College whetted her appetite for more. Her minors were French and Theatre —about as far from biology as possible.
Ford also says she modeled her classroom style after Roanoke College professors, including the late Dr. Phillip Lee, whom she called "an amazing lecturer." She honed research techniques while assisting another professor—Dr. Bob Jenkins '61, a vertebrate zoologist—as an undergraduate, although "he worked on fish, not monkeys," she says. "He also taught me comparative anatomy and it just turned my life on to the idea of comparative research. The ways you can explore ideas in very creative and eye-opening ways, always questioning things. That really carried me through."
Ford says it is important to study small primates, their evolution, biology and environment. The tropical forests of South America are critical to the planet's ecosystem for starters, she notes.
"The more we can understand about those forests and the animals in them, the better we can control our environment," Ford says. Primates are also "seed dispensers" that help regenerate the forests, since primates eat fruit and redeposit the seeds, which then grow into new vegetation. "It's also important for understanding how evolution works," says Ford, since "primates are our closest relatives."
During her October visit to the College, Ford told students not to underestimate the value of what they will learn as an undergraduate. "You can never know when that spark is going to hit you. Be open to it," said Ford, who found her spark in evolution and anatomy. "It can be a foundation on whatever pathway you take, a great foundation that leads you forward."
It led Ford to the forests of South America and the South Pacific, to museums around the world and to almost 40 years of helping students find their "spark."
"If you're not quite sure what you are going to do, don't worry about it," Ford says. "Stay open and it will come to you. And you will have a great life."