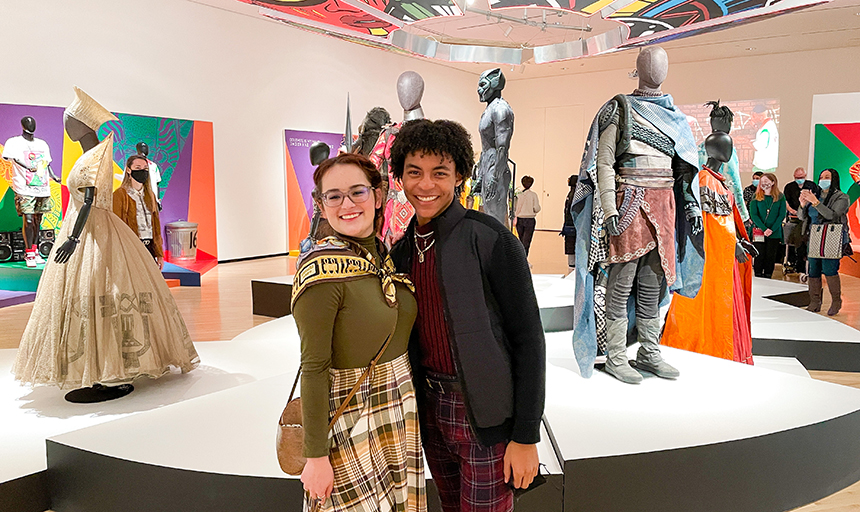 Students find value, inspiration at museum event
When a group of Roanoke College students went to the Taubman Museum of Art in downtown Roanoke on Nov. 13 to meet an Oscar-winning costume designer, they treated the night like their own A-list Hollywood party.
"They were just jubilant," professor of history Dr. Whitney Leeson said. "They looked fabulous."
The event — held on the opening day of the Taubman's series of fashion-forward exhibitions called "Fashioning the Future" — featured "Afrofuturism in Costume Design," an exhibition highlighting the work of Ruth E. Carter, who has worked as costume designer on generation-defining films such as "Black Panther," "Selma" and "Do the Right Thing." Carter was at the event, and students had the chance to meet her and attend a question-and-answer session.
Celebrity fashion stylist Micaela Erlanger also was in attendance with her collection of fine jewelry, featured in an exhibition titled "All That Glitters: Iconic Jewelry and Hollywood Style."
The event continued a long-standing relationship between the College and the renowned art museum, as Roanoke students get free admission and many students end up working or interning at the Taubman.
Students of various majors and interests were able to enjoy the event in their own ways. Isabella "Bella" Moritz '22 is an art history major who hopes to pursue a career in fashion conservation. Da'Vaun Lee '22 is a biology major who is looking to pursue graduate studies in zoology.
All of them described the event as a valuable experience. Lee was particularly interested in Carter's work with Afrofuturism — a cultural aesthetic that explores the intersection of the African diaspora culture with technology.
"The event was astounding," Lee said. "It was a pleasure meeting both Micaela Erlanger and Ruth Carter. This was an honor, and this opportunity really inspired me to be better at my craft and showcase my authentic Afrofuturistic self. I wouldn't trade it for the world."
Ximena Cantu '24 said she enjoyed meeting people of many backgrounds at the event. She said listening to Carter was eye-opening.
"Ruth E. Carter talks about her work very passionately, which gave me some hope that one day I can reach the things that I am passionate about as well," Cantu said.
"Ruth E. Carter talks about her work very passionately, which gave me some hope that one day I can reach the things that I am passionate about as well."
Ximena Cantu '24
Moritz, who currently is applying to graduate school for fashion conservation with a hope of working in museums, found the event both moving and helpful for her future.
"It was an incredibly valuable networking opportunity as I prepare myself to jump into the fashion industry and go to graduate school," Moritz said. "And it was so inspiring to get to hear all about Micaela's path to success as I start to learn more about the different corresponding facets of the fashion industry."
Joanne Leonhardt Cassullo '78, a member of the Roanoke College Board of Trustees, attended the event with the students and said the experience was invaluable both for her and for students who are just beginning their life journeys.
"When you are a college student who is about to step out into the world to follow your passion and to fulfill your purpose, it is illuminating to hear from role models like Ruth E. Carter about how they felt the very same way," Cassullo said. "They recognize that same spark within our students. Ms. Carter's honesty in describing the insecurities she felt in her own life, and the way in which she used those emotions to make her work even more compelling, is something I know our students could identify with."
This event was one of many that Roanoke students get special access to as part of the College's membership with the Taubman. The campus community can take advantage of all exclusive Members Only activities the Taubman Museum has to offer, including:
FREE Unlimited Admission to ticketed exhibitions including "POP Power from Warhol to Koons: Masterworks from the Collections of Jordan D. Schnitzer and His Family Foundation."

FREE admission to all Distinguished Speaker Series lectures and artist talks,

20% discount on classes and workshops.

10% discount in the museum gift shop and café.