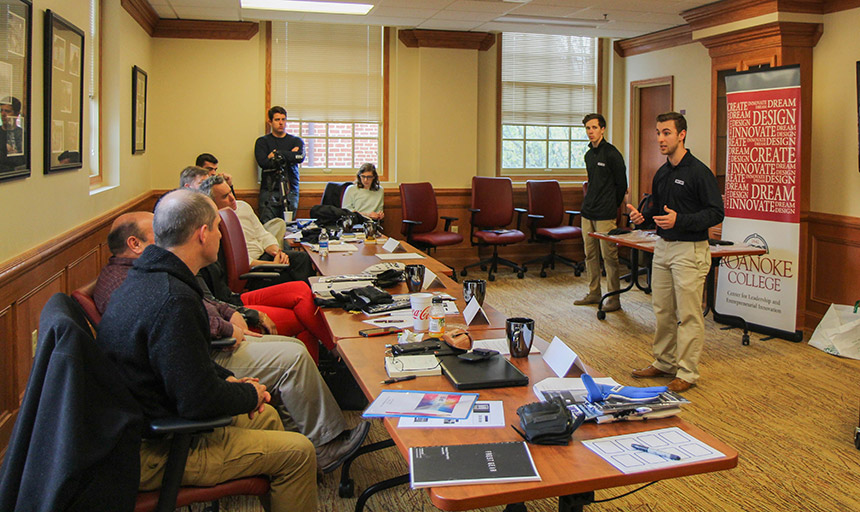 Luke Aprile discusses his Frost Gear business for judges during the Pitch competition.
Student's cold weather baseball glove venture takes first in Pitch competition
New York's cold winter temperatures did not keep Luke Aprile '19 from playing the game that he loves - baseball. But the chilly temperatures made gripping a baseball difficult.
So, Aprile created a glove that helps players grip baseballs easier in cold weather. The Frost Glove was born.

Aprile's business, called Frost Gear LLC, is winner of Roanoke College's 2017 Pitch competition, an annual contest for which aspiring student entrepreneurs present business ideas for cash prizes.
Aprile's entry was one of 22 entered in this year's Pitch contest. The winner receives $3,000 to help start, grow, or save their venture. Second, third and fourth place winners also receive prize money.
This year's judges included David Robertson, who co-owns Robertson Marketing, Tom Tanner, professional business counselor for Roanoke's Small Business Development Center, Fourd Kemper, a lawyer with Woods Rogers in Roanoke and who works with Virginia Tech's Entrepreneur Club, and Justin VanBlaricom, an investor with Hometown Bank who works with local businesses. The competition was sponsored by the City of Salem.
There were a record number of entries for this year's Pitch. Roanoke faculty reviewed the applications and selected 10 contestants to compete in the semi-final round. From there, five teams were chosen to compete in the final round.
Steve Baker, a professor and director of the Center for Leadership and Entrepreneurial Innovation at Roanoke, heads up the Pitch.
"The Pitch Competition is the start of our effort to bring the collaboration together from students of different disciplines," said Baker.
Aprile, a former baseball player, has two MLB consultants for his Frost Glove business, which has generated $20,000 in revenue so far. Reid Gorecki, a former outfielder for the Atlanta Braves, and Stu Pomeranz, a former pitcher for the Baltimore Orioles, both use the Frost Glove.
Aprile developed Frost Glove with a proprietary synthetic material that is conducive to gripping cowhide at the molecular level. With Frost Glove, players can grip a cold or wet baseball no matter how inclement the conditions are on game day.
Other employees for the business include Zach Zwergel '17, chief financial officer, and Alexander Pelletier '19, vice president of tactical solutions and protective systems. The business also is moving into the tactical applications of the glove for the police and military as part of its Frost Gear collection. Aprile will be meeting with the New York Police Department this summer.
The business has a storefront on Main Street in Salem. Aprile said he plans to use his prize money to purchase insurance for the company as it moves forward.
Naomi Hogan '18 came in second place winning $1,500 for her heated cosmetology device T.A.R.A. The heated cosmetology mannequin is a training tool for cosmetology students who could use it to practice hair styling. It is more life-like than other mannequins that are currently available on the market, she said.
Third place went to Omid Sarmadi '17 and Branson Boone '17, who took a love of model airplanes and turned it into a business. Sarmadi collected model airplanes but realized that there were many accessories that weren't available. He received a 3-D printer and then met Boone, who helped create a website. Sarmadi & Boone Custom 3-D Printing and Design has made nearly $10,000 in revenue.
Their business sells accessories for model airplanes that are not already available on the market. Their original product was a jet bridge for model airplanes. They have now expanded into creating luggage trams and other airport accessories.
Another Pitch finalist was Laura Campbell, who is the coordinator for the Dean of Students Office at Roanoke. She pitched the idea of Art Venture, a place for local artists to come together to work on their art and meet with one another. Campbell received fourth place.
The Cooking Block, a grocery store idea for Roanoke's campus, received honorable mention in the Pitch. The store, proposed by Brianna Manigault '20 and Frankchesco Leveratto '19, would be a healthier food option for students on campus.
The store would work with sustainable groups on campus, such as the RC Garden, to provide organic fruits, vegetables and meats so that Roanoke students can cook their own food. Manigault and Leveratto proposed that the Cooking Block serve as another meal plan option for students so they can learn to cook on their own.
Photos from the Pitch Competition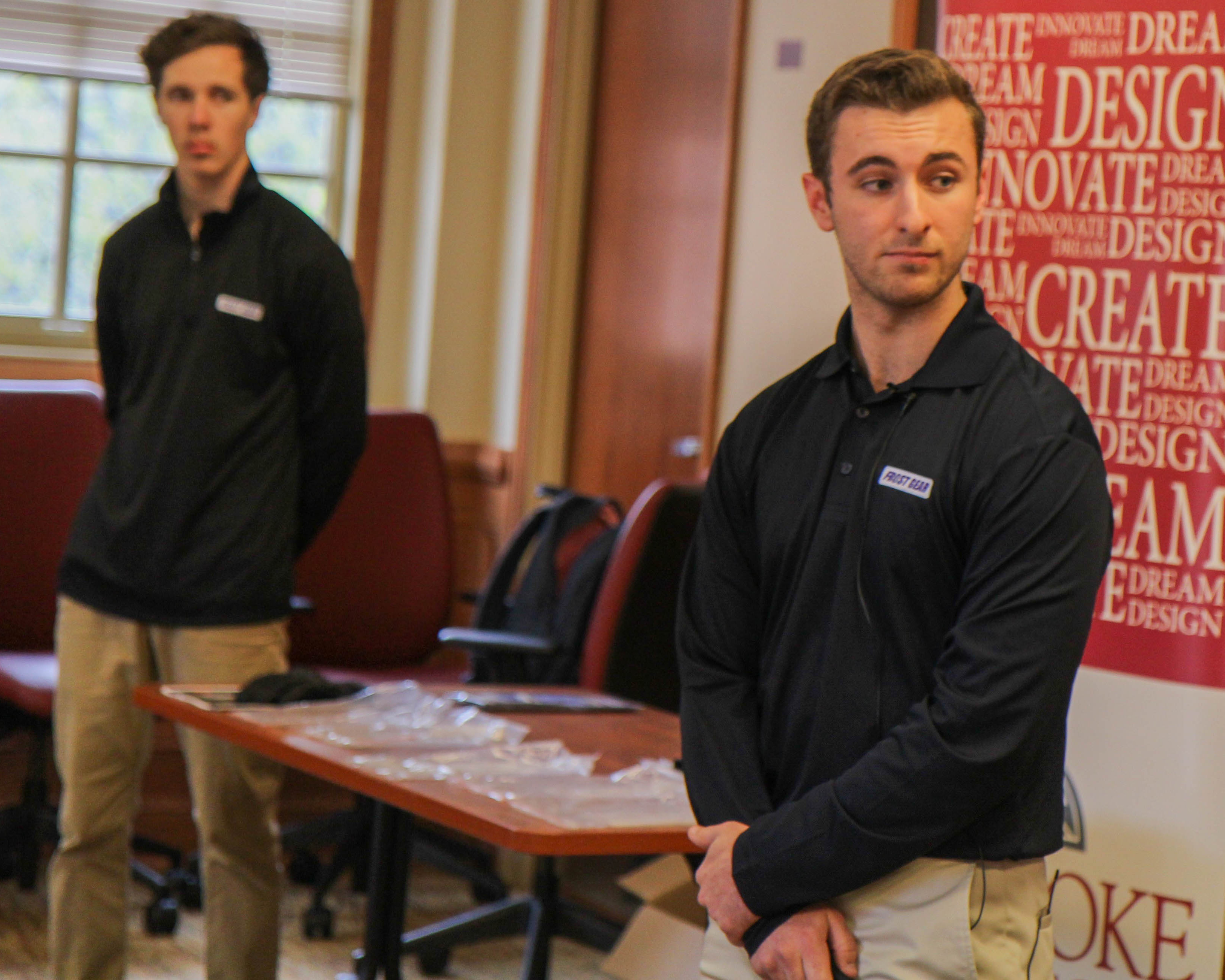 Luke Aprile '19 presenting Frost Gear at the Pitch Competition.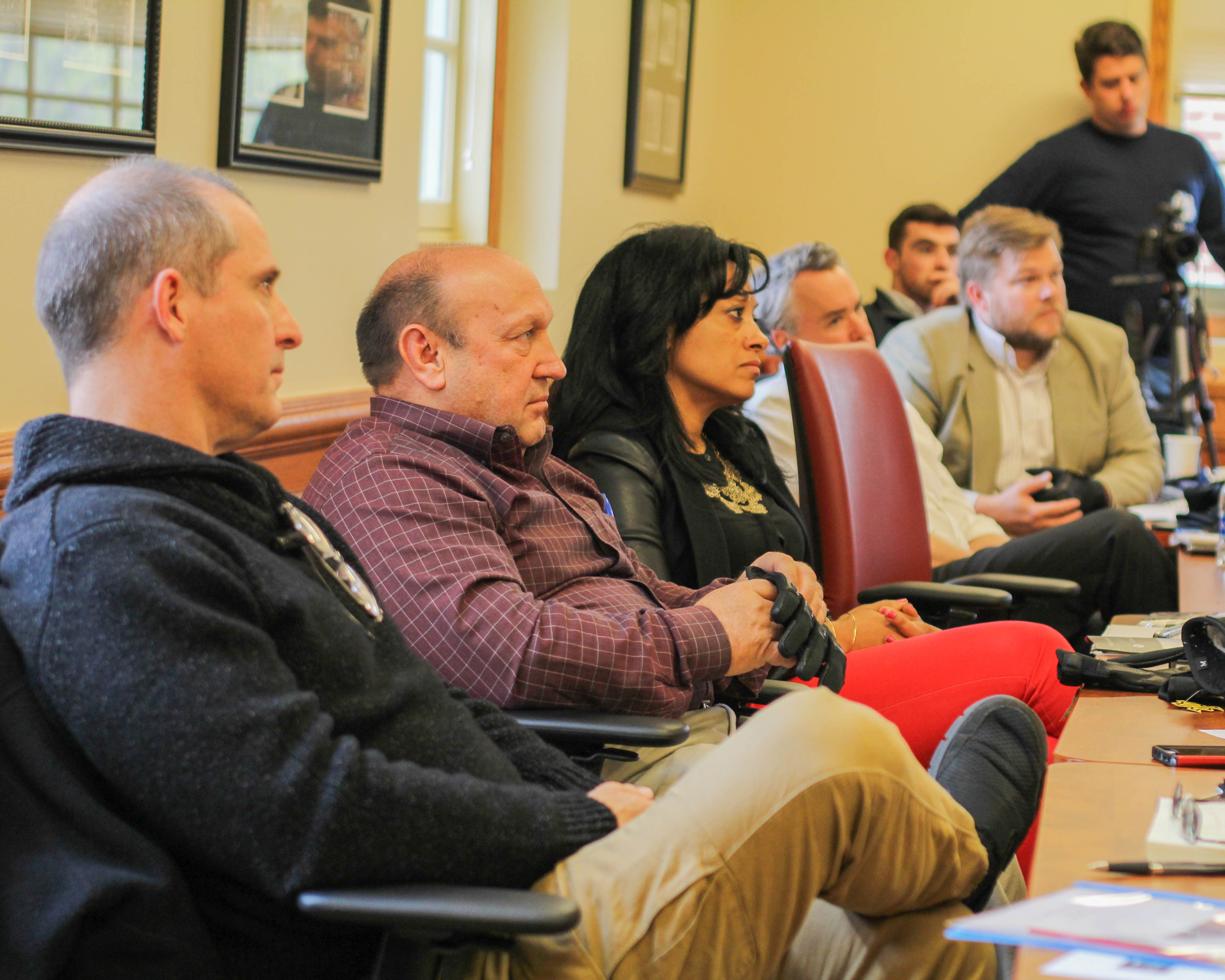 The panel of judges for the competition.
Brianna Manigault-King '20 and Frankchesco Leveratto '19 present their idea, Cooking Block, to the panel of judges.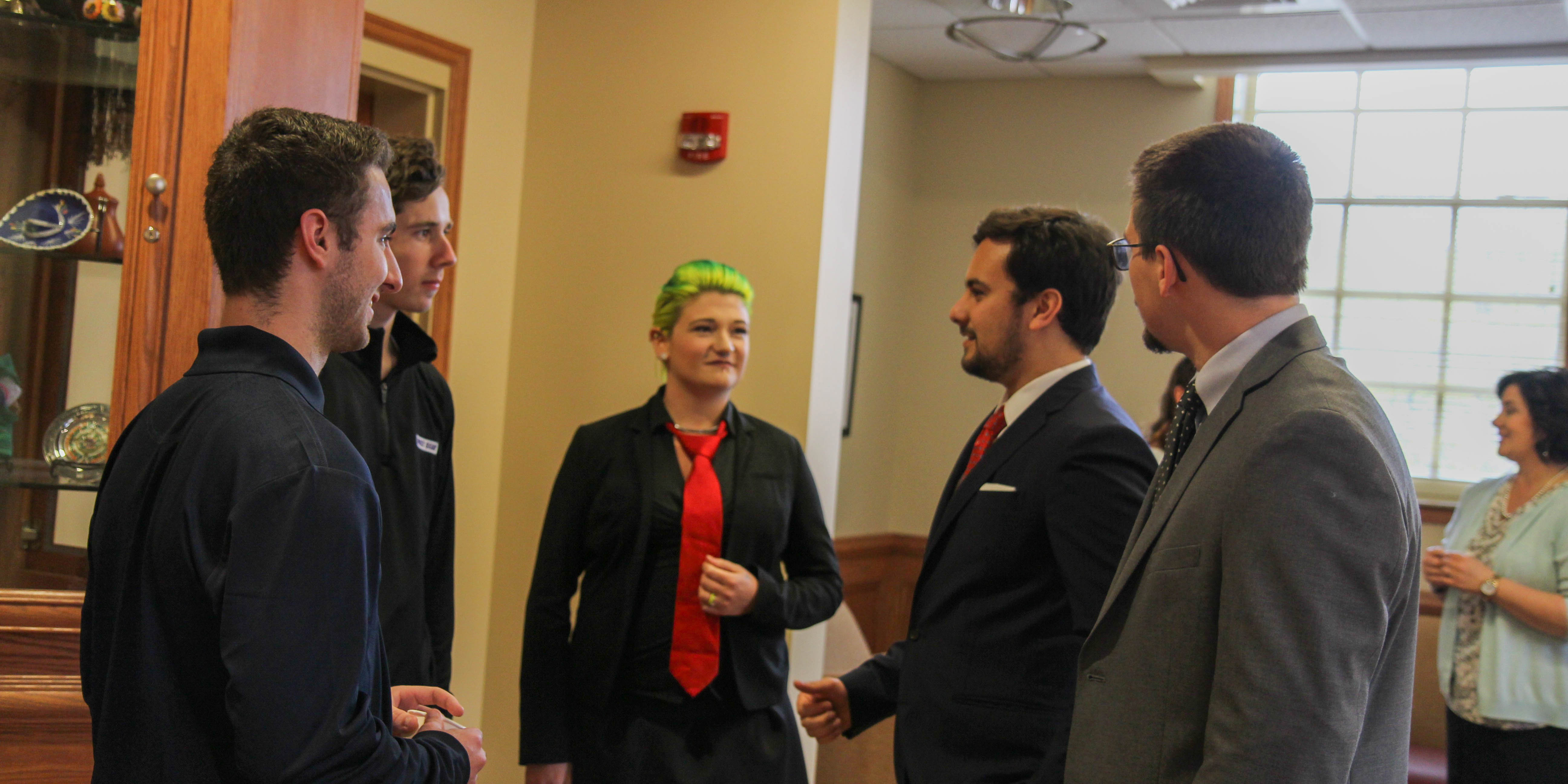 Finalists discuss their different ideas while waiting to hear the results.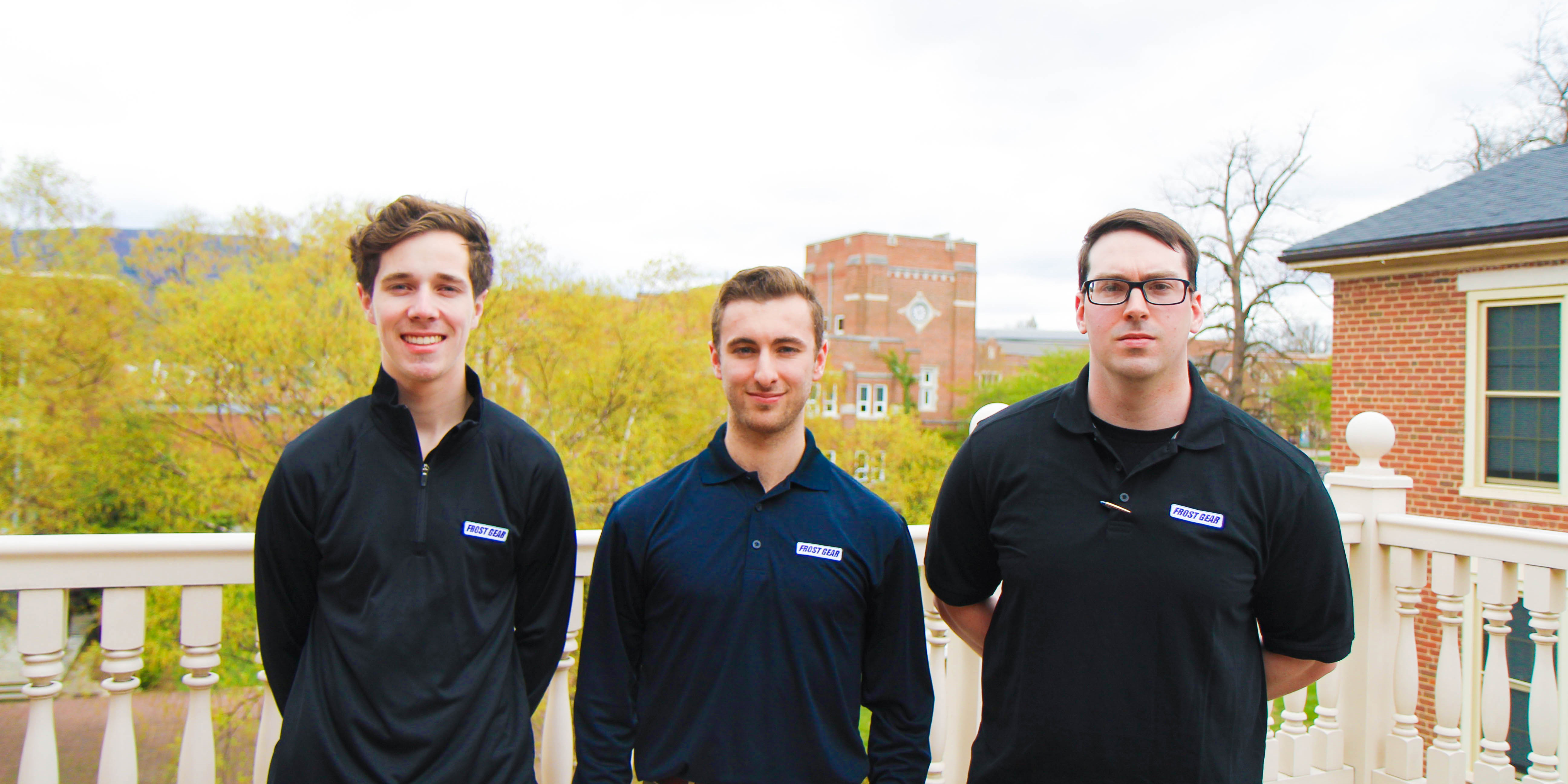 Luke Aprile, Zach Zwergel, and Alexander Pelliter were the winners of the Pitch Competition.
Naomi Hogan placed second in the competition.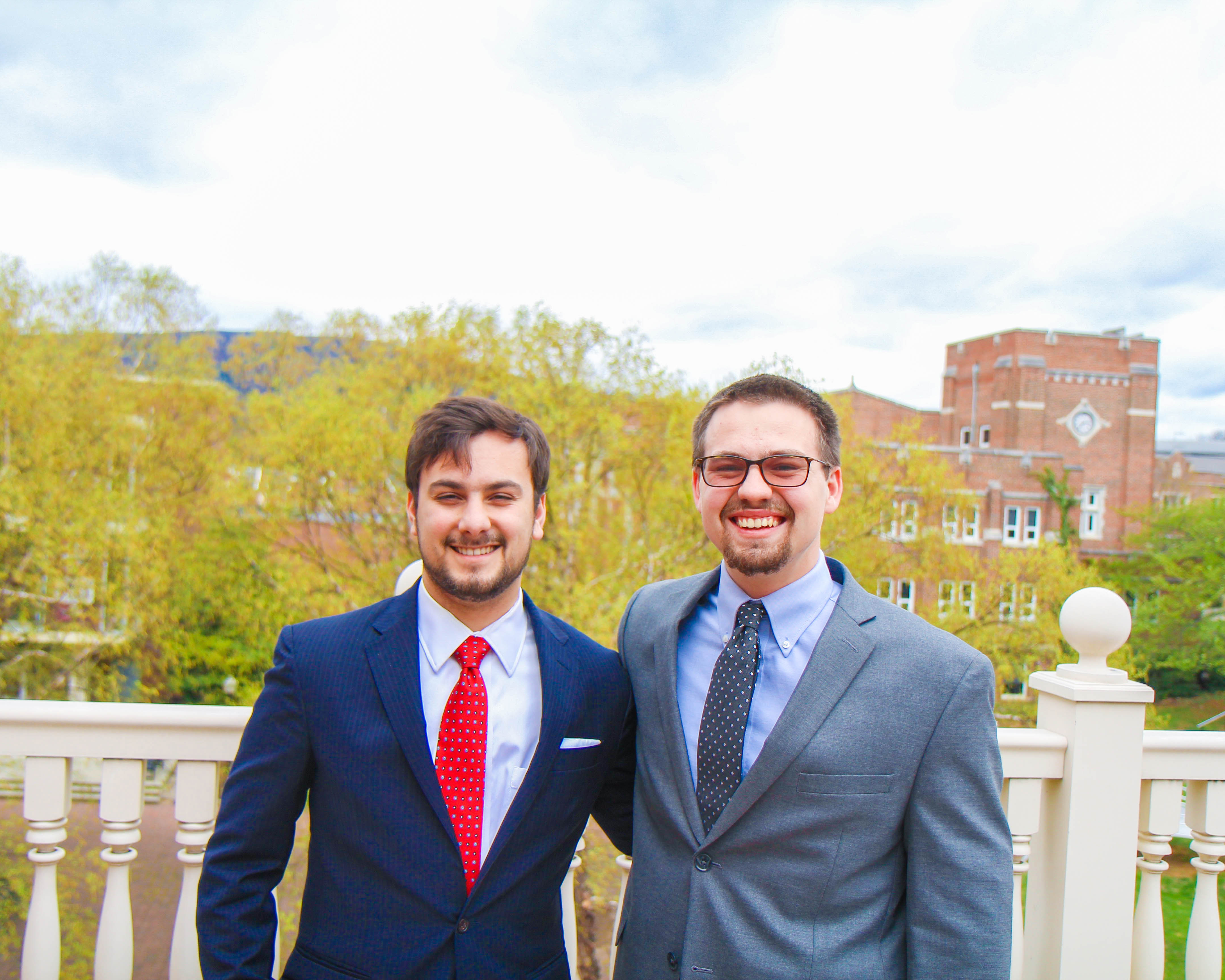 Third place went to Bronson Boone and Omid Sarmadi.
Laura Campbell also came in third place.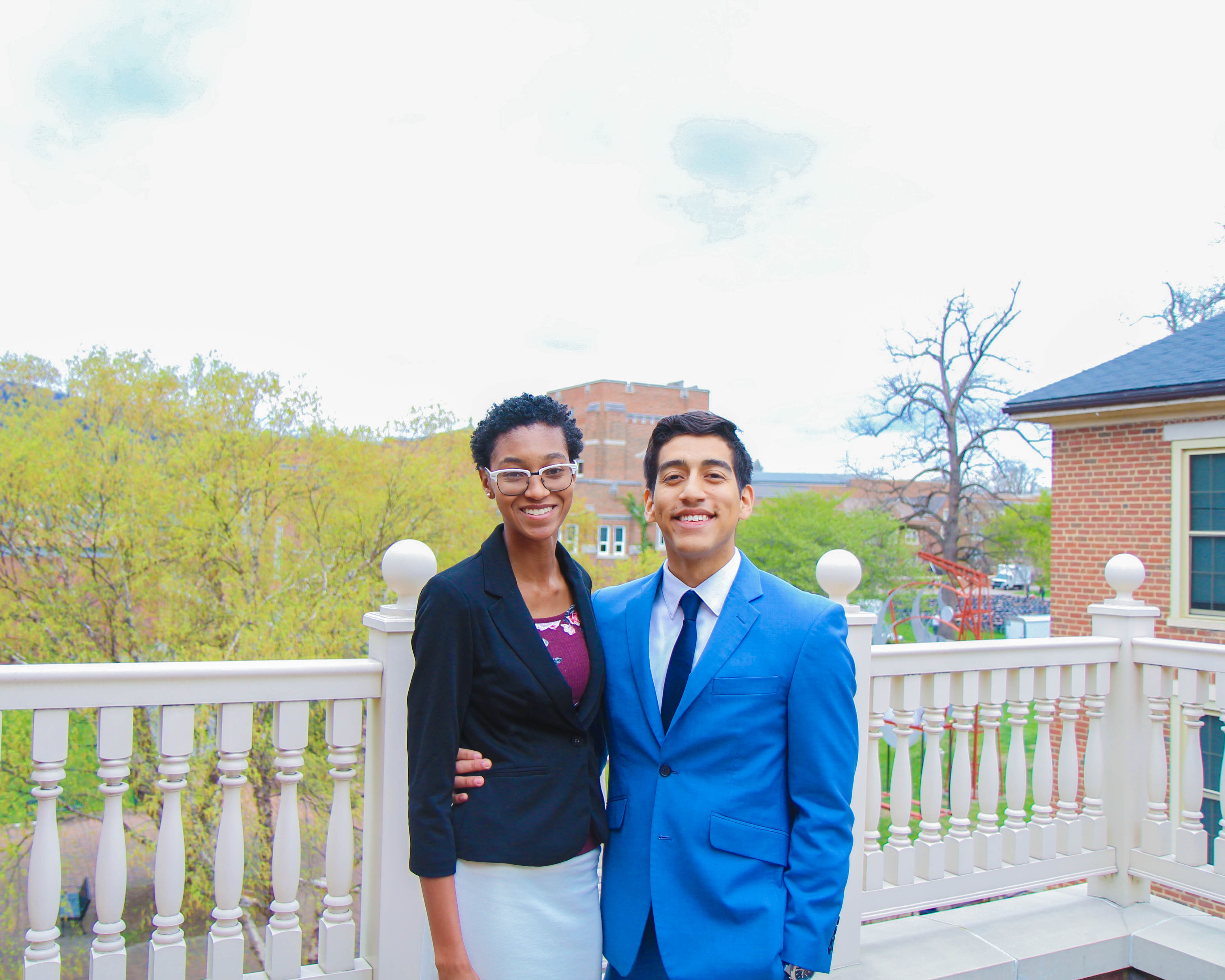 Brianna Manigault-King and Frankchesco Leveratto took home an honorable mention.
Steve Baker oversees the Pitch Competition.
The finalists for the Pitch Competition 2017.