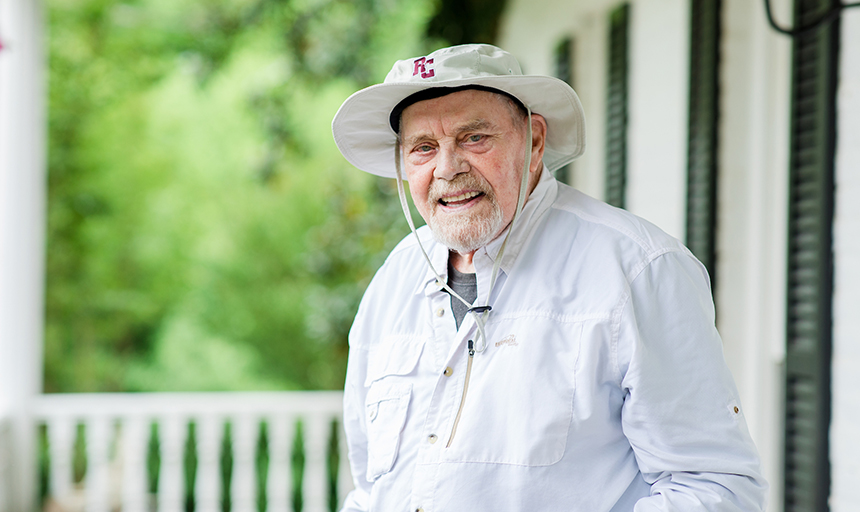 Photographer Carissa Szuch Divant captured this portrait of Tom T. Hall during a photo/video shoot at his home just outside Nashville in May.
College remembers "The Storyteller"
Country music singer-songwriter Tom T. Hall, nicknamed "The Storyteller" for songs that brought characters to life, died on Friday, Aug. 20, at his home in Franklin, Tennessee.
Hall's death at age 85 came just three months after Roanoke College awarded him the honorary degree of Doctor of Fine Arts during May commencement ceremonies.
Hall's connection to Roanoke was brief but influential to his life. He joined the U.S. Army in 1957, during which time he performed on Armed Forces Radio Network and wrote songs about the Army experience. He enrolled at Roanoke College using the G.I. Bill to pursue writing.
While at Roanoke, he worked as a disc jockey at a country music station and wrote songs. His compositions gained the attention of music publishers in Nashville, and he was encouraged to relocate to Nashville.
But as his music and writing career progressed, he often included his time at Roanoke College in interviews about his early career.
Hall's songs were recorded by dozens of country music artists, including Johnny Cash, George Jones, Loretta Lynn, Waylon Jennings, and Alan Jackson. One of his earliest songs, "Harper Valley PTA" was a Billboard Hot 100 No. 1 hit. The song also inspired a motion picture and TV program of the same name.
Hall's own recording career included country music hits "I Love," "Country Is," and "I Like Beer." His song "(Old Dogs, Children and) Watermelon Wine," was included on Rolling Stone Magazine's list of the 100 greatest country songs.
Hall won a Grammy Award for Best Album Notes for "Tom T. Hall's Greatest Hits." He was inducted into the Nashville Songwriters Hall of Fame, the Kentucky Music Hall of Fame, the Country Music Hall of Fame and the Songwriters Hall of Fame.
"Art moves this way," Hall told The Tennessean in 2010, pointing forward. "If you're doing it the way they used to do it, that's copying. It's already been done. … Do it your way, and have some fun."