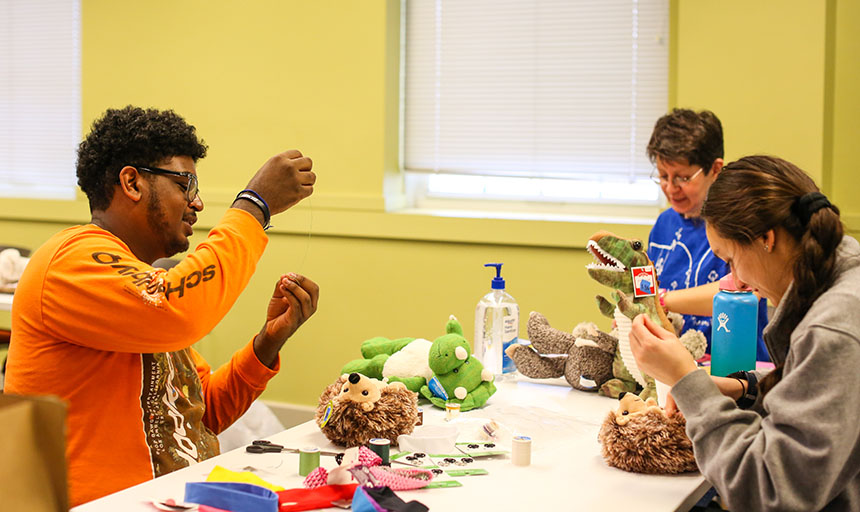 11.21.2018
By Roanoke College News
Toy Like Me grows for its third year bringing toys to children with disabilities
Sophomore Christian Sanchez is sewing a small metal ring on to the belly of a stuffed hedgehog. The ring will attach to another that is connected to a band, giving the toy the appearance of having an ileostomy bag.
Sanchez is one of 93 students signed up to work on altering toys to deliver to differently abled students in time for the holiday season. He was compelled to help thanks to a personal connection.
"When I heard about this in class I was like, 'wow, I know people who have these conditions, and I know it would bring joy to their life,'" says Sanchez. "My best friend's little brother actually has an ileostomy bag as well. It's very nice to see that someone does this."
Biology professor Frances Bosch '99 is overseeing the program for its third holiday season. This year, students are prepared to deliver approximately $3,500 worth of toys to local schools, compared to last year's $1,800 and $1,600 in 2016. More than 50 local students were nominated to receive the toys this year.
The toys will be delivered the last week of classes and during exam week with most going to Fishburn Park Elementary in Roanoke City. Other recipients include other Roanoke area elementary schools, Carilion Children's Hospital, Carilion Pediatric Clinic and UVA's Oncology Clinic.
Toy Like Me also held a contest among Greek organizations on campus. The group that raised the most money will deliver the toys to the schools. Alpha Phi Omega, a service fraternity on campus, won by raising almost $150. "It's an opportunity to meet these kids and get an idea of how lucky they are," says Bosch. "But another thing we're doing is making relationships with teachers and therapists and that means internships out in the community."
Bosch also credits Elderscholars with helping propel this year's success. After giving a lecture at one of the weekday sessions, several Elderscholar participants donated money, and some agreed to volunteer with toy assembly as well.
These toys are reaching kids outside of the Roanoke Valley, too. Bosch is working on establishing relationships with VCU and Radford. Several toys were delivered to Canada for the season and one went to Israel.
"From here, Roanoke College, we're going international," says Bosch.
The momentum of Toy Like Me does not seem like it will be slowing, and these efforts could soon expand beyond the holiday season with the formation of a student-led Toy Like Me support group. But for the season, at least, it's easy to see why so many choose to participate.
"Giving kids with disabilities toys that allow them to fit in and give them that little bit of joy makes it worth it," say Christian Sanchez. "I would encourage people to just help out in any way possible. Try to be more involved and awake. Your life could change."
Listen to Bosch speak about Toy Like Me on WFIR Radio.