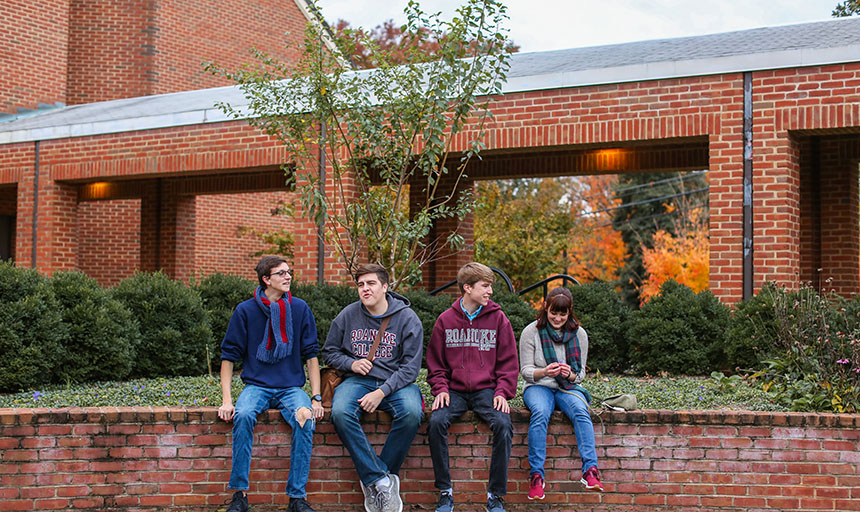 Students sit in front of the Tree of 40 fruit in Olin Courtyard.
11.26.2018
By Roanoke College News
New video illustrates the Tree of 40 Fruit
Roanoke College unveiled a new video illustrating the Tree of 40 Fruit artistic installation created by artist Sam van Aken. His work is currently featured in Open Orchard in Olin Galleries.
Olin Gallery also features another tree centered exhibit. Inattention Correction (Whitethorn) by Leigh Ann Beavers is an ongoing, mixed-media project centered around a small, ubiquitous tree – the whitethorn – found in Irish hedgerows and gardens.
Both exhibit in Olin Galleries are open until Dec. 2.
Tree of 40 Fruit
The 'Tree of 40 Fruit' grows in the Olin Hall courtyard. It was planted in 2017 as a gift from the Board of Trustees honoring President Maxey's tenth anniversary and the 175th anniversary of the College. The 'Tree of 40 Fruit' is a grafted tree that will ultimately grow over 40 varieties of stone fruit including peaches, plums and cherries, blooming in the spring and bearing fruit in the summer. To make the piece unique to Roanoke College, Van Aken pulled varieties of fruit from around the state. When the tree matures, in seven to eight years, it will display a multitude of colors corresponding to the different fruit.
"I hope the 'Tree of 40 Fruit' will spark the imaginations of everyone who views it," Joanne Leonhardt Cassullo '78, a member of the Board of Trustees, said. "I like to think that the 'Tree of 40 Fruit' symbolizes what is so special about attending a small, residential liberal arts college like Roanoke College. Students from all over the country - if not the world - come together to live and learn on this magnificent campus, and by the time they graduate, they have blossomed into one gorgeous student body."
This project was supported by the Joanne Leonhardt Cassullo '78 Center for Art.