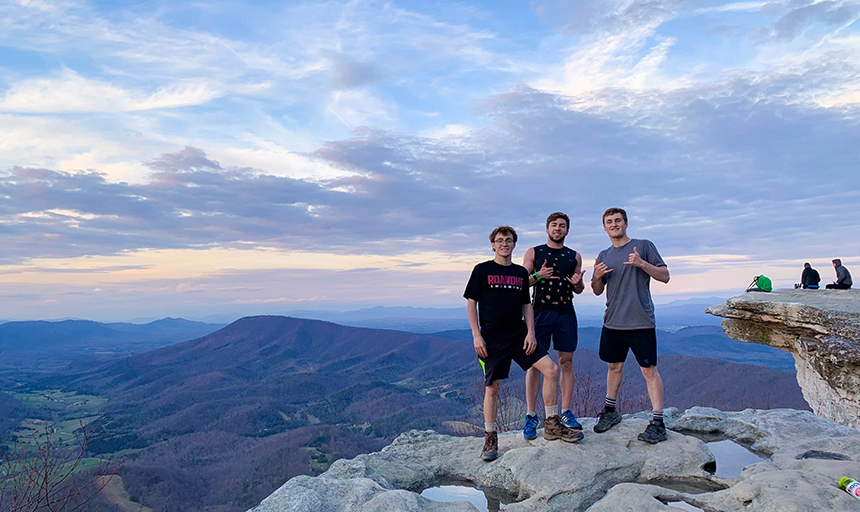 Freshmen hike 37 miles in 17 hours for Earthbound fundraiser
Freshmen Ian Densley, Connor Kinkema and Cole Hensen on April 6 took on the legendary Triple Crown hike, a 37-mile loop in the Blue Ridge Mountains that includes McAfee Knob, Tinker Cliffs and Dragon's Tooth. They cleaned up trash along the way to raise money for Earthbound.
From Ian Densley '22:
"My friends and I went on a hike in the Catawba Valley that included Dragon's Tooth, Tinker Cliffs, and McAfee's Knob. On our hike we collected 196 pieces of trash. There were 5.4 total pounds of trash. Three pounds of that total were not recyclable, while two pounds were able to be recycled. That means about 37% of the garbage that we found outside could have been recycled. It's better for it to be in the recycle bin than on the ground. We made our hike a way to fundraise money for the Earthbound club here on campus. People pledged a certain amount of money per piece of trash and they set a max amount that they would be able to donate. We raised around $170.86 for Earthbound."
"Our hike on Saturday, April 6, went well despite the hard miles and long hours. We all woke up at 3:00 a.m. and started hiking at around 4:20 a.m. We finished the hike at around 9:20 p.m. We hiked a total of 38.2 miles with an elevation change of 20,000 feet. We spent 17 hours and 2 minutes in the woods. Fourteen of those hours were spent hiking on a trail. We may have gotten lost 2 or 3 times, but we eventually made it. We made sure to take plenty of pictures and keep an hourly vlog on Connor's Instagram. We are planning on making this an annual event."
Students, faculty and staff all contributed to the fundraiser.