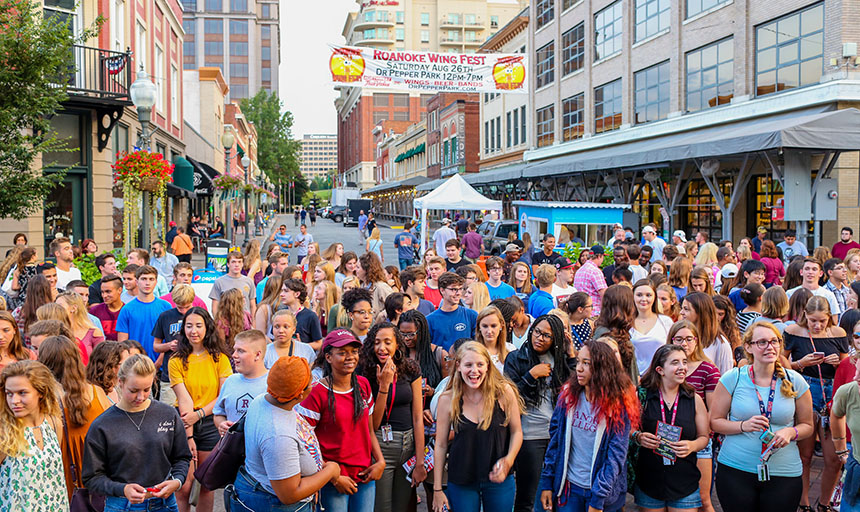 7.24.2018
By Roanoke College News
Two Roanoke College Events in Downtown Roanoke
Students, faculty, staff and alumni are invited to two Roanoke College sponsored events in downtown Roanoke in late August.
Thursday, August 23rd
Join us for the Roanoke College Night at the Elmwood Park Summer Music concert series from 5:30-8:30 p.m. Students, staff and alumni who wear a Roanoke College shirt of bring your Maroon Card for free entry, otherwise $5 at the gate and free for children under 12.
The Band of Oz is playing and Devil's Backbone Brewing Company is hosting the Tap the Keg Craft Beer Party Night. Food is provided by Street Eats.
Sunday, August 26th
Students, staff and alumni are welcome to join the Downtown Roanoke orientation event from 7:30-9:30 p.m. at the Center in the Square.
Entertainment and activities such as salsa, stilt walkers, photo booth, henna tattoos, caricatures and live music featuring the Low Low Chariot on the main stage.
Mill Mountain, Fork in the Market, Benny Marconi's, Viva la Cupcake, Kettle Korn & Lemonade, and Bayou Snowballs will be available for attendees.